Quinn, an Australian shepherd who survived a deadly puppy disease and went on to compete in agility, took top honors in our "Best in Show" contest, sponsored by Nestle Purina's Pro Plan dog food.
Shirle Rogers, of Hillsboro, Ala., who submitted Quinn's story, will receive a year's worth of Purina Pro Plan dog food for Quinn. Runners-up, Jennifer Chastain, of Edna, Texas, who wrote about how love completely changed her dog, Peetie, and Connie Sexton, of Cave City, Ky., who wrote about Matrix, her search-and-rescue dog, will each receive a $250 Tractor Supply Gift Card.
The seven remaining contest finalists, who also had wonderful stories to tell, will each receive a $50 Tractor Supply Gift Card.
WINNER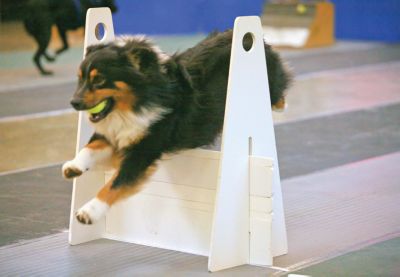 QUINN
By Shirle Rogers
Hillsboro, Ala.
Dog Star Mighty Quinn was born to be a dog for all reasons. His parents had the pedigree of Australian Champions for generations back. His sire was not only a conformation champion, but a herder on the farm and an agility-lovin' machine.
At 12 weeks of age, Quinn was breathtaking to watch. He flowed like water, yet had the strength and substance to turn and jump with authority. He lived with a joy and spark.
At 15 weeks, he was struggling to stay alive. He had become infected with "puppy strangles," and it left him unable to eat and drink. Despite medication and IVs he was a puppy skeleton, yet he strived to live. He slept on my chest in the recliner each night, and each morning, I steeled myself to bury the little spirit that had become my heart. But each morning, he lifted his head and agreed to continue to cling to life.
And live he did. It took a year for him to regain strength and to re-grow the hair on his face. But the illness took a terrible toll. No longer did he move with the free and easy grace that he had had. Because the disease had occurred during major growth phases, the severe bacterial infection had affected his tendons and muscles. His movement was contracted, robbing him of his easy flow.
However, he retained and was able to further develop a muscular body fit for flyball and agility.
Then, at 8 years of age, a lump was discovered. Carcinoma was removed from the right side of his neck, and it was doubtful he would be able to continue his beloved flyball. But his love for racing and getting the ball overcame his disability.
It's not for nothing that he is the Mighty Quinn. He has never given up, and faces life with a smile and deadpan humor that lifts spirits around him.
RUNNERS-UP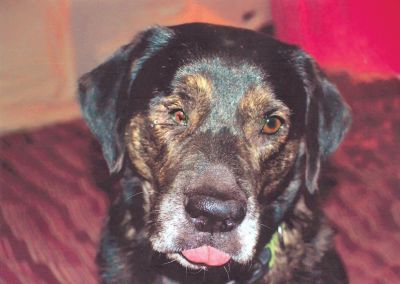 PEETIE
By Jennifer Chastain
Edna, Texas
My dog Peetie is the best in show because he shows us his best every day. Rescued from the local pound where he was dropped off by an unloving owner, Peetie has done a total 180 since coming to live with us a little more than a year ago.
His demeanor and actions led us to believe that he was a senior dog, and that he wouldn't be with us very long. He walked sluggishly from place to place, appearing to be arthritic. He didn't get excited when it was time for breakfast or dinner like the other dogs. He'd amble to his bowl at his own sluggish pace and plop his tired body down beside it to eat.
His eye — he lost one before he came to us — was lackluster and lifeless. He didn't care about balls, sticks, or treats. Peetie seemed to have given up.
But after about a month, Peetie began to morph into the crazy, fun-loving dog we proudly call ours today. His eye began to sparkle. He now runs from one end of our home to the other, leaping over any couch or chair that may be in his way. You'll be hard-pressed to find him without a toy in his mouth. He is still lazy when it comes to eating though. He lies down by his bowl to eat!
I can't grab a treat bag without Peetie finding me within 0.2 seconds of hearing the first crackling noise of the package, let alone get the bag open. He's there, staring up at me, enthusiastically waiting for his treats.
He is the first to wake me up in the morning. Tail wagging, he leaps off the bed and stands next to me, nudging me with his cold nose, eager to go outside. He is the last to lie down at night, hoping you will throw his stick just one more time.
Peetie may not have a star-studded pedigree. When other people look at Peetie, I'm sure all they see is a one-eyed mongrel of a dog that isn't worth much. But Peetie shows us every day that he is grateful for his second chance, and he is enjoying his new life to the fullest. That makes him best in show in my book, all day, and every day.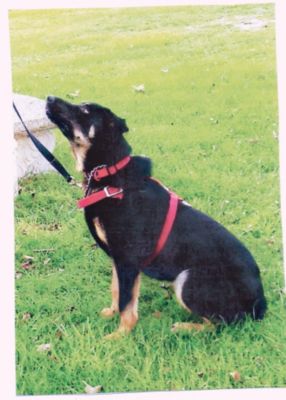 MATRIX
By Connie Sexton
Cave City, Ky.
Matrix is not a show dog, but he has the stamina, intelligence, and drive of a show dog champion or other working dog. But in another way he is a show dog; for him to be so young, he has already let his outstanding qualities show through his work as a search-and-rescue dog.
Matrix is an 11-month-old German shepherd. He is not a beautiful dog. His ears do not stand up like they should, but this is only cosmetic. A strong sense of smell, drive to work, loyalty, and love for me make him a beautiful dog in my eyes.
Matrix has some awfully big paw prints to fill. He continues the work of Anna, a white female German shepherd who passed away a few years ago, and Nevada, a Border collie mix who retired with a shoulder problem. Anna and Nevada gave many years of service to our community. Our dogs have been an asset, along with other search-and-rescue dogs and their handlers.
In December, Matrix was allowed to assist with a search for a missing teenager. Matrix and his kennel mate Halagon, my husband's K9 partner, were able to give a direction of travel and the situation had a good ending.
Even though this was his first search mission, he tracked like a seasoned dog. He showed calmness and determination and he was beautiful to see working so hard.
Yes, though Matrix will never enter any dog show, he will always be a champion to me. For a young dog, he has already shown all the qualities of a true champion. What a bright future I see ahead for us as a team.
FINALISTS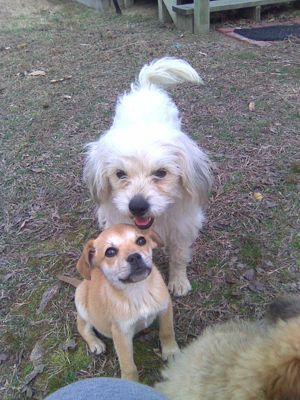 SOPHIE
By Mary Harris
Horton, Ala.
My dog Sophie is most probably a lost dog. She "appeared" at a neighbor's house on April 25, 2010, the day after a tornado swept through our neighborhood and went on to plow through Albertville, Ala.
She was there until Feb. 16, 2011, when I took her away. During the time she was there, she was never taken to the vet and was provided the minimum of care, which did not include shelter, nor protection from traffic on a well-traveled road.
In December, she had six puppies who were free to roam into the highway. When I became aware that there were puppies and that the man's daughters were abusing the puppies to the point they were frightened of the little girls, I took the mommy and puppies away.
I worked with the Greater Huntsville Humane Society to find homes for the puppies. I had no intention of keeping the mommy either, but I just could not give her up when the time came. My dog Sophie is "Best in Show" because she had the resilience to raise six puppies in an abusive environment with hardly any care, and she remains the sweetest little girl I have ever known.
My sister was suffering from pancreatic cancer during this time, and I took Sophie with me every day to the hospice facility and then to the nursing home where my sister was being cared for. Sophie made friends with all of the people she met. Even though my sister died in August, we still visit the nursing home weekly because the old people became so fond of her.
Sophie lies on the bed with them and allows them to pet her and hug her. I have never heard her growl at a human. She doesn't bark, and she always has a smile on her face. We go for long walks in the woods every day and she loves to go swimming in the creek. When we get home, she loves to be blow-dried. I couldn't have dreamed up a better dog than my Sophie.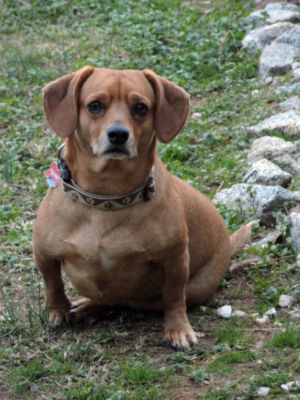 OPIE
By Laurie Westmoreland
Taylors, S.C.
Opie is a 4-year-old beagle/dachshund mix dog. I work at a small-town vet and he was brought into the clinic wrapped in a paper towel, missing a leg. Apparently, it was chewed off by the mother dog. I was told to put him to sleep, but simply couldn't after feeding him one last meal. We were told he wouldn't live, with his one missing leg and rotting nub but I took him home anyway.
I continued to feed him and care for his leg every day. Needless to say, he lived and has brought so much joy to our family. I've never had a dog that waits on me to get home at night and snuggles up to me like a little old man.
You cannot put a price on him. I wouldn't trade him for a million dollars. He's saved my life as much as I saved his. No matter how he came into this world — three legs or no legs — to me he will always be best in show.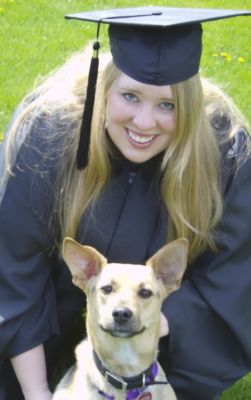 BONNIE
By Kathleen Haflett
Springfield, Ohio
Hi! I'm Bonnie. I picked out my mommy, Kat, when she visited the shelter I was in. I was super sick and felt crummy but Mommy fixed me right up. Now I'm a Best in Show Dog.
Mommy has a condition called Intracranial hypertension. It's high pressure in her head that I can smell. I diagnosed it before her doctor did by placing my nose near her eye and sniffing. Now Mommy calls me her "dogtor."
Every morning I take Mommy's eye pressure to make sure she is okay. Because of my help, Mommy was able to finish her master's degree. (This is our graduation picture.) Soon, I will not just be a dogtor, I will be a therapy dog. It's no surprise that I am Best in Show!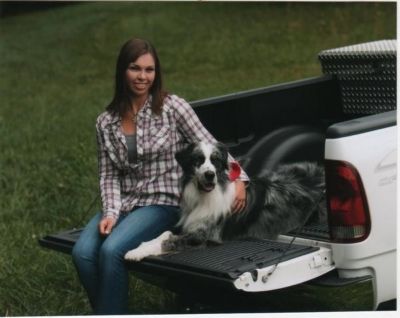 DUKE
By Nicole Blackwood
Napoleon, Ohio
I have had my dog Duke for four years now. He is a very big blue merle Australian Shepherd that my parents gave to me as a Christmas present when he was a few months old.
He has always been fed Purina dog food. In fact, when my parents walked into the house to surprise me with him, they had a bag of Purina Puppy Chow with them as well. It gives him the energy he needs to herd our horses.
Duke loves nothing more than herding. We own five horses and whenever they get out he knows right where to put them. Duke is in our house most of the time and still somehow knows when the horses are out of the fence. He runs up to me and whimpers, then runs to the door to alert me that something is wrong. As soon as I open the door he runs out to the horses and moves them back to the gate. I just stand there with the gate open, and he puts them right back in.
Duke can also put the horses in their stalls at night. Having a dog like Duke saves time, and is also nice when the weather is not the greatest.
My little sister, Rachel, showed Duke at our county fair this last year. He won first place and, in my own personal opinion, was the best looking dog there. His coat was extremely shinny and soft. If he was not getting the nutrition he needed, his coat would not have been that gorgeous. Everyone just wanted to pet him and hug him. Of course he loves hugs and any kind of attention, so he had the time of his life at the fair.
While Duke probably does not have a future in breed dog shows, he encompasses everything I think an Australian Shepherd should be. He has a natural herding sense; he is protective when he needs to be, but friendly to everyone; and, most of all, he is part of the family.
Duke is my champion because he is my right-hand man on the farm and in life. He goes everywhere with me and is glued to my side 24/7. I know that by feeding him Purina, I am feeding him the best food, so that he can live a long life.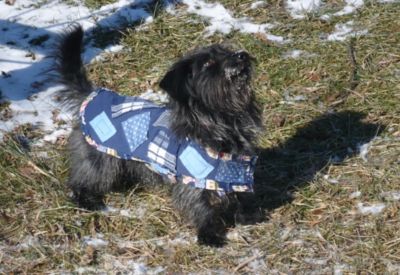 GABBY
By Linda Mahac
China Twp., Mich.
Although we live in a rural area and farm, we do not have a big Lab or other outdoor dog; we have Gabby, a Cairn Terrier/Dachshund mix.
She was adopted from a local horse farm several years ago, where she had been a stray. Gabby has several jobs in the house. Number one is to cheer us up after a rough day of farming. No matter how many times your tractor gets stuck or machinery breaks, she is at the door waiting to see you, tail wagging with her ball hoping for a game of fetch.
She loves to help with the cooking, especially if it involves bacon. Gabby is the armed guard when transporting steaks from the grill to the dinner table. Of course, we need to let everyone know when the UPS man is bringing the parts boxes.
She also models dog clothing for my other side business, and a pretty model she is. Gabby's obsession is "varmits." Being a terrier, that is what she does and does it fearlessly every chance she gets. From her vantage point in the kitchen picture window, she keeps a watchful eye on the livestock and the travels of the barn cat.
A big treat is to go for a ride in the car to deliver lunch to the guys in the field, or ride in the grain truck to the elevator. Or, best of all, a trip to Tractor Supply were she can go in on a leash and select her own new rawhide bone.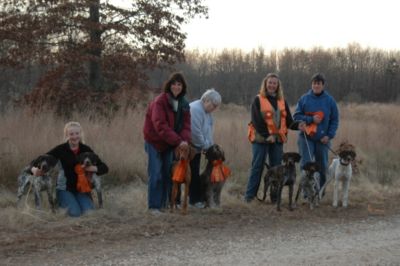 By Kim Lewis
Pylesville, Md.
We have the best dogs in the world. They are our pets, and they're very obedient, always loving and do a job.
Our dogs are upland bird dogs. We have German Shorthaired Pointers, English Pointers, and Labs. We have a hunting preserve and these dogs are the lifeline of everything we do.
They open each day with joy and put their heart into their job with a devotion second to none. They compete in AKC hunting and show events and trust us when we step into the field or the ring together and tell them they are the best. They step up to the challenge and perform like champions every time.
When it comes to the care we want to provide for them, they desire nothing but the best. We feed Purina Performance Formula dog food to our dogs to give them the strength and energy they need to be the best they can be each day.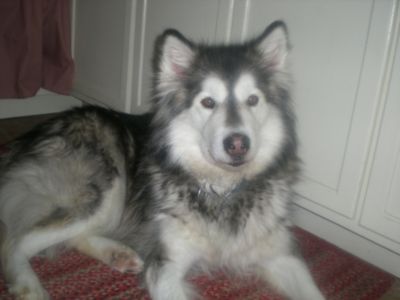 KIANAH
By Laura Berube
Sturgeon Lake, Minn.
One fall morning here in northern Minnesota, my husband Bill was just returning from a walk with our Alaskan Malamute, Kianah.
As they were nearing the driveway on their return to our small dairy goat farm, Kianah began whining and pulling on her lead. Bill immediately knew something was not right. Kianah headed toward the buck barn and that's when Bill noticed a young wether had his horn stuck under the buck's collar and had it twisted so tightly, our buck, Topper, was choking!
Bill called for me as he ran for a knife. Together we freed Topper from his life-threatening predicament just in time. If it were not for Kianah, we would not have been able to save Topper, who is our only breeding buck. We depend on Topper to breed our Alpine does, which supply our family soap business with fresh goat milk.
Kianah is always aware of everything going on around the farm and we love her dearly.