A relatively new initiative called A Home for Every Horse, an online clearing house for horse rescue organizations, provides a new opportunity for thousands of unwanted, abandoned, or abused horses to find a "forever home."
A Home for Every Horse is supported by the Unwanted Horse Coalition, based in Washington, D.C.; equine.com, the online presence of The Equine Network; and Tractor Supply Co.
The goal, of course, is to provide a happy ending for every horse whose future once was uncertain.
Here are three of those happy endings: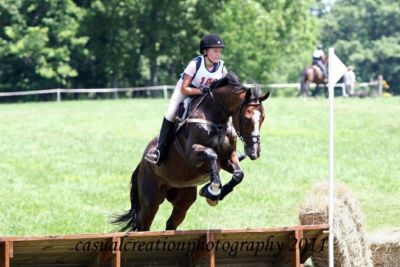 FROM RACEHORSES TO RESOURCES
Photo courtesy of Heidi Van de Motter
The horses on Heidi Van de Motter's farm in Ohio Amish country are a magnet to neighboring boys and girls.
"We are surrounded by huge dairy farms, and these aren't kids who go hang out at the mall," she says. "I'm getting kids who would absolutely never have had an opportunity to have a horse or to ride a horse."
Through her non-profit, Gallop On, Heidi introduces children to horse culture. And, thanks to the New Vocations Racehorse Adoption Program, the young equestrians ride and care for thoroughbreds.
Not only does Gallop On strive to help people, but the charity also offers a productive home for retired racehorses, whose careers may have spanned only three or four years, she says.
New Vocations is one of the nation's largest racehorse adoption programs. Started in Dayton, Ohio, about 20 years ago, the program grew to a total of six locations in Kentucky, Michigan, Ohio, Pennsylvania, and Tennessee.
The group's mission is to find peaceful homes, managed by knowledgeable people, for horses who can no longer race because of injury or age. The non-profit has placed more than 4,000 horses, including 429 last year.
Heidi, who had a pony when she was 2 years old, offers the necessary expertise. An experienced foxhunter, she has served as a master of the Grand River Hunt for 25 years.
Through Gallop On, she passes on her knowledge, not only teaching the children on the farm but also traveling with them to competitions and horse shows, where they often compete against much better-funded equestrians.
Heidi has six unique horses for her five current students. "These horses are coming from top trainers, and you know they've had the best care and the best handling," she says. "These kids groom and groom them. They're riding them bareback with ropes and halters. And with these horses, one is as good as the next."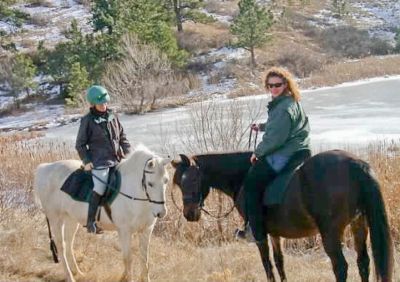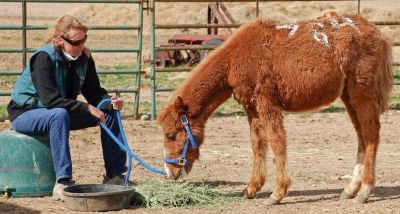 ONCE ABUSED HORSE BECOMES
'MOST DEDICATED'
Photos courtesy of Kim Hill
Abused horses either give up or fight back, and Flicka was a fighter, Kim Hill says.
The 17-year-old Morgan Arabian was left at a boarding stable, which cared for the horse even after the owner disappeared, she says.
High-spirited and obviously abused, Flicka connected with Hill through Colorado Horse Rescue.
"It took us two years to earn her trust and we had all kinds of adventures, but I could tell she did not have ill intentions," says Kim, who owns 20 acres outside Berthoud, Colo.
She saw enough spirit in Flicka to know the horse possessed the potential for years of meaningful life. "I just stuck with her and she ended up being the most dedicated horse," Kim says. "We ended up riding thousands of miles with her."
The experience with Flicka, who died three years ago at age 29, sealed a connection between Kim, who runs her own business consulting company, and Colorado Horse Rescue.
The non-profit rescue, created in 1986, operates on 50 acres in Longmont, Colo. The operation each month cares for an average of 55 horses, that arrive either through the judicial system or when owners surrender the animals.
"With the high price of hay and the troubles people have had with their businesses and with jobs, a lot of them have had to give up their horses," says Kim, who has adopted a total of five horses.
Little Boodah was memorable even among the string of notable rescues. He came from a Nebraska ranch, where he was left to roam with other mustangs.
Abuse and neglect, which killed dozens of horses on the ranch, led sheriff's deputies to close the operation.
"I just thought it was a great honor to be able to work with a mustang," Kim says. "But all the rescues are just amazing, giving horses."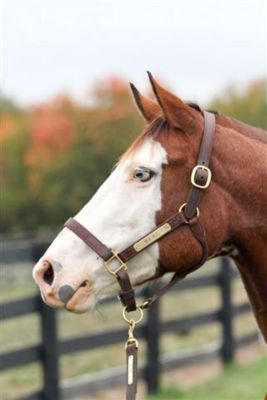 RESCUE HORSE BECOMES PART OF THE FAMILY
Photo courtesy of Amiee Caylor
Amiee Caylor was a teenager more interested in taking the reins than getting behind the wheel. "When I turned 16, instead of buying a car, I bought my first horse," she says.
Now a parent herself, horses remain central to her life.
When her son's 45-year-old pony died last year, she bought a quarter horse and considered adding another horse. "We were half-heartedly looking, just waiting until we came across one we really liked," she says. "Then, I saw this horse pictured on Facebook and I sent the picture to my fiancŽ and said, 'Wouldn't this be a nice Christmas present?'"
The 6-year-old mare was available through the Kentucky Equine Humane Center in Nicholasville, Ky., which used social media to advertise the horse.
"Her name was Majestic, but that was a little bit foo-foo for us, so we just call her Jessie," says Amiee, who brought Jessie home.
Amiee boards Jessie, along with the family's other two horses, about a mile from her home at the farm of a woman who shows horses. In return, Amiee helps out when the woman travels to events.
"It's so close that it's the next best thing to having them at your own home," she said.
Now, she is preparing Jessie to join the family on weekend camping trips and trail rides. Formerly, Jessie competed in halter class events that placed great significance on a horse's appearance.
"But, she had injured her front leg and had a large scar, so she was no longer suitable," Amiee says. "She was just being used as companion animal, and when we got her she was 1,300 pounds. She was a little dumpling."
Jessie's personality caught Amiee's attention. "We wanted a horse who will be quiet, have an outgoing personality, and like being around people," she says. "I can train the rest."
Noble Sprayberry is a frequent contributor to Out Here.
Popular Pages on TractorSupply.com
---