In the glow of streetlights luring bugs on summer evenings, Mylea Bayless sees wonder in a spectacle she fears could soon become rare throughout much of the nation.
"While there are nighthawks up there eating insects, it's primarily bats," says Bayless, conservation program manager for Bats Conservation International in Austin, Texas. "If you sit quietly, it's really beautiful to watch."
Bat colonies, however, are in danger. The culprit, white-nose syndrome, puts at risk both the spectacle of bats on the wing and the valuable resource they provide by gobbling pests.
The blame falls on a fungus, Geomyces destructans, unknown until 2006. The resulting white-nose syndrome claimed more than 5.7 million bats in the past six years, eradicating all bats at some sites.
"We're at risk of losing millions more bats to white-nose syndrome, and I don't think people will realize what they're missing until the bats are gone," Bayless says.
The fungus strikes when bats cluster to hibernate through cold winters. Infected bats most often show signs of a fungus on the nose, but it can also appear on wings, ears, and tails.
Determining the bats at risk of exposure depends on how a particular species survives the winter. About half of the nation's 46 bat species hibernate by clumping into groups often containing thousands of bats, and these bats risk white-nose syndrome.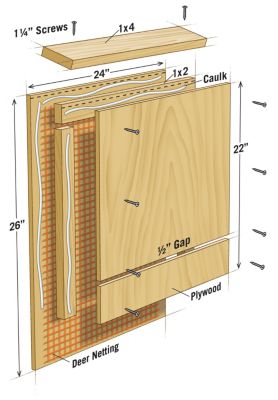 BUILD A BAT HOUSE
Supplies:
One 2x4-foot section of

½

-inch exterior-grade plywood
One 6-foot 1x2 pressure-treated wood
One 2-foot 1x4 pressure-treated wood

½

-inch deer netting
Low-VOC adhesive caulk
1

¼

-inch deck screws

⅜

-inch staples
3

½

-inch deck screws (for attaching to tree or building)
Instructions:
Create a small crawl space by applying strips of wood around edges of plywood. Cut three pieces from a 1x2: one 24-inch piece and two 19-inch pieces.
Lay caulk along the face of the long 1x2. Place the 24-inch piece

¼

inch below the top edge of the larger piece of plywood, and clamp. Drive 1

¼

-inch deck screws every 6 inches to hold it in place.
Likewise, attach the two shorter pieces to the sides in the same manner. Wipe away excess caulk.
Attach deer netting over the inside back section with a staple gun. Keep it taut so it won't sag when bats hang from it.
Caulk along 1x2s and place the upper front piece

¼

inch below the top edge of the 1x2. Secure it by clamping it and driving 1

¼

-inch screws every 6 inches. Leave about a

½

-inch gap between the top and bottom front pieces to aid air circulation.
Attach the sloping roof by driving 1

¼

-inch screws into the 1x2 board across the top every 6 inches.
Bat house temperatures should remain stable between 80 and 100 degrees Fahrenheit. The sides of wooden or masonry structures offer the best house locations because the temperature is more stable compared to houses placed on poles. Place it least 15 feet off the ground and away from bright lights.
Good maintenance increases the chances bats will return each year. Clear out wasp and mud dauber nests each winter and caulk the house as needed to guard against leaks or drafts.
Other species are likely safe. "There are groups of bats that hibernate. There are groups of bats that migrate down to Mexico and the warmer climates. And, some bats hibernate in ones and twos in leaf litter," Bayless says.
Meanwhile, science must play catch-up to develop an understanding of the fungus that spreads through bat colonies.
LONG-TERM EFFECTS
White-nose syndrome first appeared in New York, and the range of the fungus can increase quickly, spreading as much as 450 miles in one winter.
Exactly how the fungus kills bats remains under study, but infected bats often show symptoms such as depleted fat reserves, weakened immune responses, damaged or scarred wings, and abnormal behavior, such as emerging too soon from hibernation.
For affected areas, the long-term prognosis is dim even if white-nose syndrome disappeared today. Most bat species live longer than 20 years, but each female produces only one pup annually.
In areas where white-nose syndrome kills in large numbers, the surviving bats might require decades to recover, if ever, the conservancy says.
Identifying a way to treat bat caves to destroy the fungus has proven difficult, Bayless says. "Although we know lots of things that will kill Geomyces destructans, we haven't found anything that you can apply without doing undue harm to the bats or the rest of the ecosystem inside a cave."
A disease within caves can also send ripples into the daylight world. As much as 1,320 metric tons of insects are no longer consumed each year as a result of bat losses from white-nose syndrome, says a recent Science magazine article by researcher Justin G. Boyles.
"Bats are predators of night-flying insets, and many of those are crop pests," Bayless says. "When you lose those bats, you may see increased cost from conventional farmers who increase pesticide applications and increased losses for organic farmers."
Another group with a vested interest in cave health, The National Speleological Society, took a lead role in studying and educating their caving members about white-nose syndrome.
"They've had a tremendous amount of buy-in and they've been committed to educating their members," Bayless says. There is a concern the fungus could spread by sticking to gear and clothing of cavers, but proper cleaning after each trip into a cave reduces that danger.
"Bats are definitely spreading it among themselves and are the primary conduit of the spread of white-nose syndrome," Bayless says. "I think humans play a minor role, if any."
Georgia writer Noble Sprayberry is a frequent and longtime contributor to Out Here.