For nearly 370 years, a large piece of eastern Massachusetts farmland had been tended, farmed, treasured, and handed down by generations of the Appleton family.
When Col. Francis R. Appleton Jr. and his wife, Joan, the ninth-generation owners, began estate planning about 45 years ago, there was no 10th generation to leave it to; the couple had no heirs.
The Appletons loved their 1,000-acre farm for its beauty and immense historical value and they wanted it entrusted to capable hands who would protect, preserve, and treasure it as much as they did.
They found their answer in The Trustees of Reservations, the country's oldest land preservation organization, which safeguards Massachusetts properties.
Now, at Appleton Farms, Jersey cows once again get milked twice daily in the milking parlor, chickens scratch at the ground, hunting for something to eat, and beef cattle lazily chew their cuds under the shade of its ancient trees.
Very fitting for the oldest continuously working farm in the United States.
IN THE BEGINNING
Samuel Appleton, a Puritan from Suffolk, England, received a 460-acre land grant of prime property along the Miles River near Ipswich and, in the mid-1630s, established the farm. He cleared the land, began growing vegetables, corn, and hay and raising livestock.
Like most large farms of the time, it was self-sustaining, providing food, fiber, and other goods to support the farm's inhabitants.
The early Appletons added a sawmill to the farm, not only for its own needs, but to provide income, as well. Family members were known for their superb cabinetry and furniture-making.
The farm grew, both in size from adding adjacent properties and in prosperity. And in the 19th century, it produced and traded in meats, wool, hides, vegetables, grain, lumber, and dairy products. Breeding dairy cattle became a primary focus of Appleton Farms for almost 100 years. Indeed, the Appletons had one of the first herds of Jersey cows in this country. One of their cows was recognized at the 1893 World's Fair for producing 945 pounds of butter in one year, which was a national record.
It was during this period that Daniel Fuller Appleton, the seventh generation of the Harvard-educated family, had perhaps the greatest impact on the farm, according to Wayne Castonguay, the former farm manager who, at the time, shepherded it through its 10-year restoration. In the early 1800s, the farm had been sold off in bits and pieces by various family members.
Daniel Fuller Appleton was determined to reclaim it and gradually, between 1868 and 1890, he accumulated the land that had been included in the original 1638 land grant. It eventually would grow to nearly 1,000 acres.
Appleton Farms thrived during the Westward Movement as other farmers moved west and local farms all but disappeared.
"When agriculture went west, this area needed these products and the farm survived well," Castonguay says.
As the 20th century dawned, the farm became less of an agricultural center and more of a summer country estate, or gentleman's farm, where miles of tree-lined grass avenues were landscaped to provide scenic carriage rides and where foxhunts and steeplechases entertained the aristocracy.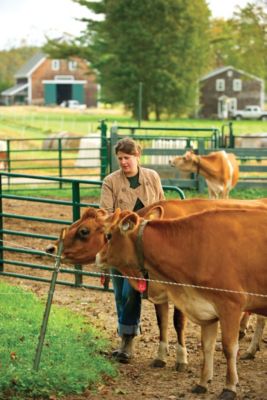 THE GIFT
The farm eventually was inherited in 1929 by Col. Appleton, who attended Harvard University, served as a lieutenant colonel in World War I, and practiced international law in New York City.
His enduring mark on the farm was creating one of its most exceptional features and fulfilling a dream of his father. The Great Pasture, as it's called, was established in the early 1930s by clearing a portion of the land of trees and rocks. At 133 acres, the Great Pasture is one of the largest fields in Eastern Massachusetts and is a verdant open landscape of gently rolling hills and small stands of trees to provide shade for cattle.
Despite its "gentleman's farm" status, Appleton Farms always remained a working farm and under Col. Appleton's watch, even diversified with the addition of turkeys, pigs, lambs, and new breeds of dairy cattle.
In 1935, he met Joan Egleston, who was visiting a childhood friend not far from the farm, and they married later that year. Mrs. Appleton had a deep love for animals and became extraordinarily involved in the care of the farm's livestock and pets.
The couple traveled back and forth between their farm and their Park Avenue home because of Col. Appleton's law practice. Mrs. Appleton tolerated the city; she preferred life on the farm around her animals and the tranquility of her fields, forests, freshwater marshes, and meadows.
As the decades passed, the childless couple considered the farm's future.
With no heirs to leave it to, they began looking into different avenues of preservation, considering such hallowed halls as Harvard and the Massachusetts Institute of Technology.
At the same time, they fended off deep-pocketed developers who could envision huge profits in developing one of the largest tracts of undeveloped land in the region.
The Appletons were not interested in the money they could get in having the farm developed; they wanted to protect this historical piece of ground.
"They were intimately connected to this farm and were proud of the fact that it was instrumental in the founding of America," Castonguay says. "They relished that legacy and wanted to preserve it."
The Trustees of Reservations, which was founded in 1891, won the Appletons' confidence. The nonprofit group has stayed true to the ideals of is founder, landscape architect Charles Eliot, by acquiring natural landscapes, historic areas and buildings, farms, and other properties in Massachusetts and improving, preserving, and opening them to the public.
The gift was memorialized in Col. Appleton's will, with two provisions: that his wife could live out the rest of her life on the farm and that it be kept a working farm, Castonguay says.
Col. Appleton died in 1974 at 89 years. Mrs. Appleton, who was considerably younger than her husband, would stay on the farm for 20 more years, where she would have a hand in nearly every part of it, including keeping the dairy going for a time and expanding into the cattle frozen embryo business.
"She came to see every calf that had been born, within a day of its being born," Castonguay says.
Mrs. Appleton transferred ownership of the farm to the Trustees in 1998, though she continued to live there. She lived in the main house until the early 1990s, when she moved to a smaller home on the property.
She was well into her 90s when she died in 2006 and was the last Appleton to inhabit the farm. A memorial to her was built at one of her favorite places on the farm, a scenic, serene spot amidst an oak grove. The memorial is a large semi-circular sitting wall made from fieldstone with an inscription that reads, "In joyful memory, Joan Egleston Appleton, 1912-2006."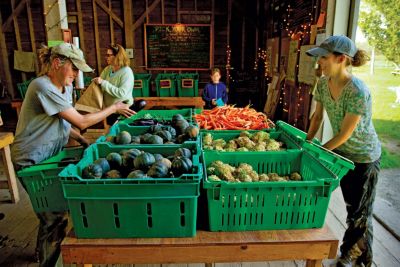 THE RENOVATION
In 2001, Castonguay, as farm manager, had begun implementing his $10 million, 10-year management plan — "the largest and most complex management plan we've ever done" — to restore most of the buildings that had fallen into disrepair and to return the farm to its agricultural heyday.
"We describe a working farm as 'economically viable,' where we can sell products directly to the public," he says.
Restoring the agricultural operation was first, Castonguay says. "We got the fields back in order, as well as the barns and fencing," he says. About 30 structures, including a carriage barn, six farm residences, three-sided livestock sheds, and other support buildings, required repair.
Recreation came next, as they built scenic trails and paths that welcome the public to walk, ride horses, cross-country ski, and snowshoe across parts of the farm.
They also improved and enhanced the land to benefit the area's wildlife. Although Appleton Farms is considered a working farm, most of the property remains as a natural area that supports a rich ecosystem.
"It is one of the largest grassland bird habitats with some endangered and rare species," Castonguay says.
Some of the final restoration work was on the main house, part of which dates back to 1794, to convert it to a net-zero-energy building with LEED certification from the U.S. Green Building Council. As the Appleton Farms Center for Agriculture and the Environment, the building will serve as a visitors' center and home base for all of the farm's programs.
After 10 years of intensive fund-raising, restoration, and upgrades — much of it done by volunteers — Appleton Farms is now what the trustees envisioned.
It once again has a dairy herd that provides milk and cheese for sale; a beef herd for meat products; chickens that provide eggs; and large gardens that feed about 800 local families through its Community Supported Agriculture (CSA) program. CSAs work by having members, or subscribers, pay a fee or "share" at the beginning of the growing season, which entitles them to regularly receive a specific amount of the harvest during the growing season.
Appleton Farms also gives away much of what it grows. "The CSA donates about 10,000 pounds of food to local food pantries," says Holly Hannaway, who handles the farm's communications and marketing.

The farm is deeply engaged with its community, Hannaway explains, by inviting the public in for 4-H classes, food preservation demonstrations, cooking workshops, and volunteer opportunities.
As the second-largest CSA in New England, and the first of its kind in the Ipswich area, Appleton Farms has been at the forefront of the area's local-food movement.
"When we started, the closest CSA was about 50 minutes away," Castonguay says. "Now, there are 15 within a 20-minute drive."
Appleton Farms does not consider those newer CSAs as competition; rather, they are welcomed in the effort to offer locally-grown food to area residents and boost local farmland.
"We're here to support local farmers, not compete with them," Castonguay says.
That's why vegetables are grown only for the CSA and not for their small farm store. "We sell only things that the locals don't sell," he says, such as meat and milk.
Appleton Farms also gives away much of what it grows. "The CSA donates about 10,000 pounds of food to local food pantries," says Holly Hannaway, who handles the farm's communications and marketing.
The farm is deeply engaged with its community, Hannaway explains, by inviting the public in for 4-H classes, food preservation demonstrations, cooking workshops, and volunteer opportunities.
Appleton volunteers serve on planning committees, weed gardens, use construction expertise to make repairs, teach seasonal cooking, keep trails maintained, guide guests through the visitors' center, and much more, she says.
And that's the future of Appleton Farms, says David Beardsley, who stepped in as farm manager about 18 months ago when Castonguay was named Director of The Trustees Center for Agriculture and the Environment.
"Volunteers are the heart and soul of the farm," he says. "We couldn't do what we do without them … Wayne couldn't have done what he did in rebuilding this place without them."
The farm also provides educational opportunities through apprenticeships, service learning, after-school programs, and classes, he says.
"We're using this beautiful place," Beardsley says, "to be a force for community building."
THE LEGACY
Not much has changed since Col. Appleton claimed Appleton Farms as his own: eggs get gathered, gardens are harvested, beef cattle graze the Great Pasture, and eastern meadowlarks and bobolinks sing in the grasslands.
Rock walls still line the lanes to the carriage barn and milking parlor, the main house continues to look out over an open meadow, and visitors appreciate the beauty of the vast property.
Castonguay, who has seen the 10-year transformation first-hand, is most proud of the fact that the Trustees are protecting the Appletons' 370-year legacy while allowing the farm to be relevant today.
"If the past generations of Appletons came back," he says, "they would see now what they saw then."
Like most visitors to Appleton Farms, Out Here editor Carol Davis fell in love with it.
Web Extra
If you'd like to see a photographic tour of Appleton Farms,
click here
.