Point to any bird in Steve and Sharon Ashman's flock of more than 300 chickens, ducks, geese, turkeys, and peafowl, and they easily list off the characteristics of the breed.
Muscovy ducks communicate by hissing rather than quacking; Royal Palm turkeys are ornamental, rather than a meat bird; and black-and-white Light Sussex chickens are calm and friendly.
These birds are all unique, yet they have one very significant thing in common: all are endangered breeds that the Ashmans, of Chocowinity, N.C., are trying to help preserve and thrive.
FALLING OUT OF FAVOR
The Ashmans' Beltsville Small White turkeys are on the critical list of the American Livestock Breeds Conservancy (ALBC), a nonprofit organization working to protect more than 180 breeds of livestock and poultry from extinction.
The Beltsville was extraordinarily popular during the 1940s and mid-1950s because it was just the right size for a typical family. "It was a one-meal bird and there were no leftovers," Sharon says. "In the 1940s, there were no refrigerators, so people didn't want leftovers."
Yet within 20 years, the Beltsville was nearly extinct because hotels, restaurants, and processors preferred a much larger bird that more quickly grew to its full size.
"Its downfall was the Broad-Breasted White turkey, which is like the giant Butterballs," Sharon says.
Indeed, the turkey is the most genetically eroded of all livestock species, according to the ALBC. Just a handful of large white turkey varieties are used for more than 90 percent of all turkey production.
Particular livestock breeds became endangered for a variety of reasons, says
Jennifer Kendall, ALBC's marketing and communications manager.
Dutch Belted Cattle, for example, fell out of favor as a dairy cow after World War II as agriculture began to change. Before, farms were smaller and food was very localized, but as the population began to boom, agriculture became more industrialized, she says.
"So we saw agriculture favoring very few breeds that were selected for certain things," Jennifer says. "The Holstein became the premier cow because it could produce a lot of milk, and they were looking for production."
Now, the Holstein represents about 91 percent of the nation's dairy stock, the ALBC says.
Industrialized agriculture relied on the predictable standards that selected breeds could deliver: certain chickens could lay more eggs, particular turkeys would grow to specified size and weight, and Holsteins could be relied on to deliver the most milk.
Heritage breeds, such as the Dutch Belted, may not produce as much milk as a Holstein, but they have characteristics that small farmers prefer — they can live on grass, have natural parasite resistance, are very mellow, and make good mothers.
"These are traditional traits that were valued on family farms that industries didn't really value," Jennifer says.
Dutch Belted, she adds, produce an extraordinarily creamy milk that cheesemakers use for specialized, rich cheeses. "So when they were selecting in favor of industrialization," she notes, "they were losing other characteristics the breeds have."
'WHY SHOULD WE CARE ABOUT
PRESERVING GENETIC DIVERSITY?'
"I'll use an analogy from the Food and Agriculture Organization of the United Nations, and that's to think of livestock like a stock portfolio," ALBC's Jennifer Kendall says. "You don't want to invest all your time and money and effort in one stock, just like you don't want to invest everything in one animal breed out there. If it crashes, you lose everything."
"Genetic diversity is very healthy and necessary for a healthy biological system," she says. "It's good for the future."
Visit the ALBC's website at albc-usa.org or write P.O. Box 477, Pittsboro, N.C., 27312.
PARTIAL TO HERITAGE BREEDS
Steve and Sharon, through their small business, "S and S Poultry," (sandspoultry.com) have been doing their part for about 16 years to preserve such endangered poultry breeds breeds as Feathered Cochin chickens, Runner Ducks, Dark Cornish chickens, Toulouse geese, Bourbon Red turkeys, and Standard Bronze turkeys, to name a handful. They are ALBC members.
Their passion for poultry started with Oscar, a mixed-breed barnyard rooster who showed up one day — and remains with the Ashmans after all those years. The couple built Oscar a small coop and added a couple hens for companionship. They then added Muscovy ducks and Midget White turkeys after deciding to specifically raise heritage breeds.
"Heritage breeds have more of a taste," Steve says. "People can't believe the taste difference when they try it."
"Plus, they're self-renewing, which means we don't have to go get new ones every year," he says.
In fact, S and S Poultry provides both hatching eggs and young hatchlings to others who want to raise heritage breeds.
"In the spring, we hatch hundreds of eggs," Steve says. "We try to have weekly hatchings."
They ship eggs, but they don't ship live birds, he says. Those must be picked up at their small farm.
The Ashmans have seen business pick up as the local food movement has taken hold. "A lot more people are into smaller backyard flocks," Steve says. "They're also interested in raising their own eggs."
Increased business, they note, also helps keep the heritage breeds sustainable, because unless there's a demand, there's no financial benefit to raising them.
It's breeders such as the Ashmans who are making it possible for endangered livestock breeds to survive, Jennifer says.
"Our mission wouldn't be possible without breeders," she says. "Our mission is conservation and promotion of heritage livestock breeds, but it's all done through the heritage livestock breeders. People think we have animals here (at their headquarters), but we don't do active breeding; we depend on the breeders."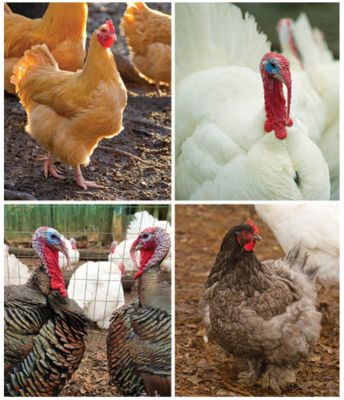 SPREADING THE WORD
ALBC was founded in 1977 to fulfill a need that nobody really quite realized.
"It was kind of a happenstance," Jennifer says. "Several historic properties in the Northeast were preparing for the (1976) Bicentennial by getting an old farmstead together. When they went looking for old breeds, they were found to not exist or were hard to come by."
A small group of concerned scientists, breeders, and farmers created what they initially called the American Minor Breeds Conservancy. "It was very small at first and focused on a couple of breeds we knew to be endangered," Jennifer says. "Since then, we've grown tremendously and do a number of different things."
Numbering now around 3,000 members, the ALBC's key focus is to research the breeds — learn their characteristics, histories, and locations — and inform the public about their at-risk status. "The fact that there are endangered livestock breeds is new to a lot of people," she says.
They'll classify breeds as critical, threatened, watch, or recovering. "One of our policies is to never move an animal off the endangered list," Jennifer says. "We move them to the 'recovering' list. The population levels might be stable, but we still monitor it so it doesn't slide back."
The ALBC also directly aids heritage farmers with their livestock. The conservancy digs into aged farming publications to hunt for information on raising the old breeds, which is then shared with farmers via workshops, clinics, and educational materials.
"We are very hands-on with members and breeders; we even do site visits to farms to help people get started," she says.
One of the ALBC's most unique tasks is, "genetic rescues of populations," Jennifer says. "There was an isolated population of (heritage) Spanish goats on an island for 40-50 years and we helped to get the animals off the island and into a breeding program."
The conservancy also rescued hogs from Ossabaw Island, Ga. "Where there are populations that need to be rescued because of predators or because there are very few animals left, we'll set up programs to rescue the animals," she says.
ALBC members have reveled in such successes over the last 30 years, including returning the Buckeye chicken, which once was considered critical, to production standards. "People now know what a Buckeye is, where three or four years ago, they didn't know," Jennifer says.
Some breeds, however, such as the Narragansett Pacer, a horse popular in New England, were forever lost long before the ALBC was founded. "It was popular in the New England area at the turn of the century," she says, "but people began selecting horses for other characteristics and it became extinct."
'GIVE THEM THEIR JOBS BACK'
Heritage breeds are not viewed as museum pieces to be preserved and simply looked at; ALBC's goal is to make them part of a vital market, Jennifer says.
"We help farmers develop market for the breeds, because if they can't make money, then they can't raise them," she explains. "What we're trying to do for these animals is to give them their jobs back."
That may mean that a Dark Cornish hen is Sunday supper, or that horses and donkeys pull a plow on a sustainable agriculture farm, or ducks help out with pest control, she says.
"Heritage breeds fit so well in sustainable systems," Jennifer says. "You can put them out on pasture, they have natural resistance to parasites, and they're hardy breeds."
"More people are looking into this," she says, "and they're finding that heritage breeds meet a lot of needs with very little work."
Out Here editor Carol Davis knew the taste of fresh, home-raised chicken long before the local food movement took hold.