It's been more than five years since Charlie died, but his legacy lives on — through the thousands of dogs whose lives have been saved.
In 2005, Rhonda Sims, of Anderson, SC, launched Freedom Train Animal Rescue Transports, a unique animal rescue that transports dogs hundreds of miles to no-kill shelters where they can be adopted by willing families.
The operation relies on thousands of volunteers who take turns driving — or in one case, a volunteer pilot who flies — a relay that carries the dogs from death row to new lives.
"There's nothing like traveling with these animals, knowing that they had a euthanasia date but instead they're in your car and they're living," Sims says. "It's an amazing feeling knowing that you have saved an animal's life."
Sims credits the inspiration for Freedom Train to the dog she adopted from a local animal shelter.
"Charlie had a great life with me for 10 years and he had a great home," she says, "but there were so many more Charlies who were dying every day."
Sims became more involved with animal rescue groups, transporting dogs short distances, from a rescue group to homes waiting to adopt them.
Sims saw a bigger need. Her local animal shelter, inundated with abandoned dogs and cats, sometimes euthanizes 300 animals a week. She set out to rescue dogs from there and other shelters in her area and take them to places, sometimes as far away as Maine, where they wouldn't be put down, and where they would find good homes.
"When I make a commitment to an animal," she says, "I have to make sure I'm not putting it in more harm's way."
Since she launched the organization, Sims has saved more than 4,000 animals, mostly dogs. But she hasn't done it alone. She relies on a cadre of drivers across the East Coast who drive carloads of canines on a leg to safety. "Transport angels,' I call them," Sims says.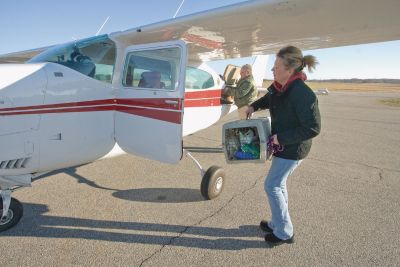 About every two weeks, she gears up for a transport of some 15 dogs. She puts out a call for drivers to 2,300 people on her contact list. Each transport can mean dozens of drivers needed to haul the dogs for 60 to 90 miles before another set of drivers takes over.
"They open up their homes to them," Sims says. "They donate all that time and their gas. It's amazing what they do."
For the animals, who often come from homes where they have been abused or neglected, the healing process starts with the first driver.
"They pet them and give them a lot of love," Sims says. "A lot of time you can see a total difference in an animal by the time they get to their receiver the next day."
For all the happy endings, though, Sims says it's hard to forget all the animals that never got that second chance. Sometimes, she leaves a shelter with a carload of dogs, only to see another carload coming in.
The love of the animals keeps her and her volunteers going, though. "Knowing that they're physically saving those animals" lives and getting them out," she says, "that's where the motivation is."
David Frey writes in Glenwood Springs, CO.