Laying out a plan for a new flower garden needn't be a daunting task. Armed with some basic fundamentals, it should be fun and successful.
With so many styles or types of flower gardens, the possibilities are limited only by your imagination and the space in your yard.
Location, location, location is a term heard often in the real estate business and it is true in gardening as well. If a flowery border brimming with colorful blooms and butterflies is your dream, then you will need a sunny location that gets six hours or more of sun each day. Placing a border in front of a hedge, wall, or fence gives it an interesting backdrop and some structure.
A rectangular border with straight lines is tempting but sweeping "S" curves help to soften the lines and make it easier to mow (if it is on the edge of the lawn). A garden hose or stiff rope is a concrete way to visualize this. Mark with spray paint or a series of stakes.
A walk-through garden is a nice fit for a narrow area along the side of a building, driveway, or even in the front yard leading visitors to the main door. The path can be curved; straight; simply a means to get from point A to point B; or a quiet place with a comfortable bench.
An island garden — which stands alone in the midst of your lawn — has advantages of its own, providing a view from every side and allows for air circulation to keep plants healthy.
Walk around your yard and observe areas that may fit one of these flower garden ideas. Note the amount of sun or shade and the conditions of the soil. Does it stay wet or does it tend to be dry? Adding organic matter helps but knowing these conditions will help later with the plant selection process.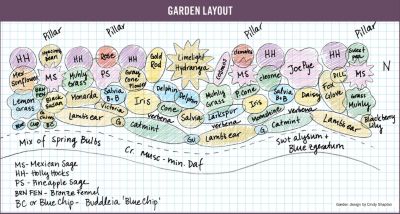 Now that you have considered the options and know where the new flower garden is to be located, you can begin to give shape to your dreams by creating a garden plan or design.
PUT YOUR PLAN TO PAPER
Use graph paper to draw in the overall dimensions (length and width) of the garden bed. Use the grids on the graph paper to help match the scale you want in your landscape design. In my garden plans, each square equates 6 inches.
Place a piece of vellum (thin, see-through paper) over the graph paper and draw paths, stepping stones, curvy border edges, arbors, ponds, or any hardscape that you have thought about. Don't worry about perfection; this is just a place to draw ideas. If you don't like it, simply erase or pitch it and get another piece of vellum.
When you have the general design down on your vellum, use color pencils and start placing plants by sketching shaded blobs or circles.
PLANT LIST
These plants for the garden layout above are only suggestions. Some may not work in your area but you can find plants with similar size and shapes at your local nursery.
Tall plants

18 Hollyhocks (seed)
3 Hyacinth beans on pillar (seed)
1 Rose — "New Dawn" or any re-bloomer for your zone
1 Joe Pye weed
1 Goldenrod
1 Hydrangea — "Limelight"
8-12 Cosmos
1 Clematis — pink, purple, or white
3 Sweet pea — annual or perennial, seed or plant

Medium-height plants

1 Mexican sunflower (seed)
5 Mexican sage
3 Muhly grass
1 Pineapple sage
3 Gray-headed coneflower (Ratibida pinnata)
7 Delphiniums
5 Purple coneflower
5 Cleome (seed)
3 Salvia — "Black and Blue"
1 Shasta daisy

9 Foxglove (seed)
3 Dill
1 Lemongrass
1 Bronze fennel
3 Black-eyed susan
3 Monarda — pink or purple
5 Siberian iris — yellow or white
9 Larkspur or more (seed)
3 Buddleia — "Blue Chip"
1 Garlic chive clump (seed)
3 Yarrow — "Moonshine"
5 Salvia — "Victoria blue"
9 Garden verbena
1 Blackberry lily

Low-growing plants

9 Lamb's ear
6 Dwarf catmint
3 Gaura — white

Border

Mix of spring bulbs to fill front border — miniature daffodils, grape hyacinth, crocuses
Mix of sweet alyssum and dwarf blue ageratum in the front border to follow bulb blooms
When choosing the plants for your new garden, study the cultural needs and size of each plant and adjust accordingly to your zone's requirements. If a plant does well in a cooler climate, for example, plant it earlier in the season.
Sometimes gardeners have plant challenges where a trial-and-error attitude is fertile ground for learning how, what, and where to plant.
Take the time to tour local gardens in your area to see which plants are flourishing before making the final plant selection.
Keep these tips in mind when you're choosing plants:
Silver-gray and white light up the garden at dusk and dawn.
There are no hard, fast rules to color combinations. Use colors that go well with your surroundings, or with your type of home. Blue, yellow, white, and silver are nice together, as are pink, purple, white, and silver. Combine bright or bronze foliage with orange and red. A color wheel is a useful tool; if two colors are side by side they go together, while opposite colors contrast.
Plan blooms, interesting foliage, seed pods, or texture for every season.
Use grasses and see-through plants — those with delicate foliage and stems fine enough to see the plants behind them — to give movement.
Add a bit of comedy with an unusual color or foliage.
Repeat colors (and plants) to create harmony.
Weave ribbons of seasonal color with annuals.
Add swaths of bulbs in the fall where you see gaps.
Think about attracting birds, butterflies, and beneficial insects.
CREATE A SUNNY PERENNIAL BORDER
Pillars are easy to make and allow for vertical interest in a border. A tall wooden fence post wrapped with chicken wire (attached with long staples) provides vines, roses, and sweet peas a place to grab hold of as they grow upward.
If you're planting near a fence, leave about 1 foot or so of space at the back for air circulation and to make for easy access for working in the garden.
Cindy Shapton is a Tennessee writer and master gardener.