As the deep snows of Vermont blanket the ground this winter, Doug Bragg is content knowing that a good, long winter is essential to his sugar maple trees and the continued success of his family business.
Come spring, 'round about early March, when daytime temperatures venture above freezing, the sap that has been stored in each sugar maple's roots during winter's dormant season will begin the upward trip. It's then when Doug and his crew will tap each of his 2,200 trees and collect the sap to process and make pure maple syrup.
For eight generations, the Bragg family has waited through long, cold Northeast winters for the sap to run. And when it's time, Doug collects it the same old-fashioned way his forebears did — in buckets hanging from each tap — rather than using the newer tubing and vacuum system that transports sap directly from the tree to the sugarhouse.
"We do it the old way," he says. "That's our calling card."
PERFECT TIMING
Sap runs during a relatively short period of time, generally from early March to mid-April, depending on weather conditions. "It's short, but intense," Doug says.
Flow begins after a period of hard freeze, followed by several warmer days with temperatures in the 40s. It comes to an end when night temperatures no longer dip below freezing.
When it's time, the Braggs will go out into their forest of sugar maples, called the sugarbush, and tap each tree by drilling about 2 or so inches into the tree and inserting a spout, called a spile. They'll hang a bucket from each spile to collect the sap.
By protecting his trees, they'll remain healthy and vigorous sap producers; indeed, sugar maples have been known to produce sap for more than 100 years.
Timing is crucial for tapping, says Barbara Bragg, Doug's wife and business partner in Bragg Farm Sugarhouse and Gift Shop near East Montpelier. "You can't tap it too soon or the wound will heal," she says.
Each tap will produce 10-12 gallons of sap, which looks like and has the thin consistency of water. Indeed, sap is about 98 percent water and 2 percent sugar. And though a bucket can fill up in a single day, most trees release from one-third to one-half of a bucket of sap, depending on weather conditions.
"The trees make much less some years; that's why it's a homemade product and not industrialized," Doug says.
Many sugar makers will place as many as four taps on a tree, but Doug won't tap a tree more than twice. "We don't want to take too much sap," he says, explaining that tapping too much will damage a tree. "We want to take just a small percentage."
By protecting his trees, they'll remain healthy and vigorous sap producers; indeed, sugar maples have been known to produce sap for more than 100 years.
Once the sap starts collecting in the hanging buckets, Doug drives his tractor out to the sugarbush, hauling a 500-gallon tank. Sap from each of the buckets is dumped into the tank.
Sap keeps only one or two days, so they immediately haul it to the sugarhouse to begin processing. "It needs to begin boiling right away," Doug explains.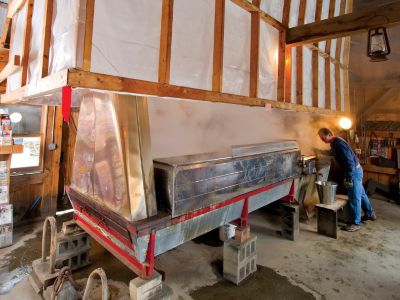 The Braggs also choose to power their large boiler the old-fashioned way — with locally-grown wood, rather than oil.
"It supports Vermont, and it also supports the local economy," Barb explains.
It also requires Doug to keep the large fire consistent to heat the sap correctly. "I do all the boiling, because that's the most picky part," Doug says. "You have to stay right with it." Picky is right. Besides adhering to strict state laws and standards, making maple syrup is an exacting science where one mistake can ruin an entire batch of syrup.
"We're collecting and boiling at the same time; it's a tremendous amount of labor," he says. "It's exciting, though. It's kind of like a contest with nature."
THE PROCESS
Because sugar maple sap is mostly water with only about 2 to 3 percent sugar, the water must be evaporated, or boiled away. "You have to boil away about 40 gallons of sap for 1 gallon of syrup," Doug says.
As the sap boils, it becomes more concentrated into syrup and Doug constantly tests the density with a hydrometer. "If it becomes too thick, it crystallizes; if it's too thin, it doesn't keep well," he says.
Once the hydrometer reaches 67 percent sugar (and 33 percent water), the syrup meets industry standards. It's then transferred into large stainless steel barrels to await packaging.
During packaging, the syrup is heated to 180 degrees to sterilize it as it's poured into the packaging container and then sealed, ready for retail sales.
And that's it — 100 percent genuine maple syrup, with nothing added. "It's absolutely pure," Doug says.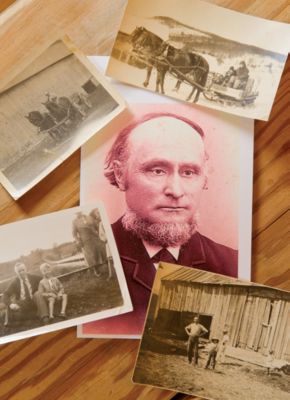 Before it's sold, each bottle of syrup is graded, based on color and robustness of taste. The grades are:
Fancy grade — A light color with a delicate flavor. The early part of the season yields the sweetest sap, so it's not boiled as long, which produces a lighter syrup. The longer you boil sap, the darker the color becomes.
Grade A medium — Slightly darker, with a medium maple flavor. This is Bragg Farm's most popular syrup.
Grade A dark — Robust maple flavor suitable for cooking. This syrup is made near the end of the sugaring season.
Grade B — A dark, intensely-flavored maple syrup option. It's usually used in cooking, baking, and flavoring foods.
Different grades appeal to different palates, so one person may prefer a dark, robust syrup, while another favors a lighter color and flavor.
THEN AND NOW
Barb and Doug sell their maple syrup and other products — candy, cream, sugar, cheese, gift boxes, and Vermont crafts — in their gift shop and through their website, braggfarm.com. Just off the gift shop is their Maple Ice Cream Parlor, where customers can get maple "creemees," shakes, and sundaes.
And though Barb and Doug market and sell their maple products in a very modern way, some things remain the same; the Bragg family depends on the whims of Mother Nature, as it has for generations.
A collection of old family letters composed by prolific writer Anna Bixby Bragg, Doug's great-great grandmother, illustrates how not much has changed.
A letter from May 1865 reads, "March was warmer than April this year, spoiling our sugar season. We didn't make enough to fill half our orders."
In a letter dated March 26, 1909, she wrote, "We had a nice warm day on the 24th and some farmers got out their tubs and tapped the trees. Then yesterday was one of the worst of the winter. It 'snews and blewed' furiously all day — 12 inches of snow. Hurrah for old Vermont! Today is warm again and the maple sap is running."
Doug cherishes those similarities. "It is instructive and humbling," he notes on his website, "to realize that the problems and perils and rewards of life on a Vermont farm are in many ways the same today as they were for our ancestors."
Out Here editor Carol Davis prefers the "Fancy" grade of maple syrup.