Laura Krebsbach spent years looking for an answer to the problem small Nebraska livestock farmers face in getting their animals harvested quickly, competitively, and onto tables in their own communities.
With some patience and imagination, Krebsbach and other advocates developed Nebraska's first mobile meat processing unit. The processing unit — an initiative of the nonprofit organization Renewable Harvest — gives local farmers market access they didn't have, bypassing long wait times at large slaughterhouses hundreds of miles away, says Krebsbach, the project leader. It was approved in August by the USDA.
"The unit gives all the control to the producer to sell to the public," Krebsbach says. It can process between 10 to 20 head of cattle a day into hanging halves, along with buffalo, sheep, goats, and hogs.
Not only does the mobile unit relieve the livestock of the stress of travel, but the difference in it and a traditional slaughterhouse can be counted in dollars, Krebsbach says. For example, say you have access to a limited number of meat packers and they're offering you $1.15 per pound on the hoof, but it has cost you $1.35 per pound to produce that animal. A mobile meat unit offers you the option of rejecting the too-low price and processing and selling it yourself.
And simply hauling an animal to a slaughterhouse is not optimal, says cattle farmer Mike Callicrate, who helped develop the unit and uses it on his 950-head farm just across the Nebraska border near St. Francis, Kan.
Shipping stress causes cattle to lose weight and, therefore, the farmer to lose profit. "We are (now keeping) about 35 percent of the weight that we otherwise would have paid freight on for 200 miles," Callicrate says. "It's a significant savings." Additionally, Callicrate makes money from selling the hide to a hide company.
Because Renewable Harvest is a nonprofit, they don't charge for consulting fees, significantly reducing the cost of building one… [to] about half of what a for-profit mobile slaughter unit costs.
Mobile meat processing is advantageous to cattle farmers who market to the growing number of consumers who prefer local meat and want to know how it was raised and processed.
"You can tell them exactly which cow it came from," Krebsbach says. "You can say, 'Come to my ranch, my farm, and see how I raise my cows.' You can sell a premium product directly to the public that the consumer knows just how it's (been) raised."
Krebsbach now wants to pass on the knowledge to farms or farm collectives on how to affordably build one themselves. Because Renewable Harvest is a nonprofit, they don't charge for consulting fees, significantly reducing the cost of building one for around $120,000, which is about half of what a for-profit mobile slaughter unit costs.
"There's a number of marketing tools out there, and we bring the whole package," Krebsbach says. "We will help you build it. We have professionals that will come for free to get you through the USDA process. We provide help all the way down with how to help you market your product."
Mobile units can be built to the specification of one farm owner or farm co-op. "There are so many different applications for this trailer. That's what makes it so cool," Krebsbach says. "It's so adaptable. You can set it next to a cut-and-wrap. You can make it permanent. I have people telling me, 'I am trucking my cattle 125, 150, 200 miles because I don't have anything around here.'"
The mobile slaughter unit is the last piece of the puzzle for not only small- to medium-sized livestock farmers but for livestock farmers in general, Callicrate says.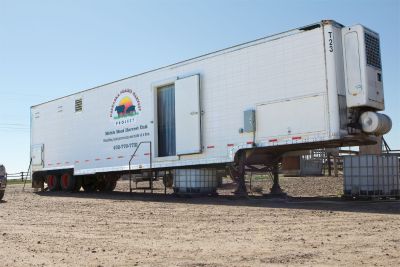 "For me, it represents the missing link," Callicrate says. "We raise the animals. We produce a finished high- quality animal for the marketplace. I have a meat-cutting operation in Colorado Springs (Colo.), and I didn't have the slaughter component. So, to be able to have the mobile slaughter unit completes that whole connection from calf all the way up to consumer's plate. It was a really, really big deal for me."
GETTING STARTED
A good way to get started is to get a group of producers together to start the conversation, Krebsbach says.
"Up in the Sandhills of Nebraska, say, you've got five ranches, and they have a number of livestock that they do a year," she says. "So, they can go in together. We have gotten to the point that we can build this trailer really cheap, so you've given them the autonomy of being independent like they always used to be."
Renewable Harvest is believed to be the only nonprofit organization in the country developing mobile meat processing units, Krebsbach says. "We can do this for anybody across the country," she says. Her team is now developing a trailer for a group in Oregon.
"There are other trailers, but they cost $250,000. Mobile units already exist, but what good are they if farmers can't afford them?" she says. "The whole point was, we would go through all the pain, all the trials, and tribulation, and we did it so we could take it to people and say, 'You don't have to reinvent the wheel. Here's the wheel.'"
Colleen Creamer is a Nashville writer whose articles have appeared in national and regional publications.