Mark Meyers didn't know much about donkeys when his wife Amy bought one to give her horse a little company 13 years ago. Now, they have 1,500 of them, and they're getting more every week.
Based in Tehachapi, Calif., their Peaceful Valley Donkey Rescue provides safe havens for abused, neglected, and unwanted donkeys across the country, and for wild burros driven out of their ranges as their habitats disappear. They began taking in donkeys close to their home, a rural area just north of Los Angeles.
Soon, they found the need for a donkey refuge was greater than they had ever imagined. They expanded to cover all of California, then Texas. Before long, they were running the nation's largest donkey rescue, with 18 facilities scattered across the country, from Florida to Oregon.
Since 2004, when donkey rescue became full-time jobs for them, the Meyers have rescued more than 2,000 of the equines. The crippling Texas drought has left scores of donkeys starving and thirsting to death in the browning fields. Three-quarters of the way through 2011, the Meyerses had rescued more than 500 donkeys, more than the entire previous year, most of those from Texas.
Why do so many donkeys need to be rescued?
"They're terribly misunderstood," says Meyers, who admitted having to learn a lot about the animals since Izzy the donkey first showed up at their home. Notoriously hard to control, donkeys often end up beaten or neglected by frustrated owners who don't know how to handle them or lack the patience to try.
And unlike most other barnyard animals, donkeys don't have much financial value. When times get tough, cows, sheep, even horses can go to slaughter. Not so with donkeys. So when a crisis like the one in Texas comes, donkeys are often abandoned to their fate.
That's where Peaceful Valley comes in.
"Our goal is to place them all in homes," says Meyers, who was preparing to take on 120 wild burros rounded up on Hawaii's Big Island even as he was busy wrangling more in Texas, where the couple now lives.
SMART, NOT STUBBORN
Meyers shakes his head at the bad rap donkeys usually get. "Donkeys are not stubborn," he says, "and they are not stupid. They are highly intelligent."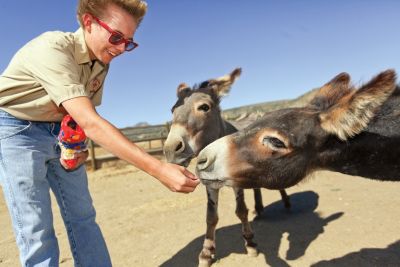 It's because they're so smart, he says, that they're so confounding.
"They're really worried about self-preservation," Meyers says. "They don't want to be hurt. If you try to drag a donkey into a trailer, he will resist with all his might. If I tried to drag a human being in a trailer, he'd resist, too."
Meyers attributes their bent for self-protection to their desert upbringing. Descendants of great African wild ass, cousins to the zebra, donkeys are used to sticking up for themselves.
"I have a lot of respect for them," he says. "They can run 30 miles an hour. They can go days without water. They can kill most American predators."
They can also be your best friend, Meyers says, but dealing with a donkey, or a burro, as their brethren in the wild are known, requires a certain tolerance.
"The way you do anything with a donkey is through patience, through love, basically through friendship," he says. "If you can befriend a donkey, you can get a donkey to do anything."
This says the man who has taken a team of donkeys packing through Death Valley.
It doesn't have to be Death Valley, though. Most people living on small farms would find a donkey better company than a horse, Meyers says. Well, better make that two donkeys. One donkey will bray out of loneliness, he says. Two make for good companions.
He has good reason to boost the joys of donkey ownership. Peaceful Valley and its partners have more and more donkeys all the time, and they're constantly on the lookout for new homes for them, and new rescue facilities. The Texas drought has made the need even more acute, and has strained an organization that relies strictly on donations to survive.
"We're keeping it going," he says, "but this has been a tough year."
"The way you do anything with a donkey is through patience, through love, basically through friendship," he says. "If you can befriend a donkey, you can get a donkey to do anything."
Meyers attributes the group's success in part to its organization. Each donkey that comes through its gates is implanted with a microchip. Like the microchip pets often receive at the vet's office, the chips contain information about where the animals came from, where they ended up, plus all their medical information. That's allowed Peaceful Valley Donkey Rescue to keep track of the thousands of donkeys that have come in and out of its gates.
Peaceful Valley also leads education programs to teach owners how to care for donkeys and keep them from throwing up their hands in frustration.
Food and feet are the most common problems, Meyers says. Unlike horses, donkeys prefer low-protein hay. And also unlike horses, they have little tolerance for farriers fitting them with shoes. They can learn to lift their feet over time, Meyers says, but like just about anything else involving these headstrong — but don't say stubborn — animals, it requires two things.
"Patience," Meyers says, "and more patience."
David Frey writes in Glenwood Springs, Colo.