When Bruce Sassmann's father bought the old Century Farm in Osage County, MO, about 30 years ago, he raised fescue, like many of his neighbors, to graze a small herd of cattle.
Now, Sassmann and his wife Jan raise native grasses and wildflowers instead. Where cows once roamed, they have deer, wild turkeys, and quail. Instead of a working farm, they have a little piece of wild Missouri, close to the way it looked before settlers arrived.
"We really would like to go backward in time and give our piece of property a rest," says Sassmann, who converted his father's old hobby farm into the Prairie Star Restoration Farm, a 120-acre demonstration site that's become a showcase of how an ecosystem can be brought back to life.
At first, Sassmann just wanted to improve the hunting on the old farm. After his father died, the cattle were sold. The family lost interest. Most family members just used the land as a place to hunt whitetail deer in the fall and to fish in the small lake in the summer.
Soon, the Sassmanns were embarking on an ambitious project to restore habitat for a wide range of plants and animals. They killed off exotic grasses with chemical treatments. They used controlled fires to burn off the duff and expose the bare ground to sunlight. They started planting native grasses, sowing wildflowers, thinning woodlots, and creating the sort of shrubby areas deer love.
Within years, the landscape was surging back to life. Wildflowers sprung from seeds they planted. Insects arrived to pollinate the flowers. Songbirds flocked to feed on the insects. Wild turkeys and quail came to nest. Deer came to feed.
Something quite unexpected happened, too. Long-dormant seeds in the soil that had been waiting for generations came alive. The very rare Eastern Featherbell, a stunning 5-foot-tall flower, suddenly appeared throughout the farm — the only place it grows in that county.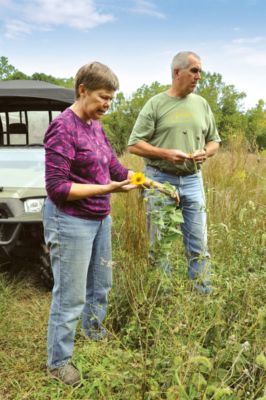 'BUILD IT AND THEY'LL COME'
Soon, neighbors were coming to see what was happening. School groups and community organizations arrived. Couples booked weddings. A local high school even picked the farm to hold its prom.
"I would like to use it as an outdoor classroom for kids, adults, programs," says Jan, a former schoolteacher. "Anything I can do to haul people out there to give them an experience of why we do it and what the value is. I really want the next generation to have a concern for the environment."
The Sassmanns' farm may be more extensive than most, but it's not alone. Lots of local landowners are looking for ways to improve their rural properties, says Kyle Lairmore, private land conservationist for the Missouri Department of Conservation. Often it's for the same reasons the Sassmanns started out: to bring in more animals, either for hunting or for wildlife watching.
"The landowners who are doing the work are seeing results," Lairmore says. "They're seeing more deer, more turkey, more quail. They say, 'build it and they'll come,' and it's true."
The Sassmanns have taken their work beyond the landscape. Two years ago, they drained the farm's 4-acre lake and used heavy equipment to reshape the lake bottom to create formations to benefit fish habitat. They planted native vegetation, created woody areas that ducks love, and restocked it with bass, bluegill, and catfish.
They rebuilt the farm's old 1926 barn to create a place not just for tractors, but for weddings, workshops, and guests.
For all their habitat restoration work, the Missouri Conservation Federation named the couple Missouri Wildlife Conservationists of the Year in 2009.
This kind of rehabilitation work can be expensive, but it doesn't have to be. The Sassmanns benefited from government conservation grants, and from funds from wildlife groups that help cover the costs of habitat restoration. And they got help from Lairmore, whose agency works with landowners like them to improve their properties for wildlife. In some cases, it pays farmers to protect their less-productive acres as habitat.
"I would like to use it as an outdoor classroom for kids, adults, programs," says Jan, a former schoolteacher. "...I really want the next generation to have a concern for the environment."
"I've always been told you want to leave the land as you found it and create that diversity for our future generations," Lairmore says. "If we destroy it now and don't provide the wildlife, the forestry, and the management for future generations, we're going to continue to lose it."
At first, some neighbors were skeptical, the Sassmanns say, but soon they saw the benefits. Now, landowners on two sides have asked them to spread their restoration techniques onto their properties. And while Prairie Star Restoration Farm might not look much like the cattle farm that Century Farm used to be, some visitors say it looks like the farms they remember from generations ago when farming was less intensive. And while it's not raising food, it is preserving species that might otherwise disappear.
"These ecosystems," Sassmann says,"are precious libraries of plant and animal life that have to be protected."
David Frey writes in Glenwood Springs, CO.