The need to control internal parasites will exist as long as livestock graze pastures. Parasite levels, however, are not the same on all pastures or in all livestock. Heavily stocked pastures generally have a higher parasite burden than lightly stocked ones.
Strategic deworming and pasture management starts with understanding the life cycle of problem parasites, identifying seasonal changes in parasite burdens, and implementing cost-effective control.
The nematode, or roundworm, for example, produces its eggs while inside the host animal. The egg is expelled from the host with the feces, contaminating the pasture.
A first-stage larva hatches from the egg. The larva will molt two times before it becomes a third-stage larva. Once the larva is in its third stage, it is capable of migrating from dung pats and soil onto moist grass and can survive up to a year on pasture.
Infection occurs when the third-stage larva is consumed with the grass. The larva completes its life cycle in the gastrointestinal tract of its host. Once the adult stage is reached, reproduction occurs and the life cycle starts over.
SAFE PASTURES
Pasture management practices may reduce the parasite burden in livestock; however, this method alone will not guarantee parasite eradication. Dewormers are also an important part of controlling internal parasites.
But you can reduce third-stage larva populations, which will reduce livestock infections, with a bit of pasture management:
Move more susceptible younger animals to a safe pasture, which are pastures that were not grazed during the last 12 months, as well as small grain pastures developed from a prepared seedbed. When a pasture lies untilled and is plowed, contamination can drop quickly. Always deworm livestock prior to placement on a safe pasture; otherwise, the pasture can immediately become contaminated. Do not overgraze pastures. Animals on overgrazed pastures graze closer to the ground and pick up more larvae. Pastures can be divided into smaller areas so livestock can be rotated. This will help lower the worm burden as well as give forage a chance to recover. If possible, graze a contaminated pasture with another livestock species. Parasite larvae that can damage one species will have no effect on another. Goat and sheep parasite larvae, for example, cannot survive in the gastrointestinal tract of another herbivore species, such as cattle or horses.
Mow and harrow pastures to break up fecal piles during the hottest and driest season of the year to decrease numbers of infective larvae.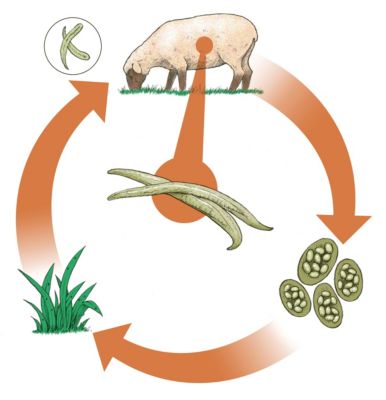 LIFE CYCLE OF A PARASITE
The roundworm produces eggs inside the host animal; eggs are expelled with the feces; larva hatches and eventually migrates from dung pats onto moist grass where it is consumed by the animal; once it matures, reproduction begins again.
Parasite Primer
One of the largest threats to livestock is the tiniest in size — internal parasites. Parasites, such as strongyloides, ascarids, bots, and flukes can cause irreversible damage or even death to the animal, reduced performance, and economic loss. Internal parasites infect the gastrointestinal tract, liver, lungs, blood system, lymphatic system, and skin. Animals overburdened with parasites can be hindered in their reproductive performance, experience reduced growth rates, and become less productive overall, whether their purpose be meat, fiber, or milk.
SHEEP AND GOATS: A SPECIAL CASE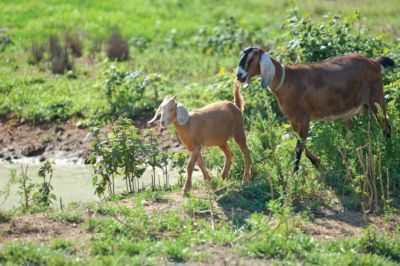 The grazing habits of sheep and goats make them much more susceptible to parasites than other species. Sheep tend to graze much closer to the ground than other animals, and also show little aversion to grazing in areas with high fecal contamination.
These two characteristics drastically increase the numbers of larvae that sheep are exposed to and also the number that they are likely to ingest.
Although parasite problems cannot be entirely eliminated by good pasture management, using good rotational grazing techniques combined with an efficient deworming program should significantly lower the parasite problem in the herd.
Safe pastures can also be created by planting or utilizing summer annual forage crops. Examples of these would be sorghum x sudan grass hybrid forages. These forages grow quite tall and animals graze at shoulder or higher height. This reduces the opportunity to ingest larvae. Also, goats are natural browsers, and browsing forages or brush well above ground level has the same effect.