Living on any farm can be lovely, but it's hard to imagine any farm more beautiful than Pamela and Frank Arnosky's spread in the midst of Texas Hill Country. At any given time, the fields unfolding from their bright blue barn may be filled with golden Texas sunflowers, elegant gladiolas, or sparkling anemones.
Nothing against cabbage and carrots. The Arnoskys grow vegetables, too. But it's the flowers that give their farm its reputation, and their business, Texas Specialty Cut Flowers, its name.
100 PERCENT FARMERS
Since 1990, the Arnoskys have transformed the notoriously challenging soil of Texas Hill Country into beautiful fields of flowers ready for bouquets, selling their cut flowers to some of the finest florists and grocers in Texas and beyond.
Think flower growing isn't farming? Think again. Their harvest may not be edible, but the Arnoskys approach their operation as any farmer would, with a mix of science, hard work, and marketing to get the most out of their land.
"We consider ourselves as farmers 100 percent," Pamela Arnosky says.
The biggest difference between raising flowers and raising vegetables may be money. Flowers are one of the more lucrative crops a farmer can grow, they say, not to mention a great way to make someone's day. When was the last time you made someone smile by handing them a handful of turnips?
"I always tell people, 'My job is to get you addicted to flowers,'" Pamela says. "It just makes you feel good. Giving yourself a few flowers for your kitchen table is really a gift to yourself."
SOMETHING FROM NOTHING
She and her husband Frank met at a polka dance (they're both avid dancers). They found they had more in common than polka, though. Both had a love for agriculture. She had studied plant geography. He had studied horticulture. When they started casting about for a place to live, and to farm, a friend found them 12 acres near Blanco, Texas, some 50 miles from Austin.
It was a scrubby piece of land covered with cedars, but the Arnoskys set about making it home. They cut in a road, pitched a tent amid the cedars, and started clearing the way for their first greenhouse.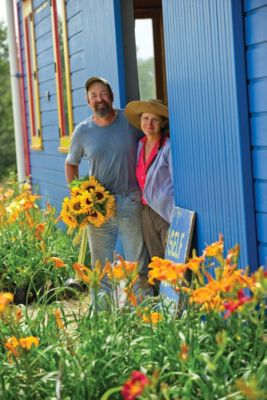 "We always tell the story, we started off with $1,000 and a chainsaw, which is true," Pamela says.
Within six years, they had more than doubled their acreage. What started out as a bedding plant operation became more and more focused on flowers. They won over the Central Market grocers, and as that high-end grocery chain spread, the Arnoskys started planting more and more flowers to keep up with the growing demand.
Today, they own 130 acres, with up to 40 acres in flower production. This season, they're settling on just 10 acres — enough for family members to take care of themselves without extra labor.
"It's the Pamela, Frank, and the kids show," she says.
It hasn't been easy. Never mind the rocky soil and the erratic temperature swings. They have endured a Biblical barrage of ice storms, drought, plagues of grasshoppers, floods, and tornadoes. And all that, Pamela says, was just one season.
CUSTOMERS BUY LOCAL
The hard work has paid off, though. The Arnoskys grow some 60 different varieties of flowers, from daisies to delphiniums, lilies to lupines. Some they grow in the rolling fields of their farm. Some they grow in shade houses and greenhouses, depending on the temperament of the flowers. Some flowers like the cold. Some like it hot. Some like the sun. Some don't.
Not every flower works out. Peonies just can't handle the Texas heat, they say. This season, the couple is experimenting with a variety of English roses they've never tried before.
The Arnoskys have 22 structures on their farm, eight of them propane-heated, to keep growing through the winter. The rest are cold frames that can be converted to shade houses in the summer.
Most of their harvest they sell to large grocery retailers, but shoppers also come by their farm stand to buy directly from them. When the Arnoskys aren't around, they leave the flowers at the stand with a cashbox so visitors can serve themselves on the honor system.
"We just get streams of people coming in," Pamela says. Some drive more than an hour to get there for an escape into the country.
The farm has been buoyed by the "buy local" movement. Consumers want to buy local products direct from the growers. When they find out local flowers are fresher than imported flowers, and stay fresh longer, they keep coming back, Pamela says.
"It's easy to sell a Texas product because Texans love Texas stuff," she says, "but if we didn't give them a superior product than they get from California or South America, they won't buy them."
In the supermarkets, their competition is mostly from places such as Colombia, Venezuela, and Ecuador, where massive operations grow low-cost flowers for sale in U.S. stores. But the biggest hurdle, the Arnoskys say, may be simply getting people to buy flowers in the first place.
"Our competition is the perception that flowers are a waste of money," Pamela says. "We always say that if we can get people to buy flowers, any flowers, we're heading in the right direction."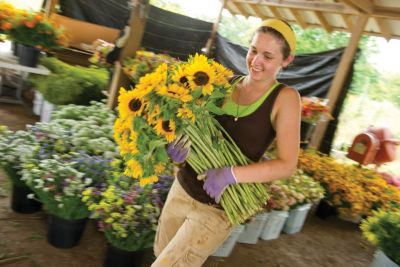 'WORTH THE EFFORT'
In the United States, most flowers are grown on the coasts, particularly in the San Francisco area, where the mild climate is kind to a variety of flowers. What the Arnoskys are doing in the heat of central Texas, flower experts say, is amazing.
"It's very impressive," says Lynn Byczynski, editor and publisher of Growing for Market, a newsletter for local food producers, and the author of The Flower Farmer.
"They work really, really hard and they really are flower lovers. I think they know pretty much everything there is to know about flowers, from the science of it to the aesthetics that are involved."
Flowers are a good avenue for local farmers, Byczynski says. While it may be more specialized and detailed than, say, growing pumpkins, she says, it's worth the effort. While vegetable fields are laying dormant much of the year, and not producing most of the season, different flowers may be in bloom all summer, and depending on the climate, even all year.
"Most cut flower growers try to have the largest possible number of varieties over the longest possible period for their climate," she says. "Sometimes that can mean 200 different species."
Flowers can be less vulnerable than other crops, too, she says. Instead of waiting for vegetables to ripen, flower farmers get to harvest as soon as the bud matures — even before it opens up. That limits the damage that bugs and blights can do, Byczynski says.
That makes them ideal for farmers who want to be organic, or, like the Arnoskys, use the least amount of chemicals possible and still produce beautiful blooms.
"I'm an organic cut flower grower," Byczynski says, "so I always have been real attentive to strategies that help you get cosmetically perfect flowers without using pesticides on them."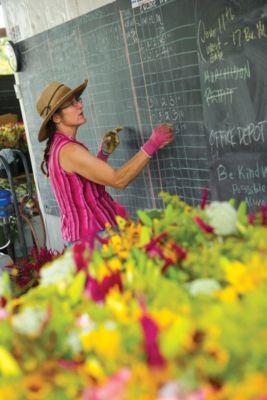 But the big payoff is at the market, she says. Vegetable growers who start selling flowers often find they're shocked by the prices they can get for cut flowers at the farmer's market — much higher than fruits and vegetables.
"It's one of the best horticultural crops you can grow," she says.
It's worked out for the Arnoskys, who have put three children through college and the fourth on the way there. Their children have been part of the business since they were young, Pamela says, and some of them want to keep on farming. It was a good way for them to grow up, says Pamela, who home-schooled the children on the farm.
"Every one of these kids, they're huge self-starters," she says. "They've all had their own projects on the farm over the years."
'MORE THAN JUST A FARM'
Part of their success has been to think in a different way about what it means to have a farm. That doesn't just mean substituting tulips for tomatoes. It has meant hosting farm dinners for loyal customers, with candlelight — and flowers, of course — on long tables set up in the fields.
And that big blue barn they built, with the help of hundreds of friends in an old-fashioned barn raising, may soon host dances as soon as they finish the floor. And not just polkas, either.
"Central Texas is hugely rich in musicians," Pamela says. "The dance halls around the area are all coming back.
People are starting to remember Western swing and all that. It's been a renaissance."
Recently, they've been planting blackberries, peach trees, and pears so that one day they can invite customers to come to the farm, pick their own fruit and enjoy a day in the country.
"We're building a farm that is more than just a farm," she says. "It's a destination."
Colorado writer David Frey doesn't grow flowers, but he's bought plenty of them.