An Indiana farm originally intended as a business retreat has grown into a popular entertainment destination by the entrepreneurial Strong family — despite its very unlikely location.
Bearcreek Farms Country Resort, in Bryant, Ind., attracted about 60,000 visitors last year with its large restaurant, lodging, shopping, horse shows, antique car museum, and a 600-seat theater that features country, orchestral, gospel, and pop musical artists.
It all started with Don Strong, the family patriarch who got a job at 15 cooking at a diner.
"He was very short so they put him on a milk crate and taught him to use the grill and cook hamburgers," says his daughter, Carla Strong Loy. "That is how the food business got into his blood."
He would go on to open several diners, including what would eventually become a chain of 14 restaurants throughout northeastern Indiana called Richards Restaurants.
One of those diners was a coffee shop where the town men gathered, Carla says. "My father became very good friends with these men and they became very supportive of him," she says.
Indeed, they lent money to Don to expand in other markets when banks wouldn't consider it. But they were more than skeptical when he came to them with the idea of Bearcreek Farms.
DISREGARDING THE NAYSAYERS
At first Bearcreek Farms was to be simply a retreat for his family — wife Mona Jean and daughters Deeda Yoder and Carla — as well as a place where the restaurant personnel could relax. But Don's entrepreneurial spirit took over.
"He told them he was going to turn the 200 acres into a restaurant," Carla says. "And these men just laughed and said there is no way, in the middle of nowhere, in the middle of a corn field, (that idea) will work."
Despite their counsel to the contrary, the restaurant was built in 1975, with a 30-foot loft designed for community shows. He also moved the Richards Restaurant corporate offices on site.
And Bearcreek Farms began to grow.
"From there we moved into a second building in 1983 that would seat 300 and it became a dinner theater," she says. "Then we added lodging. My father was an entrepreneur, a visionary, and he wasn't afraid to try anything."
That included a zoo and amusement park.
"During that time frame we also opened our 600-seat theater," Carla says. "We added more lodging units and more retail and eventually we did away with the amusement park."
In 1999, they opened the Homestead Restaurant, which seated 600 and was designed by Don himself. But just four years later, a fire occurred during building repairs, and the Homestead burned to the ground.
They operated from other buildings as the Homestead was rebuilt and business resumed.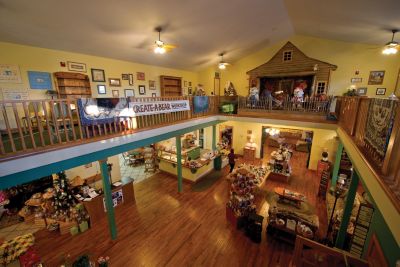 ATTRACTING NEW CUSTOMERS
When Don was ready to slow down a few years ago, he considered selling Bearcreek Farms. The Richards restaurants had always supported Bearcreek, and he didn't want to financially burden his family.
"It didn't have to make money before," Carla explains. "This is where he came to relax from the stress of the day-to-day restaurant business."
Carla, however, wouldn't let it go, and decided to make some changes of her own to make Bearcreek profitable.
"I started looking at 50s groups, comedians, the older country-western," she says. "And we saw there was an interest that started bringing in new faces and a younger crowd."
In the past three years, Carla has booked acts such as the Oak Ridge Boys, Tanya Tucker, The Osmonds, and Tony Orlando.
"Our new customer base has jumped on board, but for our old customer base we are still doing some orchestras that appeal to them," she says.
Carla also has brought food to the forefront at Bearcreek.
"We have a greenhouse and we are going to grow some of our produce and vegetables on site so we can use them in the restaurant," Carla says.
They also plan to offer demonstration cooking for their guests, using that fresh produce, and perhaps start a cooking school for Richards employees.
So what started as a family retreat out in the "middle of nowhere" has become a destination for thousands of visitors, thanks to the vision and tenacity of the Strong family.
"Like most businesses right now, we can only hope to get the doors open for the years to come," Carla says, "and that the economy will improve and the Bearcreek Farms legacy can be passed on to my children and my nieces one day."
Hollie Deese is a Gallatin, Tenn., writer.