There is a special place in Gwen Gutwein's heart for old barns. Growing up an Indiana farm girl, she feels a sense of wonder, excitement, and history when she first steps foot in one.
But with so many of the handcrafted structures disappearing from the landscape, she felt the need keep their spirit alive and bring awareness to their beauty.
As an artist, capturing the personality of a barn through paintings seemed only natural, and led her to create the "Barns of Indiana" project in which she paints two barns from each of Indiana's 92 counties in order to preserve and spread the history of as many as she can.
"I wanted to draw attention to the fact that Indiana, and other states as well, are losing all of our wonderful old barns," Gutwein says. "Those barns reflect so much character and ingenuity and integrity and heritage and ethnicity, not to mention function. They are just so unique and so many of them were built with care and love to make a very fine structure. And they are sort of being ignored in our fast-paced world."
Gutwein, whose own beloved barn burned to the ground when she was 12, has such a fondness for the structures she paints, they almost become a person to her.
"I have yet to find two that are near alike," she says.
Since 2005, Gutwein has captured more than 100 of Indiana's barns on canvas.
And every year since 2008, she chooses 12 structures to be featured in a calendar that helps offset some of the costs she incurs by traveling and painting. It is her only income on the project but it doesn't really come close to covering her expenses. Of course, making money has never been her goal or she would have stopped after painting her first few barns.
Two years ago, the Fort Wayne (Ind.) Museum of Art decided they wanted to take her first 50 paintings on tour and they have since been on continuous display throughout the state.
"It is just what I wanted to happen," she says. "I wanted to get them out there so people can think, 'Wow, we really do have something cool here.'"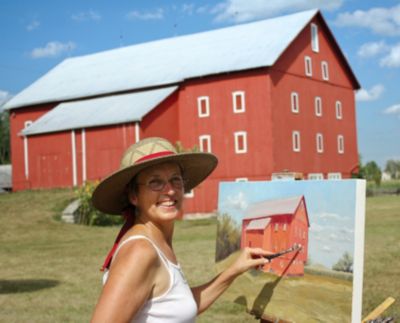 Amazing Histories
No matter how many barns Gutwein paints, there is nothing like the feeling she gets when she first rounds a corner and comes face-to-face with a new subject.
"They take my breath away," she says. "And then I will talk to the owners and they will have this incredible history."
There's the story about a farm family whose barn was built after a neighbor gave them money for their son to serve in the Civil War in her son's stead (he survived the war), or another barn built around a 9-foot tree stump in Washington State to save money.
Gutwein chooses her barns after first contacting historical societies for recommendations, but more often than not she finds herself in her car with a map, looking for old, curvy roads, preferably near a creek or other water source. When she finds a barn she wants to paint, she approaches the owner for permission and to get any history they might have.
Gutwein takes pictures inside and out, measures the structure, and chronicles how it was used. This history, coupled with her painting, is her way of preserving the barns before they are destroyed. In fact, at least two barns she has painted no longer exist.
But with no end in sight for her project, there will be no rest for Gutwein. She has been tapped by the National Barn Alliance — a non-profit organization that coordinates efforts to save historic barns — to keep up her good work nationally. She now has painted barns in Michigan, Illinois, Florida, Arizona, and New Mexico.
"I wanted to give back to my community something that I could, being an artist," she adds. "My hope is that people can really see what we have as ... a national treasure."
Hollie Deese is a Gallatin, Tenn., writer.