If Karen Wortman were allowed a goat-farming "do over," she would make herself very familiar with the challenges of goat farming before a trailer load of 25 pregnant nannies arrived on her farm.
"I knew nothing about goats," she recalls of that day back in 2006.
She's come a long way in the ensuing four years, developing a profitable herd of quality Boer meat goats, expanding her herd to other breeds, and truly enjoying her animals.
JUST THE RIGHT SIZE
Karen's husband, Ken, wanted to add livestock to their new 35-acre Tennessee farm and in his military travels, had noticed the popularity of Boer meat goats in different countries and cultures.
The Wortmans decided that goats would be a logical choice based on their marketability and, more importantly, their size, she says.
"He was gone a lot, and we needed something I could handle," she says. "Cattle were too big."
They ordered 25 pregnant Boer nannies and then drove to Texas with a trailer to buy a premium Boer buck they had chosen.
"And then my husband went to Iraq and the nannies started having babies," Karen says.
Circumstances weren't the best. The Southeast had suffered a long, difficult drought, and hay was at a premium. They lost a lot of babies, perhaps because the nannies had been transported while pregnant.
"That first year was the hardest," she recalls. "The learning curve was very high."
The answer, she decided, was to get educated about goats, so she enrolled in a University of Tennessee master meat goat certification program.
"It was the best investment of time I could have made," Karen says.
She learned about trimming hooves, giving shots, breeding, feeding, parasite control, and much more.
"I read any and all research on goats I could find, and I asked a lot of questions," she says. "There's lots of knowledge out there."
She also spent most of her time among her goats, familiarizing herself with their traits and behavior.
"I would sit in the pasture with them and watch," she says. "I got to know them and could tell when something was not right."
"I would sit in the pasture with them and watch," she says. "I got to know them and could tell when something was not right."
She applied what she learned in class and began acquiring the best females and culling her herd.
"I got rid of those goats that weren't healthy, were bad mothers, had hoof problems, and were mean," she says.
That process didn't come easily. "It was very hard for me, because I named everybody," she says. "My husband could look out in the field and see livestock. I would see Sarah and Big Momma."
But to be a successful goat farmer, Karen realized that she had to take a step back from becoming so emotionally invested in each goat.
"I decided to not name the babies because they all have to leave," she says, whether it's to be used for meat or to start someone else's herd.
Now, when one of her Boer nannies have kids, she refers to them as "Ethel's girl" or "Sarah's kids."
BRANCHING OUT
Though Boers were her first goat breed, Karen is selling them off and exploring other breeds. She wants goats that can make a profit without having to sell them. The Angora goat, with its premium fiber — called mohair — caught her interest.
"I found the idea of fiber very intriguing," says Karen, who learned to spin fiber into yarn with a spinning wheel.
She bought three colored Angoras — a buck and two nannies — and learned how to shear them to get the ultra-soft fiber.
Fiber from her Angoras that she doesn't use is processed and sold to other spinners who also love the softness of mohair.
Karen also prefers the Angoras' docile, good-natured personality. "I love them," she says. "They're wonderful."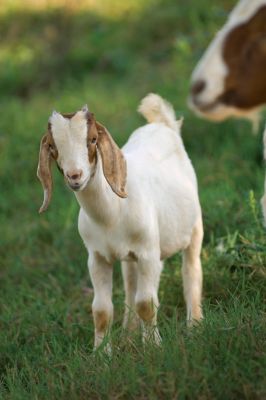 But the goat that truly has captured her heart — Gwendolyn, her first dairy goat — arrived at Hidden Springs Farm last winter.
"For Christmas, I got a little Nubian and I enjoy Nubians better than any of the others," she says.
"Gwendolyn is like a puppy. She'll come to the barn, jump up on the milking stand, and let me milk her," Karen says. "She has a very gentle personality."
That's typical of the breed, which Karen finds more enjoyable than Boers, which can tend to be aggressive.
"I have phased out a majority of my Boers," she says. "I have five nannies now. I went from 25 to five."
Her herd, at one point, numbered 60.
A LIKING FOR NUBIANS
If she had it to do over again, Karen would have started with Nubians. Not only are they hardy and the easiest for her to manage, but she can enjoy, and make a profit from, what they produce.
She and Ken regularly drink the milk and she makes mozzarella and cheddar cheeses with the milk her goats produce.
And Karen, who sells eggs, processed chickens, and herbs at the local farmers' market, has added a best-seller to her products: goat's milk soap.
"It sells like crazy," she says.
So for now, after weathering a challenging start to goat farming, she's slowly building and developing her Nubian herd.
And they all have names.
Out Here editor Carol Davis wants Angoras, but isn't quite ready for the challenge.