A collection of 360 classic John Deere tractors in Keystone, Iowa, tells a tale of hard work, family ties, and a brand as much a part of the Hawkeye State as cornfields.
It's the story of Darold Sindt, a John Deere man through and through. At 69 years old, he can rattle off parts numbers for tractor models introduced decades ago, but the Sindt Antique Museum is about far more than engines, transmissions, and chassis.
The collection claims a spot of honor in a community of less than 700 people, where farming means more than food on the table and money in the bank. It's a way of life.
"We're in God's country, where they raise seed corn in three or four feet of top soil," Sindt says. "The Lord set us up good."
Sindt's journey began in the spring of 1957, when Fred Schneider visited the local high school. Schneider owned a company selling and repairing tractors, but he lacked an heir, and he needed a solution.
"He told them at the school that he wanted someone good with mathematics, who was willing to work and who wasn't going to college," says Sindt, who caught Schneider's eye.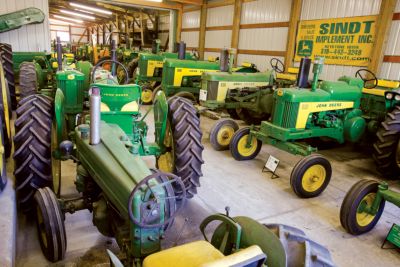 "He gave me a college education in the school of hard knocks," says Sindt, chuckling as he recounts the job he took after graduation in 1959 and the understanding that came with it. "I knew that I would be a John Deere dealer by the time I was 25," he says. "It was kinda scary."
He learned the ins-and-outs of the tractors that would define his business life. Then, the tractor mechanic became a store owner in 1967, buying the business from Schneider, who died a short time later. Sindt retired in 2006, passing the business, Sindt Implements, to his two sons, Derrick and John.
GENERATIONS OF LOYALTY
The collection's roots reach back to the early 1960s when Sindt paid $100 for a 1938 John Deere A model. "One of those things would now bring about $3,500, but we still have a lot of $100 tractors in the collection," Sindt says. "We also have some $100,000 tractors."
When he reminisces, he talks about his mother, Amanda, who died at age 56; and his brother, John, who died at age 29; and Schneider.
"All of this is in their memory," he says of a business that now includes six stores, a thriving tractor service business, and one of the most substantial private John Deere collections around. In a place where John Deere is one of the largest employers, not to mention an international brand, it's a collection that draws attention.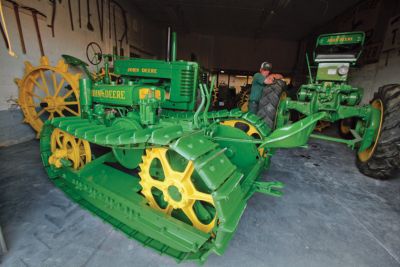 His favorite, a 1916 Waterloo Boy, does not, however, carry the John Deere logo. The model precedes John Deere's acquisition of Waterloo Boy by two years, making the tractor a cornerstone of Sindt's collection.
Sindt still wheels and deals, selling the occasional tractor and adding to the collection — sometimes from unlikely sellers. "Kids' groups like Future Farmers of America; they will completely fix up a tractor. It won't have any leaks and some of the nicest tractors I've bought have been fixed up by one of these groups," he says.
He has waited as long as 20 years for specific models to appear on the market. Some of them are buybacks from sales he made decades ago.
"In the farm business, people hand down the legacy of their equipment and of what equipment they're going to use," says Ken Golden, a spokesperson for John Deere, which is based in Moline, Iowa, and employs 12,000 in the state. "We earn our customers' loyalty over generations of a family."
With Moline just more than 100 miles to the east, the museum — admission $8 — is a stop for tourists drawn to the home of John Deere. About 170 of the tractors, as well as other gear, are on display.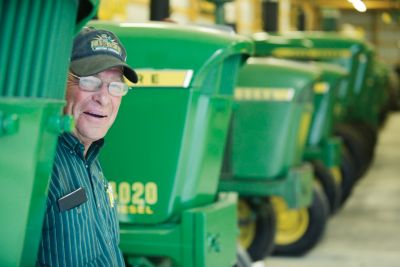 Bonds formed through the museum and years of collecting led Sindt on trips to places such as Australia and New Zealand. "It was all through the John Deere connections, with people who have come here," he says. "Now, I've gone to visit them."
At home, Sindt also makes sure no dusts gathers on the collection. "We go to parades and tractor rides, and people come and visit us all of the time," he says.
Local FFA students also auction their time to raise money, and Sindt often bids high. He uses the youthful help to spruce up the museum and he introduces them to farm history.
"It's a lot of work, but the kids really enjoy seeing the museum," club adviser Krystal Wright says. "Some of those tractors are so old; this gives them an opportunity to look at machinery their families might have farmed with."
Noble Sprayberry is a frequent contributor to Out Here.