It seems that everyone is tightening their belts these days, but during the gift-giving season, that can encourage more thought and creativity.
Handmade gifts are a great way to get into the true spirit of the holidays by giving a part of yourself.
These five great ideas contain easy-to-find ingredients that are not only simple to make but are budget-friendly as well.
And by using your imagination and creativity, you can create pretty labels and packaging for each gift.
PASTA FAGIOLI SOUP MIX
What better gift at the holidays than a dinner that practically makes itself? With just a few additional fresh ingredients, your friends can turn this gift into a bubbly, warm pot of soup that will satisfy the heartiest of appetites.
Give them the one thing everyone could use more of — free time!
Makes 1 quart jar of soup mix.
For the soup mix:
2½ tsp. dried minced garlic
2 tsp. dried Italian seasoning
1 tsp. salt
¼ tsp. crushed red pepper
⅓ cup dried chopped onion
2 bay leaves
¾ cup dried dark red kidney beans
¾ cup pinto beans
¾ cup dried northern beans
¾ cup dried red beans
Note: place 1½ cups small pasta in a plastic bag to be added to the jar.
Gently layer the ingredients in the order listed into a glass quart jar, placing the bay leaves along the sides so that they look pretty. Add the bag of pasta last. We used an old-fashioned canning-type jar with a pretty red lid for $4.
Attach a recipe card to the jar that reads:

Pasta Fagioli Soup

2 Tbsp. olive oil
1 large carrot, thinly sliced (about 1 cup)
2 stalks celery, diced
2 28-oz. cans Italian tomatoes, chopped
1 qt. chicken stock
6 oz. ham, chopped
Pasta Fagioli Soup Mix

Heat olive oil in a large pot and sauté carrots and celery for about 5 minutes. Add the tomatoes (with juice), chicken stock, and bean soup mix, reserving the pasta for later.
Bring soup to a boil for 2 minutes, then reduce to a simmer and partially cover for 2-3 hours or until the beans are tender.
Add the pasta and ham and cook an additional 7 minutes or until pasta is al dente, or cooked just long enough to be firm rather than soft.
Serve the soup garnished with fresh Parmesan cheese and a drizzle of good olive oil.
Tip: For that extra-special person, you may want to include these ingredients to a gift basket along with the soup mix:
1 quart chicken stock
2 28-oz. cans Italian tomatoes
Bottle of good olive oil
Package of country ham (this will keep at room temperature long enough for gift-giving)
Wedge of good Parmesan cheese (also keeps at room temperature)
Loaf of crusty bread
---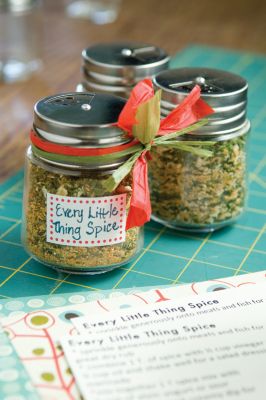 EVERY LITTLE THING SPICE
Just like the name says, this spice really is good for and with every little thing. Sprinkle this spice over grilled meats and fish or combine it with vinegar and oil to create a tasty salad dressing and marinade.
Mix it up with some mayonnaise for a zesty sandwich spread or with sour cream for a cool dip.
This will be your go-to spice for all your kitchen creations.
This recipe makes 1⅓ cups, but you can multiply measurements to make as much as you like.
½ cup dried parsley
2 Tbsp. garlic powder
¼ cup kosher salt
¼ cup dried chopped onion
2 tsp. oregano leaf
2 tsp. thyme
1½ tsp. white pepper
1½ tsp. black pepper
1 tsp. crushed red pepper
1 tsp. paprika
1 tsp. celery salt
Mix all ingredients in a small bowl and then funnel into small spice mix bottles with shaker lids. These bottles are easy to find at any home store and very inexpensive. The ones we used were $1 each and came in a four-pack.
Attach a label with these suggestions:

Sprinkle generously onto meats and fish for a great dry rub.
Combine 1 Tbsp. of spice mix with _ cup vinegar and _ cup oil and shake well for a salad dressing or marinade.
Mix together 1 Tbsp. spice mix with _ cup of plain yogurt or sour cream for a light and creamy dip for veggies or chips.
Toss veggies with olive oil and spice mix before roasting.
---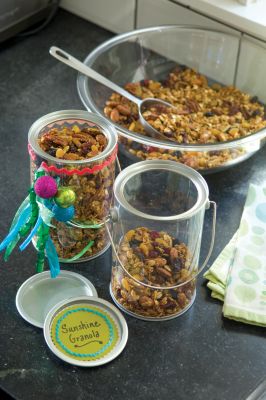 SUNSHINE GRANOLA
The holidays are packed with yummy, rich foods that we look forward to all year but I always reach a point where I say "Uncle!" and crave healthy, wholesome alternatives.
This crunchy granola fits the bill perfectly for a great snack nibbled straight out of the container or with fresh fruit and plain yogurt for a power breakfast to carry you through a busy day.
Makes about 10 cups.
3 cups old-fashioned oats
¾ cup wheat germ
1 cup whole almonds
½ cup pecans
½ cup walnuts
½ cup pistachios
2 tsp. cinnamon
½ tsp. ground ginger
½ tsp. nutmeg
½ tsp. kosher salt
¼ cup orange marmalade
¼ cup pure maple syrup
2 Tbsp. molasses
2 Tbsp. vegetable oil
1 cup golden raisins
½ cup dried cherries
½ cup dried cranberries
½ cup dried blueberries
Preheat the oven to 275 degrees and line a large sheet pan with parchment paper.
In a large bowl, combine the oats, wheat germ, nuts, and spices. Set aside.
Combine marmalade, maple syrup, molasses, and vegetable oil in a glass bowl and heat in the microwave for about 1 minute. Whisk to combine.
Pour marmalade mixture over the oat mixture and toss until fully incorporated.
Spread the mixture evenly over the sheet pan and place in the oven for 40 minutes, stirring every 10 minutes.
Let the granola cool completely and add the dried fruit. Store in airtight containers.
We found these fun plastic cylinders at the craft store for $1 each. The granola keeps at room temperature for about three weeks.
---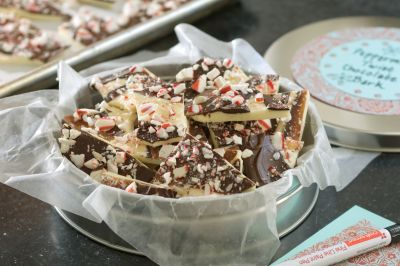 PEPPERMINT TWIST CHOCOLATE BARK
I love homemade candies and confections but the idea of candy thermometers and fancy molds is enough to keep me from taking on that task at the busiest time of year. This candy recipe requires no special equipment and is so simple you may end up making it year round.
Makes 2 pounds.
24 oz. white chocolate chips
8 oz. semisweet chocolate chips
8 candy canes or 4 oz. peppermint candies, crushed
Line a cookie sheet with parchment paper.
Place the white chocolate chips in a dry, glass bowl and melt in the microwave in 30-second increments, stirring often until the chips are thoroughly melted and chocolate is very fluid. I find that a whisk works well. Working quickly, melt the chocolate chips using the same method in a separate bowl.
Pour the white chocolate into the middle of the cookie sheet and spread evenly with a knife or inverted spatula. Leave about 1 inch on all sides.
Before the white chocolate sets up, drizzle the semisweet chocolate back and forth over the white chocolate with a spoon. Use the back of the spoon to swirl the two chocolates together decoratively.
While the chocolate is still soft, sprinkle the peppermint over the top and make sure to pat any bigger pieces into the surface.
Chill the chocolate bark in the refrigerator for 1-2 hours.
Take out the chocolate bark and break it up into large pieces with a knife. Pack the bark into airtight tins between layers of wax paper. We found the tins we used in the craft store for $1 and then used scrapbooking papers to create a festive label for the lid. Store in a cool place or the refrigerator.
Tip: You can make variations of this chocolate bark by using any number of combinations. Try candied ginger and orange peel or dried cherries and pistachios. You get the idea!
---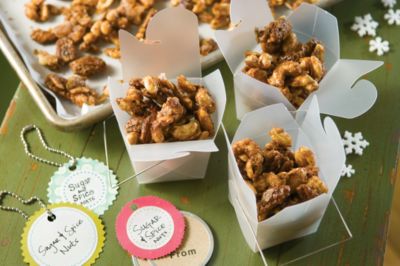 SUGAR AND SPICE NUTS
These sweet and spicy nuts are the perfect tidbit with a glass of bubbly or a steaming mug of tea.
Not only are these nuts super easy to make, but you can use whatever combination of nuts you like. Mix some of these up for your friends and maybe they will have you over to share.
Note: You should use unsalted nuts for this recipe.
Makes about 7 cups.
2 egg whites
1 cup raw sugar
1 Tbsp. kosher salt
½ tsp. ground ginger
¼ tsp. cayenne pepper
2½ cups peanuts
1 cup whole pecans
1 cup whole almonds
½ cup whole cashews
½ cup walnuts
½ cup pumpkin or sunflower seeds
Preheat oven to 275 degrees and line a large baking sheet with parchment paper.
In a large bowl, whisk 2 egg whites with 2 Tbsp. water until frothy. Set aside.
Combine sugar, salt, ginger, and cayenne pepper in a small bowl. Set aside.
Toss the nuts in the egg white mixture and add the sugar-spice mixture; toss together until the nuts are evenly coated.
Spread the nuts onto the lined baking sheet and bake for 35 minutes, tossing once or twice during the baking time.
Let the nuts cool and then break up into clusters. Store in an airtight container in a dry, cool place. For a great little gift you can pack up small portions of these nuts and put them in miniature glassine bags or take-out containers like the ones we used.
Whitney Kemp prepares and taste tests recipes for Out Here.