Most of us had Teddy bears when we were growing up. When Cecilia Wolfe says she used to curl up in bed with a bear named Baby, she means a real, live baby bear cub.
Sound unusual? It was just part of growing up for young Cecilia. Wildlife has always been part of the family for her and her parents, who run their nonprofit animal rescue My Brother's Keeper on their north Georgia farm. So it shouldn't be surprising that Cecilia, 15, seems to have an innate ability to care for the ill, injured, and orphaned animals that call their Rosebud Farm home.
"You go home and you have a buffalo there, or a bear," Cecilia says. "It seems normal for me. I don't see it as very different, but other people do."
Over the course of her life, Cecilia's home has been a sanctuary for all kinds of needy critters. Young fawns that lost their mothers. Hurt raccoons. Injured turtles. Plenty of horses, dogs, and cats. And yes, buffalo and bears. Since she was a child, Cecilia has taken to caring for these animals herself, sharing with them a love for wildlife that only a child can feel.
"She stayed up around the clock for lots of horses and squirrels," says her father, Chipa. "Lots of animals that needed to be fed 24 hours a day. It is special. The unfortunate thing that makes it special is that it's not instilled into all kids. It's been an opportunity that most kids don't have: to get to see your work live on through a creature that you get to release. It's taught her an enormous amount about life. I've watched her mature beyond her years."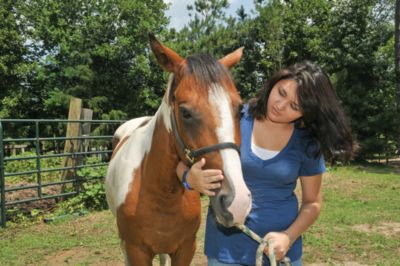 CULTURAL CONNECTION
Chipa credits his family's compassion for wildlife in part to their Native American heritage. He is part Cherokee. His wife Ruby is Lakota Sioux. Their farm takes its name from the Rosebud Reservation in South Dakota, where Ruby grew up. My Brother's Keeper takes its name from an Indian belief in animals and humans as brothers.
"I think it's very important that Cecilia understands our connectedness," Chipa says. He notes a Sioux saying that recognizes all life as "all my relations."
"Indian peoples have always been recognized as stewards of this earth," he says.
It's a role the Wolfes take seriously. For nearly 30 years they have made their farm a home to hurt and orphaned animals, but it wasn't until Hurricane Katrina hit in 2005 that it became a more formal operation.
Chipa headed to New Orleans to help rescue dogs and other animals left stranded or injured by the flooding. Some of those animals still live on their farm, along with wildlife that area residents bring to them.
Often, they find themselves taking in fragile fawns whose mothers have been hit by cars, or bear cubs such as Baby whose mother was shot.
"We learned, really, as we went along," Ruby says.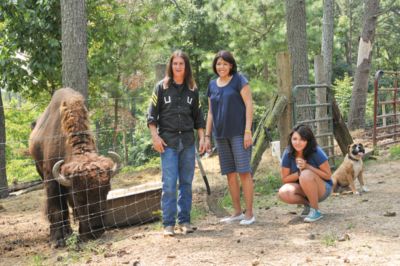 When they can, the Wolfes try to return the animals to the wild. If the animals become too used to humans, they try to find a suitable sanctuary for them.
It's meant a unique upbringing for Cecilia, her mother admits.
"The animals that we have, they live in our home with us," Ruby says. "It's not every day you wake up and there's a bear cub sleeping in bed with you."
That little cub is 4 years old now, and still a part of the family, although the Wolfes say they're looking for a more permanent home for it.
Saying goodbye to the animals can be hard, Cecilia admits, especially when it means goodbye forever. Not all of those fawns she stays up feeding through the night see the dawn.
"Sometimes they just don't make it," Cecilia says. "When I was smaller it was very sad. Now I've come to realize that you can't always save every one of them. But you try."
That understanding of the "balance of life" is what makes her unique, her father says. Maybe it comes from the powwows her mother danced in while she was still in the womb, Chipa says.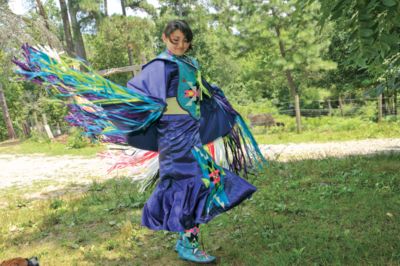 "The drumbeat actually represents the heartbeat of the earth mother," he says. "It's a wonderful thing to have watched her grow up with these ideas. It's related to the dance, to the song, to the trees, to the animals, to the earth. Cecilia has been dancing since before she was born."
You might think this life of caring for wildlife would give Cecilia dreams of being a veterinarian, but instead, she's a budding actress. Her heart is on the stage, she says, but that doesn't mean leaving behind her passion for caring for animals that can't care for themselves.
"In some way," she says, "I still want to be involved in all this."
David Frey is a freelance writer in Glenwood Springs, CO.