Each time Jesse Wells pulls the bow across the strings of the fiddle tucked beneath his chin or plucks the strings of a banjo, he tugs a little tighter on the tie that binds him to his Kentucky birthright.
Jesse plays old-time music — the primitive, distinctive acoustic fiddles, mandolins, banjos, and guitars that define the sound of Appalachia. Remember the soundtrack from the movie, O Brother Where Art Thou?
"It's been part of my life since the beginning," says Jesse, who not only plays old-time music, but he teaches it, too, at Morehead (Ky.) State University.
Actually, it's been part of the Wells family tradition for generations. His mother, Cathy, plays guitar while Jesse's father, Jamie, is an accomplished old-time musician, as are uncles, great-uncles, and grandparents before him.
"It goes as far back as we can trace," Jesse says.
BLUEGRASS/OLD-TIME
To the uninitiated, old-time music is interchangeable with bluegrass music. The difference may be subtle to most, but there is a difference.
Old-time music has an old-world influence; bluegrass is a continuation, or evolution, of that, explains Jesse, who also is an archivist at Morehead State's Kentucky Center for Traditional Music, which preserves traditional musical styles.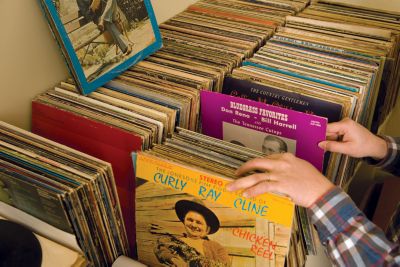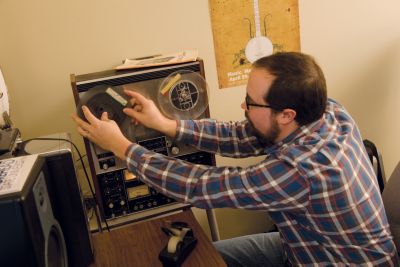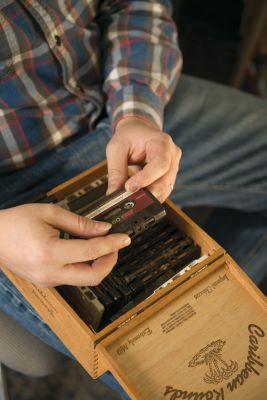 Old-time music generally is more about dance-centered instrumental music, and has historically been played at square dances, barn raisings, family gatherings, weddings, and the like. Bluegrass focuses more on vocal music, and became a performance art, first on radio and then on television, Jesse explains.
Bluegrass boomed in 1945-46 with the popularity of musicians such as Bill Monroe, Lester Flatt, and Earl Scruggs playing music that generally featured a "lead" musician who carried the melody both instrumental and vocally.
"They were like the biggest pop icons," he says. "And Bill Monroe … what a significant figure he's been."
Old-time music is more pure and not as polished and showy as bluegrass. "Recorded music is performed live, rather than with all the overdubbing," he says.
And old-time aficionados don't want that to change.
"A lot of people in this country are searching for a raw, real sound," Jesse says. "I've traveled all over the country and into Scotland and Ireland and old-time musicians have the same goals with their traditional music: keeping it real; one foot on the cliff and one off."
IRISH INFLUENCE
Old-time music may seem very Appalachian, but it's a blend of several cultures.
"Anglo traditions and European and African traditions melded together in Southern Appalachia," Jesse says. "We say it's a very American music, but it's a beautiful thing to see how music has tied all of those folks together."
The fiddle traditions of Scotland and Ireland — and particularly the region of Ulster, Ireland — has been the most influential on the music of Eastern Kentucky, Jesse says.
"I've gone to Ulster and heard the same things being played there as are played here," he says.
The Appalachian adaptation of those tunes tend to be simpler than the more complex Irish versions, because long-ago fiddlers would hear a song, memorize it, and then perform it his way at a local dance.
"It's like the telephone game you used to play when you were a child," he says. In that game, the first player whispers a sentence or two to the next player, who passes along what he heard to the next player. The last player then tells everyone what he heard, which usually is, in the retelling, vastly different.
"It's the way a tune evolved pre-1940," Jesse says.
MUSICAL ROOTS
Jesse was introduced to old-time music by his father, accomplished self-taught fiddler Jamie Wells, who also has played mandolin, clawhammer banjo, rhythm guitar, piano, and trumpet.
Jamie was part of a group of musical schoolteachers who called themselves the "Bottom of the Barrel Bunch." They traveled regionally to play at events and state parks and compete in old-time fiddlers' conventions.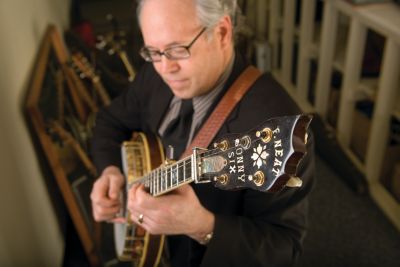 As young as 6 years old, Jesse, who learned to play by ear, would pick up a mandolin — his first instrument — and play behind his father's band.
"The band was gracious and very patient with me," he says, smiling at the recollection. "It was great training for me."
But in high school and early college, Jesse abandoned the mandolin and old-time music for what he, as a teen-aged boy, thought was much cooler — a guitar and rock music.
He studied classical and jazz at the University of Louisville, but when he left to enroll at Morehead State University, Jesse came home — in more ways than one.
"When I came to Morehead, I got into my musical roots," he says. "It was a blessing to be able to come to Morehead; it nurtured me as a musician."
Besides studying jazz guitar, he learned to play a fretless banjo and, to his father's delight, the fiddle, by studying with notable, world-class fiddler Andy Carlson, who was teaching at Morehead at the time.
Upon graduation, Jesse was asked to teach at Morehead and has immersed himself in the musical culture. He teaches, researches, and archives old-time music, hosts a radio show, and fiddles in the Clack Mountain String Band, which plays such songs as Arkansas Traveler and Rattler Treed the Possum at local festivals, large old-time music festivals, friends' houses, weddings, and community gatherings.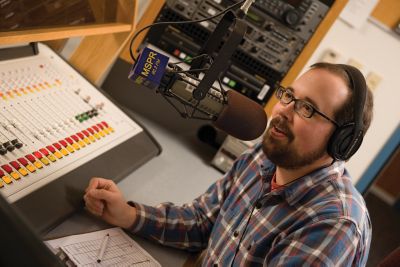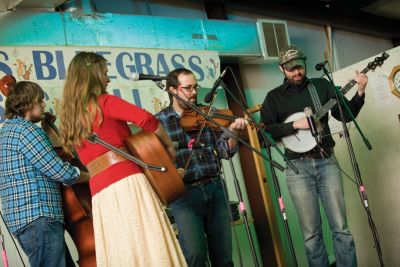 His wife, Amanda Lynn, is musical, as is their toddler daughter, Maddie Rae, who is already tugging at mandolin strings.
"It's my greatest link; I know where my people came from," he says. "A lot of our students make that great connection to that sense of place, and music is a very powerful connection."
MECCA OF OLD-TIME MUSIC
Teaching old-time music — what some call a dying art — can be difficult, particularly in an age where students can download every kind of music imaginable.
"It is a challenge, but we're uniquely in the perfect place because we're teaching music that has been a part of this place for so many generations," Jesse says. "Someone said that there are as many great fiddlers here as there are in Ireland."
Indeed, Eastern Kentucky is known as the Mecca of old-time music, but most Morehead students that Jesse teaches are initially unfamiliar with old-time music.
"Most are familiar with bluegrass, but by going back and studying the roots of bluegrass, they begin to feel a sense of connection," he says.
Daniel Frederick is one of those students. "I've always liked … hearing the old songs," he says. "The lyrics are really always really raw and truthful."
Despite his youth, Daniel, who plays fiddle, banjo, guitar, bass, drums, and piano, appreciates
the cultural connection of old-time music.
"It's me and my family and all these people around me," he says. "It's us and our music. It's one of the last things that we really have to hold on to."
MUSICAL REVIVAL
Eastern Kentucky might be the cradle of old-time music, but it's hardly contained there.
When Jesse teaches at fiddle camps and workshops across the country, he's noticed that old-time music is thriving.
"In the last 10 years, there's been a revival of the music, with young people wanting to learn it," he says.
"There are small urban pockets identifying with the culture and history of the music," he says. "It's an amazing thing to see."
One reason may be that people moved from Eastern Kentucky to places such as the West Coast, and connected with the music when they became older, he says.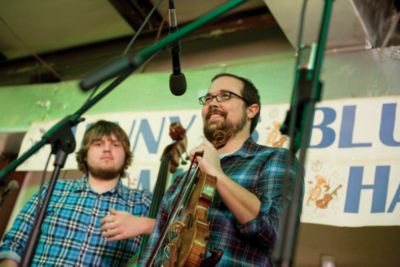 The O Brother movie boosted interest in old-time music, as did the soundtrack from the movie, Cold Mountain.
"Those soundtracks helped identify the difference between the musical styles," he says. "People asked, 'What is this music?'"
Additionally, unsettling national events — Sept. 11 and a shaky economy, and also historical events such as the Great Depression — create a need to get back to basics, and old-time music is one of those basics, he says.
"In times of turmoil … people want something more meaningful in their lives and music is one of those great nurturers," he says. "It's everywhere now. People my age and younger are learning to play fiddle tunes and people from the West Coast and Northeast want to come here to see where it began."
'HE HAS SO MUCH TALENT'
Jamie is pleased that his son has continued his family's musical tradition by embracing old-time music.
"I didn't have any doubts that Jesse be a musician," he says. "I'm awfully proud of him. He's turned into a really good musician and knows a lot about the music."
"What I'm proudest of most is that he has so much talent and so much ability that he could easily get into some other type of music where he would become better known and make more money," his father says, "but he seems to love that old kind of music and it seems to be more important to him than becoming rich and famous."
Out Here editor Carol Davis's favorite old-time instrument is the mandolin.