After a busy week, you realize you haven't had much time to spend with your dog, so you make it up to him with an extra dog biscuit. Or three.
You're not doing him any favors. In fact, about half of all pets are overweight or obese, and unfortunately, many of their owners might not even know it.
"In a lot of the ways we feed our pets, nurturing equals nutrition," says Dr. Julie Churchill, a professor of companion animal nutrition at the University of Minnesota College of Veterinary Medicine. "A way that we express love and care for somebody is through offering food."
But a short walk, belly scratch, or game of fetch is a better, and much healthier, alternative.
Too much weight can add stress to your dog's joints, bones, and muscles, which can result in painful strains, osteoarthritis, and hip dysplasia. It can also cause serious cardiovascular and lung problems, as well as metabolic and physical problems.
So how can you tell if your dog is packing too many pounds? Getting them onto a scale isn't exactly the easiest way, so owners should feel for themselves.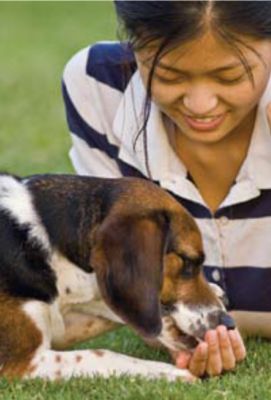 Run your fingers over your dog's ribs to determine if he is overweight.
"You should be able to count each rib individually without pressing too hard with your fingers," Churchill says. "They should have an hourglass figure if you are looking down over them, and the ribcage should be the widest part and they should have a waistline. They should have an abdominal tuck, the chest should be deeper, and the hind legs should tuck up. And then over their tail it should be kind of bony, like you are tapping on your kneecap."
If your dog resembles more of a tube than an hourglass, it is time to take him to the vet to talk about a weight-loss plan.
It is important to check with a vet because the last thing you want is to inadvertently cause malnutrition by feeding him the wrong amount of the wrong kind of food. Because calorie content varies greatly among dog foods, it is important to get guidance from a professional. Many owners may not know it is possible to feed your dog the exact same volume of food he is used to, just one with a lower calorie count.
Of course, it won't matter what kind of dog food you serve to your dog if you are serving way too much of it, or supplementing with too many treats.
"I am a big proponent of healthy treats," Churchill says. "But any treat, use judiciously. It should be no more than 5 percent of the total diet. There are a number of commercial treats that are now low calorie, but treats add up very quickly. It is very easy to exceed that 5 percent."
Be careful to not substitute activity and attention for treats. "Exercise in a perfect world would be part of the everyday routine," Churchill says.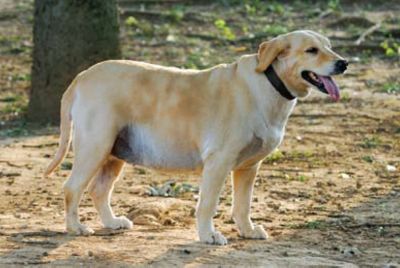 Feeding correctly, limiting treats, and providing your dog with enough exercise is key to a healthy pet.
"There is one study that shows they may even live up to two years longer," Churchill says. "So a healthy diet can bring a longer lifespan and higher quality of life while they are living."
ADJUSTING FEEDING HABITS
While most dogs can maintain the same diet through their life, there are a few times when their calorie needs are different:
Puppies — At this time of fast growth, dogs need to be fed a specially formulated puppy food to keep up with their needs.
Pregnancy — About two-thirds of the way though a dog's pregnancy, around week six, transition them over to a good quality growth food or puppy diet/gestation diet food. This will prepare them for nursing and can be the same food you use for the puppies when they start eating solid foods.
High performance — Herding dogs who work the fields for long hours, sled dogs, and hunting dogs are among those that need to consume a higher calorie food to help maintain that balanced diet.
After spay/neutering — After a spay/neuter, a dog's metabolism slows down. To avoid weight gain, reduce caloric intake by 25 percent.
Hollie Deese is a Gallatin, TN, writer.
7 WEEKS TO BETTER SKIN AND COAT
Feed NUTRO® NATURAL CHOICE® Dog Food to your dog for 7 weeks and you'll see why it's the No. 1 brand of lamb-and-rice pet store dog food.
When you feed your dog NATURAL CHOICE® Lamb Meal & Rice Formula, you'll see his old hair and dry skin gradually replaced with supple new skin and a lustrous, healthy coat.
This natural formula contains highly digestible lamb protein, zinc, and linoleic and alpha-linolenic acids that are uniquely optimized for your dog's skin and coat health.
It also includes natural sources of glucosamine and chondroitin, which help maintain your dog's hips and joints and advanced antioxidants to support your pet's immune system so it can be strong and healthy.
NUTRO® NATURAL CHOICE® Dog food is 100 percent complete nutrition for dogs, so there's no need to add supplements.
NATURAL CHOICE® Lamb Meal & Rice Formula will keep your dog looking healthy — inside and out.