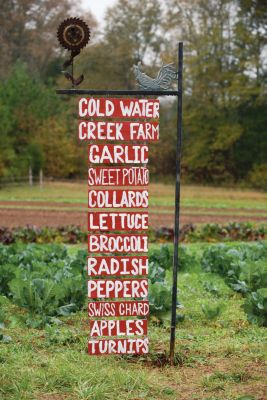 Eric Williamson remembers the fun of visiting his grandparents' North Carolina farm as a youngster. His parents, like many of that generation, had left their agrarian upbringing to raise a family in places where jobs were plentiful.
Williamson himself followed the path set by his parents. He earned two degrees from North Carolina State University and settled in Raleigh, NC, with a good job.
"Then came the day that changed everybody's life: Sept. 11," Williamson says.
His job vanished and he moved back home to Concord where he worked his connections for the next two years and sent out about 2,000 resumes. "There was nothing there," he says. "Absolutely nothing."
Part-time and temporary jobs helped to keep bills paid for him and his new wife.
Williamson eventually realized that he would have to create a full-time job for himself. And the answer lay just two generations back.
"My family was the first (generation) to come off the farm," Williamson says. "I'm going back on."
TEACHING A NEW GENERATION
The farming idea was planted by Williamson's friend, Aaron Newton, a next-door neighbor active in the local food movement, which encourages consumers to eat food raised by area farmers.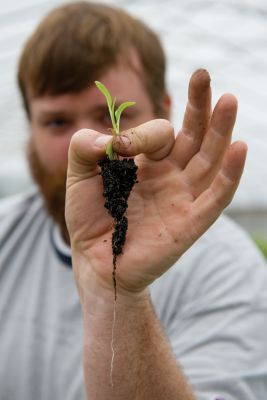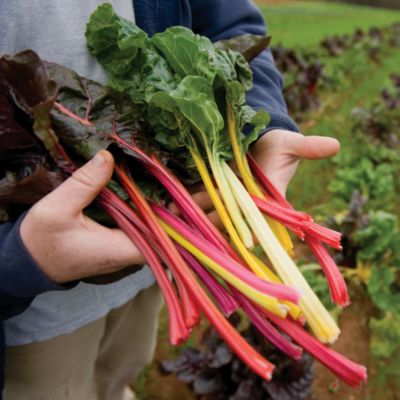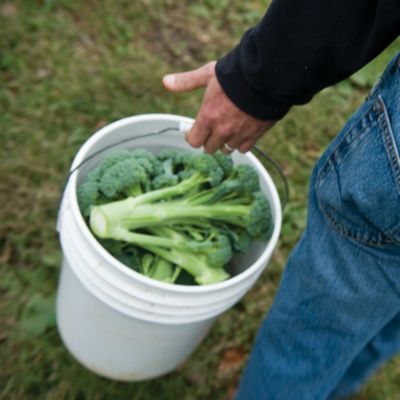 Newton, who knew that Williamson gardens, told him of an innovative new county program that would provide knowledge, mentors, and a place to grow organic vegetables to budding farmers.
Cabarrus County opened the Elma C. Lomax Incubator Farm Park last year to help offset an increased demand for locally-produced foods and an aging farming population. About half of the state's farmers are older than 55 and one-third of them are over 65.
County officials knew that to keep farming alive, they would need to teach a new generation of farmers. A 30-acre farm bequeathed to the county by Mrs. Elma C. Lomax provided the necessary land. Grants helped fund it. And the vision was courtesy of Debbie Bost, the county Extension Service director, says David Goforth, one of the extension agents involved in the project.
The Extension Service offered nine weeks of training and required students to submit a business plan before they were allowed to lease a half-acre at $100 annually at the new farm park.
Extension agents, as well as resource gardeners, and mentor farmer Brad Hinckley, are on hand to guide the new farmers as much or as little as they request.
Hinckley was recruited to teach at the incubator farm because of his organic farming background. "If anybody has questions, I'm here as a knowledge base," he says.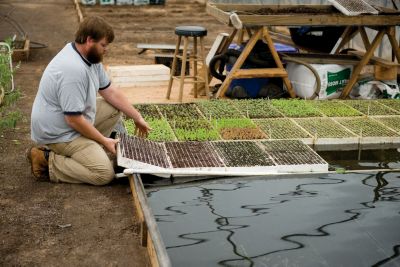 The farm incubator works like other programs for hopeful entrepreneurs. Participants receive a small plot of land to farm and learn the skills required to set out on their own within a few years.
"The mission is to provide the land, equipment, and education that a farmer would need to succeed," Goforth says.
The farm provides tractors, mowers, cultivators, plows, an irrigation system, a greenhouse, and a high tunnel for starting plants. It's up to each farmer to do his or her own soil improvements, decide what to grow, tend crops, and sell them, if they choose to do so.
"On their plot, the students do what they want," Goforth explains.
Any help they seek is right there, but not all student farmers will succeed, Goforth says. Intensive work, long hours, challenging marketing, and crop failures - any one of these can dissuade a student from pursuing a life as a grower.
"All of the students will not be successful farmers, but we don't expect a 100 percent success rate," Goforth says. "It's like a business incubator; some make it and some don't."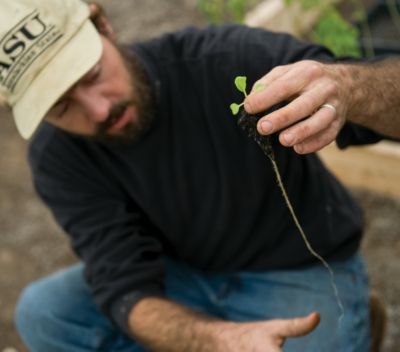 'WE KNEW WE COULD MAKE IT WORK'
Williamson plans to make it. He's formed a farming partnership with Hinckley and Newton, who also found himself out of a job because of the struggling economy.
Their business, Cold Water Creek Farms, which now consists of their combined 2 acres at the incubator farm, Williamson's back yard and a rented empty lot, is named for the stream that runs through the farm park.
Each partner brings particular strengths and knowledge to their young vegetable farm. Hinckley has nearly a dozen years of organic farming experience; Newton has growing experience, connections, and a keen grasp of their customer base; and Williamson handles accounting and much of the labor.
"If we pooled our resources, we knew we could make it work," Williamson says.
First order of business: start a CSA.
A CSA, or "community supported agriculture," is a partnership between a farm and supporters, or members, in which members cover a farm's yearly operating budget by purchasing in advance a share of the season's harvest. In return for helping to pay for seeds, fertilizer, labor, and everything necessary to run a farm, they receive a healthy supply of fresh, seasonal produce throughout the growing season.
Newton created a 50-member CSA model that suited Cold Water Creek Farms.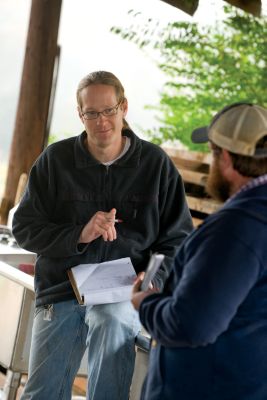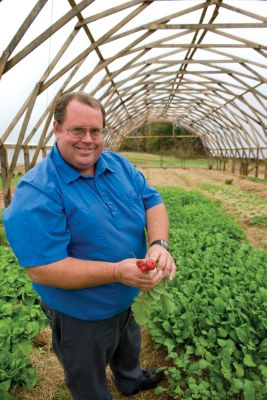 "He's in that inner circle of food movement people and he's seen models of CSAs that worked in past," Williamson says.
Members could buy a half or full share - full shares cost $500 - which determines how much produce they receive on delivery day each week. Cold Water Creek moved more than $1,000 in vegetables each Tuesday during last year's 20-week growing season.
CSA members received summer squash, zucchini, tomatoes, corn, peppers, okra, green beans, Swiss chard, broccoli, collards, kohlrabi, lettuce, kale, bok choi, sweet and regular potatoes, garlic, basil, muscadine grapes, and apples.
"We had a dozen different types of tomatoes and varied pepper plants," Williamson says. "We tried to give them as much variety as we could."
LEARNING EVERY DAY
Between planning and delivering produce, a lot of hard, sweaty, backbreaking work must be done.
"Throwing seeds in the ground and getting them to grow is the easy part," Williamson says. "Growing, harvesting, and treating this as a business - that's the hard part."
In summer, when the harvest is heavy, they'll work 14- to 16-hour days, picking produce and then washing and packing it for CSA members and restaurant customers.
Williamson admits some surprise early on with the labor-intensiveness of his new profession. "I wasn't expecting it, but I don't shy away from it, either," he says.
He also learned something every day: plant scheduling; succession planting; post-harvest handling; sanitation; how to set up a market; interacting with customers; and handling accounting.
He continues to learn from teachers at the farm - the resource gardeners, Hinckley, and extension agents Goforth and Carl Pless.
"Their knowledge is indispensable," Williamson says.
"The extension agents are on the farm nearly every day and if you have a problem, like bug pressure on squash, all you have to do is walk 10 feet and one of the state's best bug guys (Goforth) is there," he says. "And Carl knows more about soil than any man should know. We're just really lucky having the two guys we have."
He's also grateful that, despite the unfortunate circumstance that derailed his original career path, he was able to get back to the land.
"I've always been that person that if I can find that job that makes me happy, it's not work," he says. "I might put in a 28-hour day, but somehow it doesn't feel like work."
"When I go out in the field and it's 100 degrees ... it still doesn't feel like a job," Williamson says. "I love what I do and everything I've ever done in my life has put me in this position."
Out Here editor Carol Davis would love to spend a week at the incubator farm and soak up some of that knowledge.