Thunderstorms zapped the power grid near Jack Brantley's South Georgia farm, turning out the lights and sending his money-making stock on a squirming, wiggling, slithering break for freedom.
For a worm farmer, few rules are more important — always leave the lights on, because worms wander in the dark.
Brantley, 73, faced a soggy aftermath. Thousands of worms, heading for nearby Bear Creek, escaped the beds that make his farm profitable.
But the disaster quickly turned into an advantage.
"We just expanded the size of our operation to where the worms migrated," he says. "That's when I knew I could grow worms any place on the farm."
And Bear Creek Worm Farm does produce. "We have an inventory of 20,000 pounds of worms in our beds, and our beds average from 2 feet to 2½ feet deep," he says of the 3 acres of worm beds on his 40-acre spread west of Douglas, GA.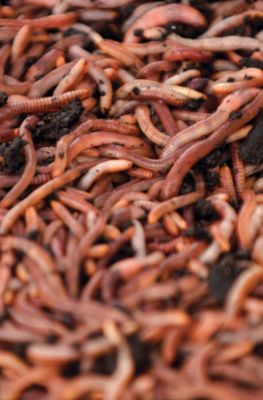 For a man who spent a career on the behind-the-desk side of agriculture, worm farming was an unexpected twist, particularly in a place known more for cattle and row crops.
"When we first started out, we didn't tell anyone we were getting into the worm business," he says.
Married to his high school sweetheart, Lucy, 72, for the past 54 years, he spent much of his career with the Production Credit Association, which focuses on agricultural loans. Later, he ran a successful business selling life insurance and served as an officer for a local bank.
A heart attack in 1990 and a second one in 1991 brought a tough realization. "The work was just too stressful," he says.
A solution appeared as he scattered old hay after feeding the cattle he kept on land purchased in 1973. "I lifted up the hay and I found a bunch of red wigglers," he says. "I went back to the house and I said, 'We've got what it takes to grow worms, because we've got some.'"
He went to the library, but only found outdated books on vermiculture, the art of growing worms for profit. So, he decided to learn by doing. Eventually, he bought his first batch of red wigglers and built 36-inch-wide and 8-foot-long beds in an old hog pen.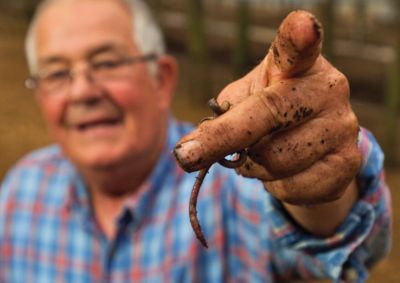 Then, he found a market selling red wigglers, a favorite of anglers. But that was just a start, because worms offer a two-fold sales proposition.
FISHING AND FERTILIZER
Worms produce a manure known as worm castings, and years of production have turned Brantley's farm into a fertilizer gold mine. He charges farm visitors $30 for a 50-pound bag of castings, but retail prices might go as high as $5 per pound.
The manure is worth the expense. "Whatever you plant, this soil just makes it grow so fast," Brantley says of the manure.
For organic farmers such as Neil Taylor, worm castings are vital. He operates Taylorganic Farm just outside Atlanta, growing produce for families and Atlanta restaurants.
He uses two tons of worm manure annually to revitalize the soil. "Worm castings allow me to put back into the ground the nutrients I take out during harvest," he says. "It's a natural product that we can use in lieu of some other things."
Brantley is a valuable resource for a farmer near a big city, where manure is hard to find, Taylor says. "He's been doing it for a lot of years; he's pretty good at it and he puts out a lot of black gold."
Success, however, requires effort and knowledge.
Building a worm bed begins with painstaking attention to detail. After stripping grass and weeds from a bed site, Brantley uses dolomite lime to return the soil to a neutral ph level.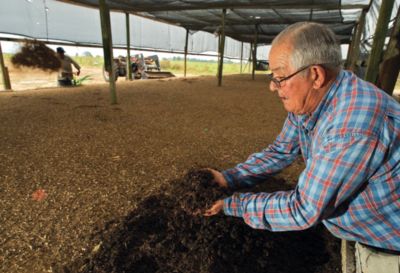 Then he blends in compost, including organic trash from nearby cotton gins, sawdust, composted leaves, or old cow manure. The details matter. Some material, such as cotton gin scraps, must age into compost before use. Otherwise, the material generates too much heat as it decomposes.
Once the bed is up and running, a prime feed for the worms is the used grain from a nearby brewery, and Brantley spreads as much as 50,000 pounds each week.
Harvesting begins low-tech: a pitchfork and pans. A worm-separating machine does the rest. "When we sell worms, those worms are as clean as a bowl of spaghetti," he says.
Between anglers, organic farmers, and homeowners buying worms to start their own beds, Brantley's business grew fast. While first year sales totaled only $13,000, they topped $100,000 by year five. "And now, we sell a lot of worms," says Brantley, who employees two people to help out.
Also, he no longer keeps quiet about his worm farm, often hosting school and neighborhood groups.
"Everyone is just fascinated," he says. "For us, worms were a godsend."
Noble Sprayberry is a regular contributor to Out Here.