Next time you sink your teeth into a slice of juicy watermelon this summer, you might say thanks to Michael Wilkerson, who grows watermelons for much of the country on the farm his parents started a generation ago.
Of course, they might not recognize the place. Wilkerson has more than tripled the acreage, doubled the yield, and increased the technology. He and his wife Jennifer share the work with their son B.J., now the third generation to take on the watermelon farm.
"My father and mother farmed and raised watermelons about all their life, and I've been doing it ever since," Wilkerson says before heading out in the fields to check on the crops. "I'm 50 years old. I've been farming for 50 years, I reckon. I reckon when you learn something and are taught something by a good family and are brought up with something, you just keep doing it."
At a time when lots of small farmers are calling it quits, Wilkerson keeps going. On his 300-acre farm in Trenton, Fla., he and his family raise some 300,000 watermelons a year — with seeds and without — to fill supermarket shelves across the country.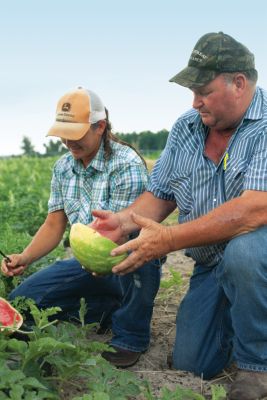 It's an unusually specialized operation for a small farmer, and watermelons are a notoriously touchy crop, but it's all Wilkerson has ever known.
Wilkerson compares growing watermelons to caring for a flower. It takes a lot of tender, loving care. It also takes a lot of work. No machine plants them. No machine harvests them. No machine loads them onto the truck. It takes dirty hands to get it done.
By about the first of March, Wilkerson, his family, and their workers are out in the field planting seedlings. By the first of June, if all goes well through the unpredictable Florida spring, the watermelons are plump and ripe and ready to go.
"The weather is tough," he says. "You have to watch it constantly. If you get too much rain, that's bad. If we don't get enough, we have to water them."
In time for summer picnics, Wilkerson loads 6,000 tons of watermelons onto trucks. In some ways, it's not too different from the way it was when he was helping his parents on the farm.
"It was stay up all night and all day," he says.
A lot has changed, though. Wilkerson has a pivot irrigation system to fill in when the rain doesn't cooperate, and computers to monitor the operation.
Technology has improved. So have fertilizers and pesticides. That's made farming more expensive, he says, but it's also boosted the yield. Wilkerson figures he has doubled or even tripled the yield his parents had.
His son B.J. graduated from the University of Florida with a degree in agricultural science, something his parents never would have dreamed of when they started planting watermelons. He's one of the few young people interested in carrying on the family farm, and Wilkerson hopes he might inspire others to do the same.
"We're just trying," he says, "to keep it going."
David Frey writes in Glenwood Springs, Colo.