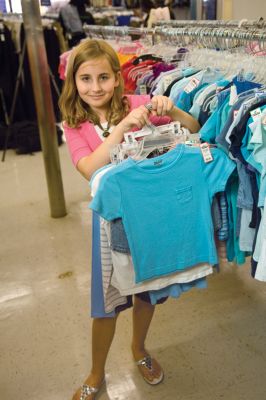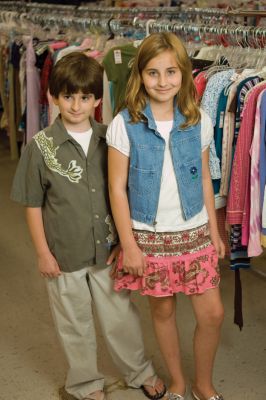 When I went back-to-school shopping with Denise Haley and two of her children, our goal was to find three Mom-approved mix-and-match outfits for each of the kiddos in a thrift shop in one afternoon.
If you like treasure hunting, are patient, and delight in finding high-end brands for pennies on the dollar, thrifting is your ticket.
It is, however, a quirky breed of buying and one that requires a special resolve, flexibility, and creativity, plus plenty of time.
I was happy to find that Denise and her children, Martha, 11, and Gabriel, 8, were willing and able — and excited about — snagging a fall wardrobe in a Nashville, Tenn., Goodwill Superstore that I chose for our outing.
Within minutes of entering the store, the children and their Mom were decisively sifting through the racks, pulling some prime candidates for purchase, such as a pair of cute perfectly fitting denim capris for Martha and a pair of brand new-looking Gap khakis for Gabriel. Each item was priced at just $3.49.
Martha had a favorite color in mind going into the hunt — turquoise — and was also on the lookout for some of her preferred brands such as Gap, Old Navy, and Justice as she combed through the racks.
She clearly knew the thrift store drill — expertly inspecting each prospect for stains and other flaws before handing them to her mom to hold for the dressing room test.
Gabriel was not particularly brand-conscious but had a look and feel that he was after, going for all-boy comfortable shorts with lots of pockets, a Hawaiian shirt, and some basic polos and button-up shirts.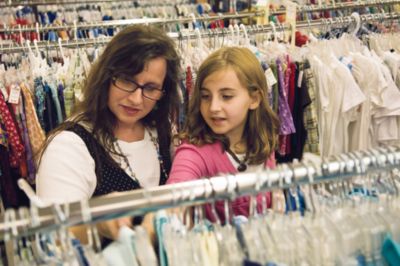 Both of these good-natured young shoppers were happy to try on most anything that had potential — a crucial strategy in a thrift store where sorting and merchandising sometimes is fairly random.
The only notable exception to this willingness to "give-it-a-go" was an oxford cloth button-down collar shirt I pulled that Gabriel rejected because it was pink. A more manly blue button-down in one size larger was on the rack that fit just as well, so everyone was happy.
The point is, it pays to be flexible and to look at more than just your size. Plus, it's often worth your while to try on pieces you like that may be a size up or down or even more — just in case.
Unlike a department store where sizes and categories are pretty predictable, in thrift stores it is not unusual to discover pieces hanging in the wrong size or even in the wrong department.
For example, there was a fine looking pair of boys' long brown shorts that were a perfect fit for Gabriel that we found in the girls' department.
Our spree took just slightly more than two hours and the goal of three outfits per child was well exceeded.
"They love shopping and getting new clothes. Even if these are not 'new,' they are new to them," Denise said as the clerk bagged up our afternoon jackpot of finds.
"I grew up in a time when we would never have gone to a thrift store," Denise says. Several summers ago, she made the leap and explored a thrift store with the children for play clothes and was super impressed with the bang for the buck. Plus she realized that she could donate back to Goodwill when the children had outgrown the clothes, keeping the recycling circle going.
In a two-hour shopping trip, we got 32 items, including brands such as Gap, Claiborne, LEI, Arizona, Faded Glory, and Kenneth Cole for $91.68. Most pieces were priced at $3.49, while some were on a special 99-cent sale. Plus there is no sales tax for used clothing sold by non-profits.
Yes, thrift store shopping is the way to go if you want a little adventure, some financial teachable moments with your children, and a bag full of great clothes for your money.
Mary Hance is known as "Ms. Cheap" to readers of The Tennessean in Nashville, TN, where she writes about spending wisely.
IF YOU ARE GOING TO GO THRIFT STORE SHOPPING…
Carefully inspect what you are buying and be sure you want it before you pay for it. Some stores accept returns but only for exchanges and not for cash back.
Get to know the stores and their policies and when the best deals are offered. Sometimes, a certain color tag indicates a sale or if certain categories get an extra markdown. And it never hurts to ask if there is a senior discount or loyalty program, or a certain day when prices drop.
Go when you have plenty of time. This kind of shopping is time-consuming and can be overwhelming. Have a running list of things you need or are looking for, as well as sizes for people you may be buying for. At the same time, be open-minded to things you might "discover."
Nothing is a bargain unless you need it. So don't buy things you don't need.