When NASCAR driver Ryan Newman isn't speeding down the racetrack, there's a good chance he's guiding a bush hog or puttering on one of his vintage tractors at his North Carolina farm.
To fans, Newman is best known as the man behind the wheel of the No. 39 SHR Chevrolet, but off the track his life is a bit more laid back. He and his wife Krissie live on 65 wooded acres near Statesville, N.C., and they own another 200-acre hobby farm nearby.
"I enjoy the outdoors," Newman says. "People ask me if I work out. I say, 'Yeah, I work outside all the time.'"
His farm has plenty to keep him busy. He and Krissie are licensed by the state to rehabilitate injured and orphaned white-tail deer fawns, raising them to maturity until they can be released back into the wild. They raise Santa Gertrudis bulls, tend a vegetable garden, and plant soybeans and corn to feed the deer — sometimes four times a day.
The deer are about to get some more company. Newman plans to start grazing bison. He's bringing in two old barns from Ohio: one for the bison, one for his growing fleet of antique tractors.
"I grew up around old cars," Newman says. "It took me a while to realize there's a crossroads between old cars and old tractors."
The farm also has a few fully-functional windmills that pump water into the pond.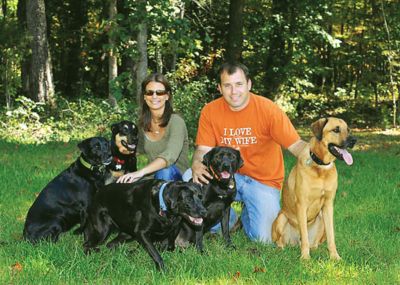 The rural lifestyle suits Newman, who grew up in the farming community of South Bend, Ind.
A top NASCAR racer, Newman could live just about anywhere he wanted. But the lifestyle he wants is out in the country, with a log home and a 12,000-square-foot shop where, he says, "I keep my toys."
When he first visited the property, Newman spotted nine deer crossing the landscape and fell in love with it. It had a lake. It had a forest. It had wildlife. It had plenty of room for crops. What's not to love?
It's tough love, though.
"It's not glamorous," Newman admits. For him, it means lots of time pulling weeds and mending fences, with a little fishing in between.
"Most people don't get a chance to see how pretty the outdoors is," he says. "You can't just let it happen, though. You have to work at it."
What most people consider work, Newman considers play. The outdoors is something he takes seriously, though. He and Krissie formed the Ryan Newman Foundation, which in part educates children and adults about the importance of conservation. It also encourages people to adopt pets from animal shelters and have them spayed and neutered.
That's another issue that's close to his heart. All six of their dogs were rescued, or rather, he says, "they rescued us, I guess you could say."
David Frey writes in Glenwood Springs, Colo.