In Hawley, Mass., being called a "Pudding Head" is high praise. This sought-after title, complete with a crown concocted from cooking pans, is awarded as the pinnacle of Hawley's Pudding Festival.
Although contestants from in and around Hawley have been facing off with puddings for the last six years, the story began some 230 years ago when Abigail Baker accepted a challenge to see who could make the largest hasty pudding in the town of Hawley.
Using a five-pail kettle, Abigail won, and though nobody seems to know the exact date, she became Hawley's first Pudding Head sometime in the 1770s — and her part of town became known ever after as Pudding Hollow.
That settled that, until Tinky Weisblat resurrected the contest, this time with emphasis on quality rather than quantity. Weisblat, a daughter of Hawley with an interest in history and a passion for food, had just published The Pudding Hollow Cookbook and was looking for a way to let her neighbors know about it. So, with help from the town's historical society — Sons and Daughters of Hawley — the pudding contest was reborn, to be held on Halloween.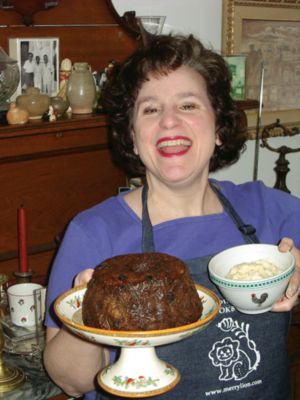 It was a hit. Last year, 27 cooks from all over New England competed for the Pudding Head title. The contest is a biennial event, so the next one will be held Halloween 2011.
The contest was a natural for Weisblat. "I love cooking," she says, "but my favorite recipes bear links to people, places, or traditions. I like best those with a history and context. And what better tradition than a pudding?"
The Sons and Daughters prepare a luncheon and Weisblat and her neighbor Alice Parker create a skit loosely — and comically — based on the story of Abigail and that first contest. With costumed actors recruited locally, the play, together with spirited sing-alongs, is part of the fun — and incidentally gives the judges time to sample the entries.
It's a tough decision. For one, the festival's definition of pudding is decidedly eclectic. "If someone calls their dish a pudding, we accept it," Weisblat says. Nor are entries restricted to sweet dishes. "Sweet or savory," she says, "if it looks like a pudding, we put it on the table."
Past puddings have included tropical fruit-rice, pumpkin-gingerbread, and steak-and-kidney, and have borne such names as "Toasted Indian Pudding" and "Hushpuppy Pudding."
After the sequestered judges are done sampling, the guests (friends of the cooks, neighbors, and the just plain curious) get to try them. In a musical entrance resembling a graduation processional, each proud cook carries his or her pudding to a central table, the winner and runners-up are announced, and the Pudding Head is crowned.
Then, each guest is given a spoon and plate and invited to dig in.
At the end of an hour, the table is considerably lighter and guests a little heavier, and because recipes are shared, most close out the day with a little bit of Hawley to try at home.
Richard Matthews is a writer in Phillips, Maine.