When Bart and Rhonda Lineberger were deciding what kind of livestock to raise on their Illinois farm, they had much to mull over. For starters, their teen-aged daughter, Kyra, is a vegetarian, so they didn't want animals that had to be slaughtered to make a profit.
They also both work full time, so their stock would have to be relatively easy to maintain. And it would have to eventually turn a profit.
The couple found their answer during a visit to the Calgary Stampede, the world's largest rodeo held every year in Calgary, Alberta, Canada. A display of alpaca, which is native to South America and primarily found in Peru, Bolivia, and Chile, caught their eye.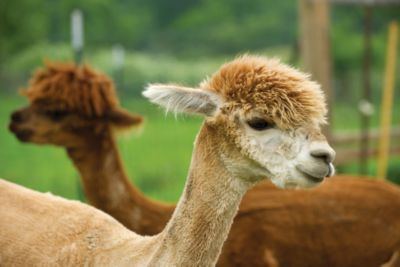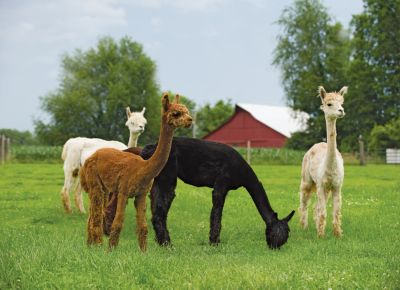 "They are cute and fluffy, but when I saw what you could do with their fiber, it fascinated me," says Rhonda, a fiber artist who knits, crochets, and felts.
The couple began thoroughly researching alpaca farming and visiting farmers around their region who were raising this exotic animal that is a smaller relative of the llama and camel.
In exploring alpaca farming, Bart and Rhonda learned that the alpaca is prized for its fleece and is considered premium among fiber enthusiasts. That's because it's as soft as cashmere; it's lighter and warmer than wool; it comes in 22 natural colors; and it's hypo-allergenic and contains no lanolin.
"It's priced like cashmere, too," Rhonda adds.
A pound of fine alpaca fiber can be sold for $48, at an average of $3 per ounce, while yarn made from that pound of fiber can be sold for around $60, and a sweater made from that pound for up to $200, according to Kara Heinric, a member of the Great Lakes Alpaca Association.
There are two kinds of alpacas: huacaya (pronounced wah-KI-ya) and suri (pronounced surrey). The huacaya's fiber is short and dense and resembles a sheep's wool. Suris have long, silky, pencil-like fiber. Each animal produces from 3-10 pounds of fleece per year.
Alpacas — both huacaya and suri — are hardy, virtually disease-free animals that require annual shearing and occasional nail and/or teeth trimming.
The animals, which can be pastured at five to 10 per acre, are delicate eaters, and will not graze a pasture down to the dirt, Bart says. He illustrates his point by comparing his green, lush, alpaca-grazed pasture to a neighboring patchy one where horses graze grass down to the roots.
Alpacas are economical eaters, too. One 60- to 80-pound bale of hay will feed about 20 alpacas per day. The couple, however, also feeds vitamin and mineral supplements.
After deciding that alpaca was their livestock of choice, the Linebergers spent the next six months preparing their 42-acre farm for their first animals.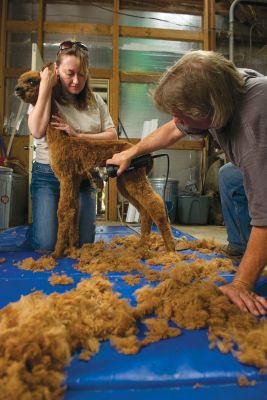 They fenced, re-fenced, and cross-fenced part of their property to safely contain their alpacas. "They don't fight the fence like goats do, but you have to worry about coyotes," Bart notes.
The Linebergers also re-did their barn and other buildings on their property to accommodate their new animals.
Bart also prepared by learning — and helping — to shear at an alpaca farm just north of Peoria, Ill., from where they would purchase their first livestock.
Finally, in November 2005, it was time to bring home three females, one of which had a baby, which is called a cria.
They began to build their herd right away by breeding one of the females, but it took time. Alpacas, like horses, have a long gestational period — 11 to 11_ months.
"It took a long time to get the first baby on the ground," Rhonda says.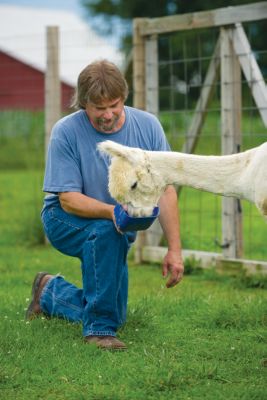 But the herd multiplied, through breeding and purchasing new animals. And last year, the Linebergers grew their herd to 23, doubling their numbers from the year before. Five of those were crias born on their farm.
BECOMING EXPERTS
The Linebergers have become self-sufficient in raising alpacas. Besides shearing — which is done once a year, usually when the weather starts to turn warm — they do their own shots, toenail trimming, and fecal testing for worms.
Most alpaca farmers must do their own preventive care and maintenance because few veterinarians have experience with these animals, Bart says.
That means each owner has to become the expert, he says.
"You have to educate yourself as much as you can, and then help the vet," he says.
Bart and Rhonda get veterinary help only when they need a sonogram for a pregnant female alpaca.
That's why it's so important to buy livestock from a seller who offers you support and will share their knowledge, Bart says. "You need someone to help you with pasture management, shots, barn management, trimming … all that stuff," he says.
Most sellers are more than happy to share what they know. "It's a tight-knit community and most raisers are very eager to spend time helping you learn," Bart says. "They want educated breeders."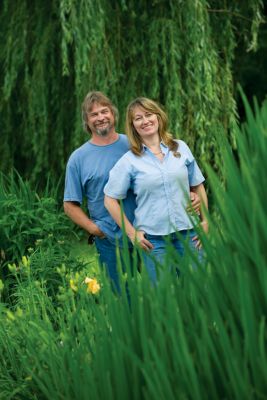 ALL ABOUT THE BLOODLINES
The Linebergers are carefully growing and adding to their herd with the express idea to get the best fiber possible. "We want to improve the quality every year," Bart says.
They meticulously study bloodlines and fiber characteristics to determine how their females will be bred and which males they'll add to their herd.
Because female alpacas can produce just one cria each year, it's important to make sure they'll have offspring with outstanding genetics and fiber.
"It's not that different from breeding horses," Bart says. "Bloodlines are very important."
Premium bloodlines result in premium prices when alpaca farmers sell their animals.
The price of an alpaca depends in part on whether it's male or female, success in the show ring, bloodlines, and quality of offspring. Prices range from $500 to a record-setting $675,000. An average pregnant female costs $22,000, according to the Alpaca Owners and Breeders Association. Some sell as low as $12,500, while superior stock commands $40,000. Males generally retail between $7,500 and $25,000.
Some 120,000 alpacas are on the rolls of the Alpaca Registry Inc., a pedigree registry that records bloodlines to protect the existing gene pool and ensure that each breeder's investment is protected from breeding with non-registered alpacas.
The registry records each animal's blood type or DNA, explains Darby Vannier, executive director of the Alpaca Registry Inc., in Lincoln, Neb.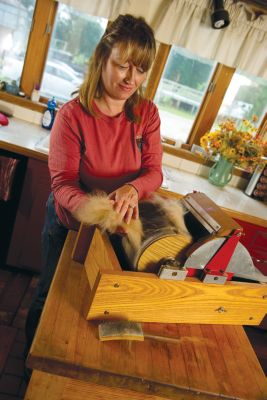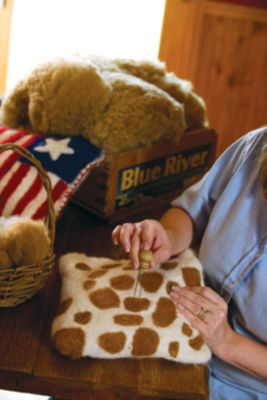 "Where the real value comes in is knowing these are verifiable bloodlines," he says.
A buyer or breeder can search a particular animal on the registry's database to examine that alpaca's bloodlines five or six generations back — some of which may go all the way back to when an ancestor was imported from South America, Vannier says.
Some of the Linebergers' livestock contain genetics of Accoyo, which refers to alpaca bred at a Peruvian alpaca farm renowned for its quality animals.
"Some think the Peruvian Accoyos are the gold standard in alpacas," Bart says.
FIBER RENAISSANCE
The Linebergers operate a small farmstore in their front porch that contains fiber and fiber-made products, but they plan to build a small store/studio on their property that would allow more merchandise, displays, and fiber-related classes.
Rhonda, a fiber artist herself, intends to teach others how to knit, crochet, spin, and create with fiber. Her timing is perfect because fiber arts are enjoying a resurgence in popularity.
More fiber festivals are popping up; informal knitting groups, particularly by younger women, are forming, as well as fiber groups; and schools are adding fiber classes.
And fiber arts aren't just shawls and afghans anymore. Look in any knitting or crochet fashion magazine and you'll find trendy sweaters, iPod covers, cell phone cases, crop tops, felted bags, and stylish shrugs.
Daughter Kyra is the essence of the contemporary fiber artist. She customizes her wardrobe and makes crafts with felt that she makes from fiber. She does that by needlefelting, which is creating felt fabric by piercing wool fibers with a barbed needle, and wet felting, which uses warm water, soap, and rubbing motions. Both techniques cause the fiber to tangle, bind, and mat together, creating felt.
She dressed up a denim jacket by needlefelting a design from wool and sewing it to the back of the jacket. She also led a school project in which students, parents, and teachers wet-felted to make Christmas stockings for U.S. soldiers.
Such growing artistry and creativity by fiber artists are the potential that Rhonda and Bart recognized when they began considering raising alpacas. And, they get to enjoy raising livestock that isn't for eating.
"We take great pride in raising these animals," Rhonda says, "shearing, cleaning the fiber, and making it into a product."
Out Here editor Carol Davis spins fiber, including alpaca.
Alpaca start-up costs
Acquisition of one pregnant female and one young female
$ 35,000
Insurance on animals, one year
$ 1,100
Equipment
$ 500
Small barn and fences
$ 30,000
One year's feed
$ 300
Veterinarian and miscellaneous reserve
$ 1,100
TOTAL: $ 68,000
— Source: Alpaca Owners and Breeders Association