When Jessica Wagenschutz aims her rifle and prepares to shoot, she's drawing on more than good eyesight and a steady trigger finger.
Her proficiency is the result of focus, goal-setting, personal discipline, sportsmanship, and other skills offered through the 4-H Shooting Sports Program.
"It was something the rest of my family did so I just kind of jumped in and started," she says, noting that her parents, sister, and two brothers shoot.
"I was instantly hooked," says Jessica, a 4-H youth leader who now teaches younger members how to shoot. "There is always something new and it is an amazing way to challenge yourself, because, ultimately the only person you are trying to compete against is yourself."
The 4-H Shooting Sports Program, which offers training in rifle, air guns, BB guns, muzzle loading, archery, shotgun, and hunting and wildlife, also instills a sense of responsibility and safety when it comes to guns, something easier learned at a younger age.
"The very best time to teach safety is when those kids are 7, 8, or 9 years old," says Dale Elshoff, a conservation education specialist at Michigan State University and the state's 4-H Shooting Sports coordinator.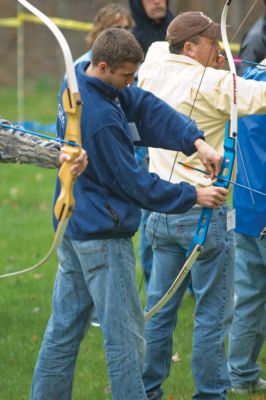 The more comfortable the kids are with guns, she says, the more confident they are, not only on the field, but in life.
"We spend a lot of time on leadership, community service, volunteering, and being a responsible citizen," Elshoff says. "When I think of skills that are required for work I think 4-H should almost be a requirement."
Elshoff lists critical-thinking skills, problem solving, decision making, managing time, keeping records, planning and organizing, goal setting, and dealing with disappointment as just some of the things learned through the 4-H program that translate seamlessly into skills that help adults get ahead in life and in work.
"Sometimes (these skills) come on the range when they are shooting," she says. "Sometimes it comes when they have to make a hard decision."
Working with children in archery, shotgun, and rifle, Jessica, who joined the program at 13, loves being able to help the younger ones develop their skills.
She's built more confidence by working with the younger kids, as they have been building up their confidence by working with her, she says.
Exactly, Elshoff notes.
"How do you teach concern for others?" Elshoff asks. "Or how do you teach self-motivation, or character, or discipline, or responsibility? Those are things that aren't on a syllabus and aren't tested, but those are the things that really count in the workplace and in life.
"Those are the things I think that 4-H, including shooting sports, really help fill in the gap."
Hollie Deese is a writer in Gallatin, Tenn.