It used to be just the neighborhood kids who flocked to Mike Whitworth's garage for his homemade wooden trains. Each week, he turned out another batch and gave them away by the dozen. Now, kids all over the country reach out for his toys, and his Whittle Shortline Railroad toy company has become the little business that could.
From its factory in New London, MO, workers handcraft each train, fashioned down to the doors and windows after real working trains. The Whittle Shortline Railroad is the country's top wooden train maker, and the only one that makes realistic wooden trains.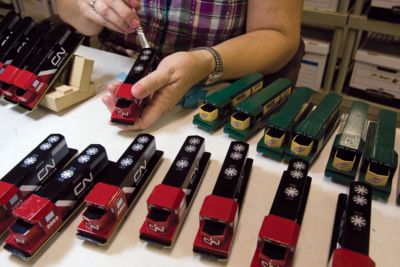 "By sheer, dumb luck we stumbled upon something that kids really like," Whitworth says.
He's modest, though. Add to a little luck Whitworth's close attention to detail and uncompromising commitment to quality. Each of the toys looks like the real thing, and each one is made by hand by workers who take pride in the product.
Then mix in the enduring romance of trains. Young people reared on Thomas the Tank Engine and the Little Engine That Could carry on an age-old tradition, one that still resonates with their parents and grandparents who haven't forgotten the favorite toy train of their childhood.
"I honestly believe there's a little bit of kid in all of us, and all kids like trains," Whitworth says.
Add to that the element that wood provides that plastic can't duplicate. Whitworth uses mostly hardwoods such as maple and birch, painted with multiple layers of paint to give them their bright colors.
"There's something warm about wood," Whitworth says. "People just kind of nuzzle up to it."
KEEPING UP WITH DEMAND
Whitworth got his start in the toy train business back in 1996. His wife had bought him a miter saw, hoping she might get some crown molding out of the bargain. She didn't. The saw stayed in the boxes for two years until she threatened to get rid of it.
"I wasn't a carpenter," Whitworth says. "I'm still not. But being a guy, I couldn't let any power tool go."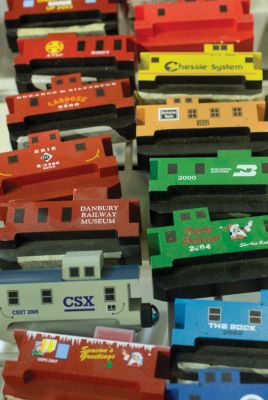 Whitworth pressed it into service making toy boxcars. Then came cabooses. Then came steam engines. Kids showed up every Saturday morning looking for his trains, which he designed — and still designs — to fit the popular Thomas the Tank Engine tracks. Soon, Amtrak caught on and wondered if the guy who makes the trains for the kids in the neighborhood could make replicas of its trains, too.
"That's how the company started," Whitworth says. "As soon as the Amtrak cars made it out to the open market, we had everybody and their brother call."
By 1999, the Whittle Shortline Railroad had outgrown its garage and moved into a historic gothic railroad hotel. Then it outgrew that space. Then it outgrew the next space. Now, it's in a 55,000-square-foot factory with a workforce of about two dozen people turning out toy trains for 500 stores across the country. The workforce is set to more than double as it gears up for a new line of wooden puzzles.
"We have a very difficult time keeping up with demand," Whitworth says. "It's because we're handmade. You can't just turn the machine on and make more of them."
The Whittle Shortline has expanded to build several lines of Amtrak trains, plus freight trains such as Santa Fe and Burlington Northern. It makes a Little Engine That Could train for youngsters smitten with Thomas. It makes tractor-trailers, too, plus school buses, tractors, and postal vehicles.
What has been good for Thomas has been good for the Whittle Shortline. The Thomas craze has helped fuel its sales, Whitworth says. What's been bad for Thomas also has helped.
In 2007, when tons of Thomas toys were recalled after lead paint was found in some Chinese-made toys, including Thomas, Whitworth's sales tripled.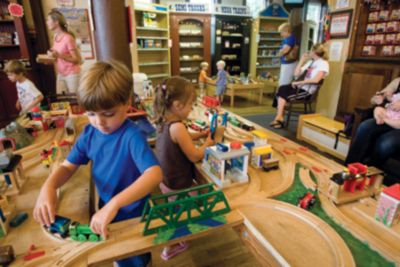 "I kind of thought after that it would die off, but it hasn't," he says. "The consumer in our marketplace is still very much aware and wants to know where their toys come from. Our toys all come from beautiful downtown New London. We don't have the capacity to make a bazillion toys because they're each handmade."
Whittle's buyers also come looking for something that's hard to find anywhere else: a toy that's lovingly crafted out of wood and keeps alive a love of trains that goes back generations.
"There is nothing like watching a train rumble by," he says. "Even the youngest kids know what a caboose is. Although we don't have a lot of the real ones around anymore, I think it is just a part of Americana. The railroads built this country."
And now — if on a slightly smaller scale — Whitworth's company builds the railroads.
David Frey writes in Glenwood Springs, CO.