Mary Kay Wegener remembers the fun she had as a child in her family's large barn on their northern Iowa farm. "We played in it all winter," she says.
She and her siblings played basketball, raised rabbits, and whiled away the long days of childhood.
But the barn is gone now, a casualty of time, deterioration, and economy. "All that is left of the barn I grew up in is the cupola," she says.
So when she and her husband, Todd, bought their own farm, in Fenton, Iowa, which included a unique barn, Mary Kay knew that her own children would one day know the fun of such a place.
She would make sure of that.
TIME TAKES A TOLL
When Todd and Mary Kay moved onto the 15-acre farm with their growing family, they were able to see the property's potential. "The house was in horrible shape, but the outbuildings were in good shape," she says, listing them off: the barn, a calf shed, two machine sheds, a granary, and three hog houses.
It was the perfect place for their diversified farm. They custom feed hogs ("They're not ours; we just own the buildings."), run a pig manure-hauling business, farm 600 acres of corn and soybeans, raise cattle, and bale hay. "There's always plenty to do here," Mary Kay says, with a laugh.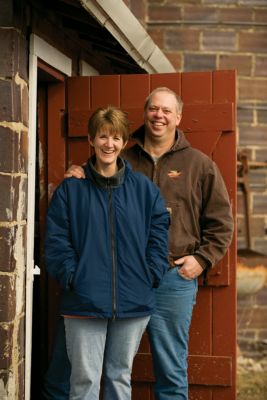 When they bought the property and named it TMK Farm, the barn was in pretty fair condition, she says. "It had been painted, though some windows were boarded up," she says.
The barn that really needed renovation belonged to her husband's parents, whose farm is just 3 miles away. "I had read an article about the Iowa Barn Foundation and how it will give you a grant for half the cost of renovation," Mary Kay says.
So she filled out paperwork for her in-laws to apply for the grant. "They were awarded a grant and fixed up the barn," she says. "It turned out really good; it's beautiful."
After Mary Kay and Todd had been on their farm for about eight years, age and weather started to take a toll on their barn. The barn needed repainting, the windows were in bad shape, the cupola was leaning, and the roof of wooden shaker shingles was looking shabby.
It was time to act, she recalls. "We decided that if we didn't do something now, it would get uglier and uglier ... and we'd eventually have to get rid of it," she says.
So she turned to the place that assisted her in-laws years earlier and was awarded a grant with the Iowa Barn Foundation.
A local construction company performed the restoration. They replaced the shaker shingles with tin. "The shingles just fly off in windstorms," Mary Kay says. "My in-laws have to have shingles put on twice a year."
All deteriorating windows and doors were replaced. Rotted wood was exchanged for new. The cupola that sat atop the barn was rebuilt. And they painted the entire structure themselves.
Cost to renovate was $19,000, of which the Iowa Barn Foundation paid half. By accepting the grant, the Wegeners agreed to include their refurbished barn on the foundation's barn tour for several years.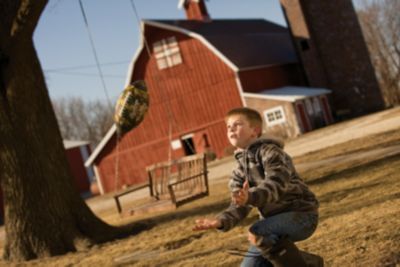 The Wegeners primarily use the renovated barn for feed storage. "The kids used to take care of bucket calves for a neighbor, and they still have 4-H calves, but those moved to the calf shed so they don't use the barn anymore," she explains. "But all the hay for the cows and calves is still in the barn."
Restoring the barn — now decorated with a barn quilt painted by her sister — was a labor of love, and worth every bit of it, Mary Kay says.
"These places are just disappearing," she says. "No one wants to put effort or time or money to fix them up because it's easier to tear them down."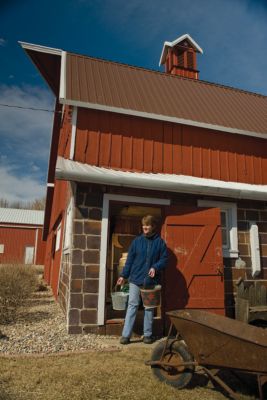 CONNECTION TO THE PAST
There's a reason why the Wegeners and others like them find old barns to be something special.
"The barn is a tangible connection to this country's agrarian history," says Jim Lindberg, of the National Trust for Historic Preservation. "It was primarily a nation of farmers until the turn of the 20th century. That's continued to be such an important part of our national identity, and the barn is a physical symbol of that."
The National Trust recognized that too, particularly after witnessing the 1980s farm foreclosure crisis and its destructive impact to America's agricultural heritage.
"We developed a response to that concern, which became BARN AGAIN," he says. BARN AGAIN encourages and assists in barn preservation for agricultural use, and publicly acknowledges those, such as the Wegeners, who follow suit.
"While it's wonderful when people turn an old barn into a restaurant or residence or recreation center, that's great," he says, "but we believe if you want to save historic barns in any quantity, you have to keep them in use in agriculture, serving agriculture."
So just how did this revered symbol of American agriculture find itself in need of saving?
"The reality is that over the last several generations, especially in the early 20th century, farms started getting bigger and number of farmers declined," Lindberg says.
At one time, about 6.5 million farms existed in the United States; now, they number 2 million, Lindberg says. "There was somewhere around 4 million barns that might have been associated with barns no longer in existence, which means there were more barns than there were farmers or ranchers to use them."
Specialization also impacted the barn population, Lindberg says. "Most farms had some kind of livestock, but now many don't," he says. "They don't have animals; just specialty crops, and livestock are what barns were built for."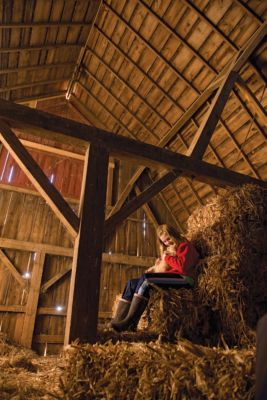 There is good news, however.
"We do think the trends are going both ways," he notes. "Specialization is continuing, but with the new movement toward smaller farm operations, people are not farming full time, but they've got an older barn and love it and want to use it.
They're seeing more use of older barns for sustainable and organic farms. "The barn is kind of a universal space, a warehouse in some ways," Lindberg says. "People are finding clever ways to use that space."
GETTING A COUNT
The number of lost barns has never been precisely identified because nobody ever kept track.
That, however, is changing.
"For the first time ever, the 2007 version of the agricultural census includes a question, 'Do you have a barn built before 1960?' That'll tell us where older barns are," Lindberg says. "We'll have that data in the next year or so through the USDA and that's going to be fascinating. That'll be a baseline to see in future censuses how the data changes."
One thing is for sure at the TMK Farm: their barn is here to stay — for the farm, for herself, and for her children.
"They would miss it," Mary Kay says, "if it were gone."
Out Here editor Carol Davis would settle for a new barn on her acreage.