Henry Lodge's summer job in the packaging and shipping department of Lodge Cast Iron Cookware had been just that — a summer job. The young college graduate was looking forward to becoming a teacher; not working at the foundry started by his great-grandfather.
A telephone call changed all that. His cousin, Bob Kellermann, who worked at the family business and is now CEO, called to say that the shipping clerk had left and they needed someone familiar with the job to step in immediately.
"I came with every intent of them hiring a new shipping clerk," he says. "It never happened. I never left."
That was 37 years ago. These days, Lodge is president of the 113-year-old South Pittsburg, TN, company that is the nation's only manufacturer of cast-iron cookware.
"I liked working here. I liked the people. And I liked walking through the foundry and watching the iron ore go in one end and skillets come out the other," he says. "You can't go many places and see things created literally in front of your eyes."
Indeed, each of Lodge Cast Iron's more than 120 varieties of cookware begins from a mixture of pig iron, recycled cast iron, and scrap steel that is liquefied in a 2,800-degree electric induction furnace.
The molten iron is tested for impurities that could weaken the iron and then injected into sand molds — an ancient, yet still-effective method for casting iron.
Newly-cast skillets, pots, woks, and griddles ride down a vibrating conveyor to shake off burnt sand, and then undergo a methodical process where they're scoured and cleaned with blocks of scrap iron, tiny steel shot, and, finally, a river rock bath.
After drying, cooking oil is applied by spray guns and baked, which is the final step in the 90-minute process. This step, called seasoning, adds a barrier between food and the pan, creating a natural non-stick surface. Cooking with cast iron continues to enhance the non-stick capability, so the more you use it, the better it becomes.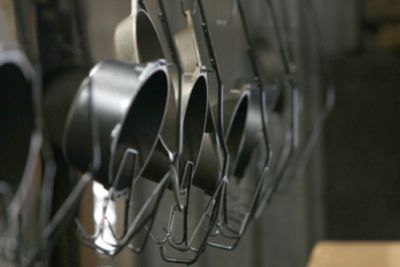 And despite the cooking options available — stainless steel, aluminum, nonstick surfaces — cast iron remains a necessity in most American kitchens. It's even experienced a renaissance in the last few years for a number of reasons, says Mark Kelly, company spokesperson.
A tough economy. Home cooking has increased by about 18 percent as people save money by staying home.
An anti-nonstick revolution. Nonstick coatings used in some cookware could be hazardous.
Television's Food Network. Celebrity cooks such as Paula Deen and Emeril Lagasse have increased the popularity of cast-iron cookware by using it on their shows.
And it will last forever if it's properly maintained, says Kelly, who still uses a skillet and Dutch oven that were given to his grandmother in 1918 as wedding gifts.
"As our CEO says, not everyone can inherit heirloom cast iron," Kelly says, "but now they can buy a piece of history."
Out Here editor Carol Davis has become a cast-iron convert.