Iris folding, a paper craft technique in which you fold and arrange strips of colored paper to form a picture or design, is fast becoming popular in the United States.
The "swirling paper" technique can be used for several kinds of projects: greeting cards, scrapbook pages, and framed art.
This craft, using a simple paper folding technique, is done using a template, cardstock, and folded paper strips. Folded strips of paper are layered in a spiral pattern behind an aperture opening of a piece of cardstock, resembling the iris of an eye or camera — hence, the name "iris folding."
Some of the most popular papers used are colored envelopes, gift wrap, origami paper, scrapbooking sheets, and holographic paper.
This Christmas tree project is perfect for making hand-crafted Christmas cards. Use varied festive holiday-themed papers to create one-of-a-kind cards for family and friends.
Click HERE to download a PDF version of the Christmas Tree template referred to below.
SUPPLIES:
4

½

x 6

½

-inch piece of white 65# card stock
4

¾

x 6

¾

inch coordinating piece of paper
7 x 10-inch piece of 65# card stock (folded in half to 5x7 card)
3 colors of paper (scrapbooking paper, colored envelopes, or wrapping paper),
Cardstock for the star and tree stand
A very small piece of holographic paper (you can find holographic gift bags & wrapping paper in most hobby stores)
Pencil
Scissors or paper cutter
Tape
Double-sided clear tape
Masking tape
Glue
A corner punch of your choice (I used a holly punch)
INSTRUCTIONS: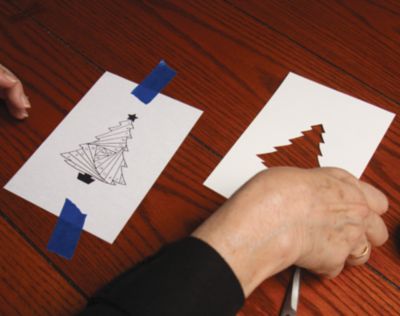 1. Start by preparing your cardstock for iris folding. You will need to make two copies of the template. One will be used to make your aperture cutout from cardstock. The other will be your template, guiding you how to layer your paper strips.
2. Take one of your photocopies and cut out the numbered section, cutting from the inside of the template only. You are creating a stencil, or pattern, used for tracing the design onto cardstock.
3. Center it on a 4½ x 6½-inch piece of cardstock, trace the pattern, and then cut it out from inside the line.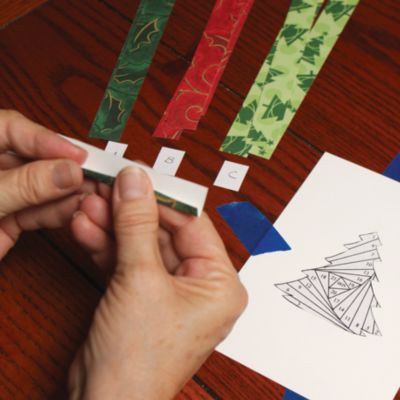 4. Layer the cardstock cutout on top of the second template (you should see the full numbered template through the aperture opening of the cardstock) and secure to both the template and the surface on which you're working with masking tape. You are now ready for iris folding.
5. Take the three colors of papers you intend to use and cut three strips of each, ¾ inch wide. You may need to trim them as you are working. Fold a hem along one side of each strip, folding toward the back side. Separate each color, labeling them A, B, and C.

At least a ¼-inch border around your card must be free of any tape or paper strips. Keep this in mind when layering them.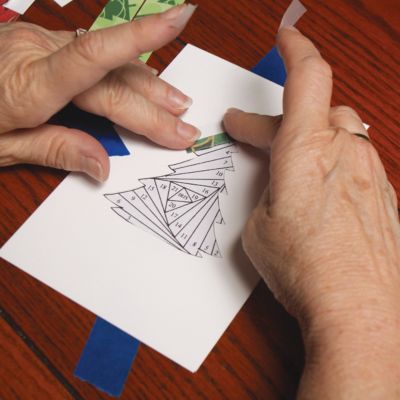 6. Start by taking a strip of Color A and line the folded edge up to the inside edge of No. 1 on the template. The front of the strip will be facing down. Trim the strip to be a little wider than the aperture opening, and tape both ends to the cardstock. Once you have completed number 1, continue to 2 using Color B, and 3 using Color C.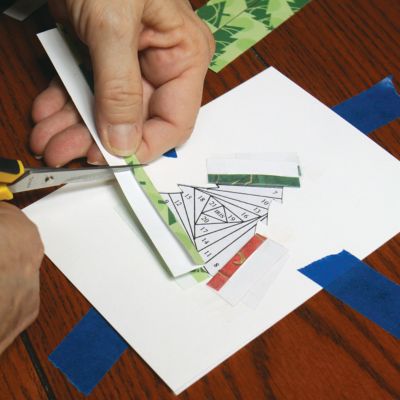 7. You have now completed one round of your template. Repeat these steps (4, 5, 6, etc.) until all of the numbers have been layered. Always remember that you are layering in numerical order. To help keep you on track, I have listed all the numbers that make up each color.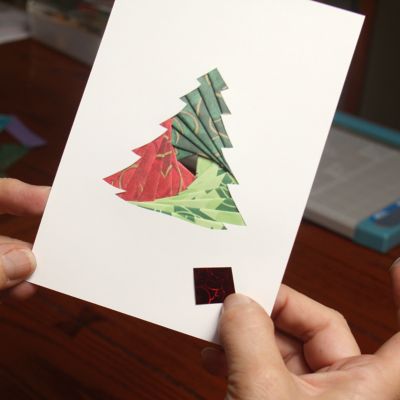 8. When you are done, turn it over to see the final results of the iris fold. At this time, tape a piece of holographic paper over the back side of the "iris" opening and punch your decorative corners.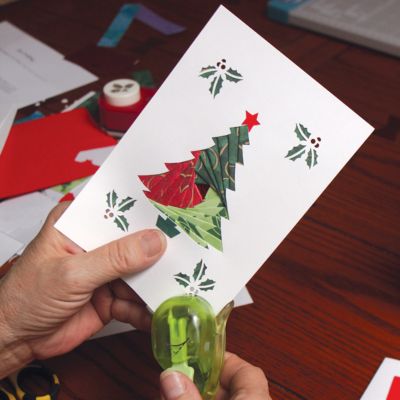 9. Use your template as a pattern to make the star and tree stand from card stock. Adhere them to the front side of the card.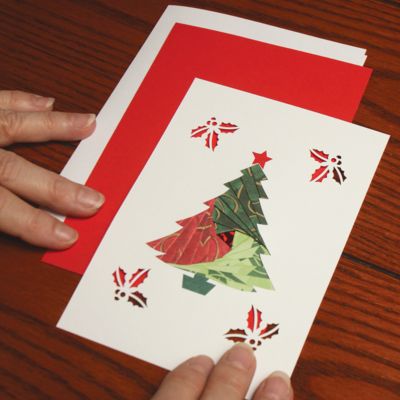 10. On the back side of your finished card, run two-sided adhesive tape down all four sides and apply it to a 4¾ x 6¾-inch coordinating piece of paper. This will then be adhered to the front of your 5 x 7 folded card stock.
Your card will fit in a 5¼ x 7¼-inch envelope or a 5 x 7 picture frame.
Sarah Decker is the author of The Simplicity of Iris Folding.