When Michael Levin first started peddling his bonsai trees in Boston's Harvard Square during the 1980s, most people were unfamiliar with this horticultural art form. "What are those things?" they would ask. "Are those alive?"
Despite the size, bonsai is not a species of dwarf tree, but rather the art of growing trees in miniature. The Chinese originated bonsai more than 2,000 years ago, but it was the Japanese who popularized this method of cultivating a "tree in a pot."
"There is definitely a magic in bonsai," Levin says. "People are either struck by it like a lightning bolt or not."
Levin knows what it feels like to be inspired by the sight of finely-sculpted miniature trees. After seeing his first bonsai, he flew to California looking for someone to teach him this ancient art. He studied with a group of Japanese-American bonsai masters he calls the founding fathers of American bonsai.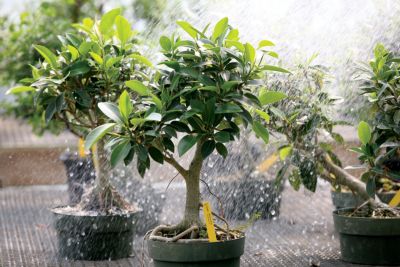 Levin purchased their collection of specimen bonsai and grew it into Bonsai West, one of the oldest bonsai nurseries in the country. Located in Littleton, Mass., Bonsai West is an arboretum, museum, gallery, and retail center. The 100-year-old trees in the outdoor display garden attract bonsai lovers from around the world.
'CREATING A WORK OF ART'
Although bonsai involves aspects of horticulture, it's actually closer to sculpture as an art form, Levin says. Each bonsai is grown in a specific style and shaped by careful pruning and wiring throughout the life of the tree. The goal is to reproduce the look of an aged tree on a miniature scale.
"You're creating a work of art that will be with you for many years and may even outlive you," Levin says. "It depends on your interaction to keep it healthy."
Bonsai is a popular hobby for anyone who enjoys growing and nurturing plants or those who want to build a stronger connection to nature and the outdoor world. Students in Levin's bonsai classes range from information technology specialists to blue-collar workers.
It's inexpensive to get started at the hobbyist level. All you need are a suitable plant, soil, bonsai pot, and scissors.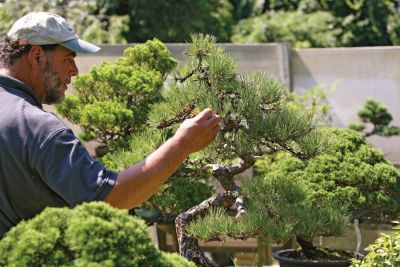 Most who fail with their first bonsai do so because they select an outdoor tree, such as a juniper, and try to grow it indoors. That's why beginners should first decide if they want to grow their bonsai indoors or outdoors and then select their tree, Levin advises.
Outdoor growing is the traditional bonsai method, as is selecting a tree that does well in the local climate. Evergreen bonsai such as pine, spruce, rhododendron, hemlock, and cedar or deciduous trees such as maple, elm, beech, birch, and wisteria grow best outdoors. Tropical plant species, such as ficus, schefflera, portulacaria, cherry, and serissa, are grown indoors.
Trees for bonsai can be collected from one's own property, dug from a neighbor's yard, found in the wild, or purchased from a nursery.
Keep in mind that not all bonsai are small and that some grow to several feet tall, Levin says. "You can start small with a seedling and grow it larger or you can start with a large tree and grow smaller," he says.
There are five classic bonsai shapes that come from nature and mimic how a tree looks in its natural growing conditions. These include formal upright, informal upright, slanting, semi-cascading, or cascading. Within these basic shapes are categories referred to as broom, windswept, driftwood, exposed root, or literati.
READY FOR BONSAI?
Learn more by visiting Bonsai West's website at bonsaiwest.com and check out these websites and books:
absbonsai.org — The American Bonsai Society's website.
bonsaiprimer.com — A beginner's guide by a bonsai enthusiast.
Bonsai (101 Essential Tips) by Harry Tomlinson. One of Europe's leading bonsai artists and instructors breaks down key information on cultivating bonsai into 101 easy-to-understand tips.
Bonsai Survival Manual: Tree-by-Tree Guide to Buying, Maintaining, and Problem Solving by Colin Lewis. Provides the comprehensive information every new bonsai gardener needs, from selecting plants to assessing plant health.
Because bonsai includes all of the tree's components, from its surface roots to its leaves, the pot or container should complement the tree in its size, shape, color, and texture for the most effective presentation.
PROVIDE CONSISTENT CARE
Just like any living tree, bonsai require 5-6 hours of direct sunlight each day, whether they're grown inside or out. Proper watering is essential to the tree's health and the soil should never be allowed to completely dry out.
Unlike houseplants that need little care, bonsai require almost daily interaction, even if it's just a few minutes at a time. This quiet observation allows for the tree's growth patterns to be studied to determine how the branches should be trimmed or wired into new positions.
Bonsai can be grown outside in cold weather regions, if protected through the winter in a cold frame or other sheltered area, and if watered to prevent dehydration.
After more than 25 years of studying, teaching, and tending bonsai, Levin advises beginners to find a beautiful tree and then learn to care for it.
At its essence, he says, "Bonsai is about loving a tree."
Jodi Torpey is a Colorado garden writer who is especially drawn to the look of a bonsai in the rugged windswept style.