Spend no more than $5 whipping up a dinner hearty enough for four adults. Sound impossible? Well, not for Erin Chase.
She puts healthy $5 dinners on her family's table nightly, thanks to a dash of planning, a sprinkle of coupons, a pinch of creativity, and equal measures of determination and strategic shopping.
Chase, though, was not always a mom-on-a-mission among the aisles of the grocery near her Dayton, Ohio, home. "When I shopped, I would go in and get what we needed, but I wouldn't pay attention to what was on sale and or how you could match what was on sale with a coupon," she says.
That all changed in the summer of 2008, when spiking gas prices forced Chase, 32, and her husband, Steve, 34, to take a hard look at the monthly budget for a family that includes Ryan, 4, and Charlie, 2. A third child is due in November.
"We were either going to start running in the red, or we needed to cut something else," she says. "I decided to see what I could save at the grocery store."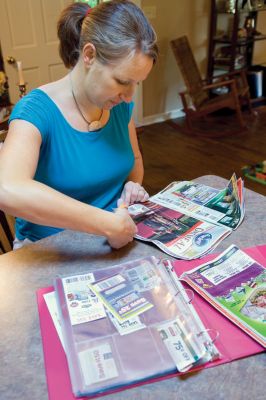 The weekly food bill tumbled from $150 to about $60.
She learned from tips on food blogs, and eventually started her own blog: 5dollardinners.com.
Recipes such as Aunt D's Garden Fresh Pasta Dinner or Crockpot Chicken and Cornbread Dumplings include details about the price of each ingredient.
The blog's success led to a book due to hit the shelves early next year: The $5 Dinner Mom Cookbook: 200 Recipes for Quick, Delicious, and Nourishing Meals That Are Easy on the Budget and a Snap to Prepare.
SHOP THE SALES
Any budget-minded shopper can get results in the kitchen. It begins, Chase says, with a simple idea. "I think you could easily shave $20 a week by just consciously paying attention to what goes into the shopping cart," she says.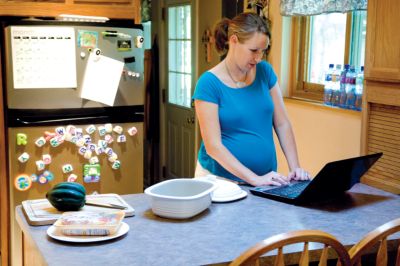 She starts by searching for sales in the ads of the Sunday newspaper, particularly on proteins such as meat or chicken that are often the priciest items on a menu.
Price alone never puts an item in Chase's shopping cart, though. Each purchase must fit her family's needs and menus.
She also emphasizes use of the freezer by paying attention to manager's specials or price reductions on meat nearing its "sell by" date. The meat is either cooked immediately or frozen.
"I plan meals by the month and I plan based on what's in the freezer," she says. "And when I go to the freezer, I know I'm getting something that was purchased at its cheapest. If you go into a grocery and just buy to fit a menu plan, you won't get the sales price."
With a growing family, she also depends on short-term planning to make it through a busy day.
"While the kids are having their morning snack," she says, "I'm looking ahead to lunch, because walking up to the fridge and trying to figure out what we're going to eat is my worst nightmare."
She tries to make meals requiring no more than 30 minutes to prepare, often using slow-cooking crock-pot recipes. The goal is enough food to feed four adults, which means leftovers while the children are small.
"We'll probably adjust the budget as they get older," she says. "I'll do my best to keep dinner at $5, but I will not deny them what they need."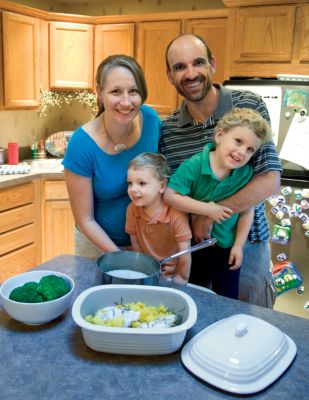 Balanced, healthy meals also matter. Chase buys fresh seasonal vegetables at good prices and avoids processed foods. "In the fall, it seems as if we eat squash all of the time," she says.
Her strategy also includes coupons, which she files in a binder for easy retrieval. Websites such as smartsource.com and coupons.com allow visitors to search for printable coupons.
"It took longer when I started, maybe 45 minutes a week at first, but now it only takes maybe 20 minutes," she says.
Chase controls her grocery spending by paying in cash. "Even with a debit card, you can go over budget," she says. "I total up what I think it will cost, and then I give myself an extra $10 for things that I happen upon in the store that weren't advertised."
Another favorite money-saving tip is to plan a weekly vegetarian dish to eliminate the expense of meat.
Chase keeps all grocery receipts, and calculates how much she spends per ingredient on each meal. She often marks the price on the packaging for items with a long shelf life such as rice or beans. If she buys a whole chicken but uses only a quarter of it in a recipe, she divides the total expense by the amount used per dish.
"I pretty much can do the math in my head now," she says.
And every week she will check her menu plan and ask the same question: "I will think about what each meal will cost and what I can do to make it cheaper."
Noble Sprayberry is a Phoenix-based writer.