In the middle of the night, Jim Williams rises from bed, walks outside on his sprawling Texas ranch and peeks in on a cow like a mother checking on her newborn.
Satisfied, he'll crawl back to bed, and then do it two more times before daylight.
"We know these cattle well — we live with them," he says. "I couldn't fix a tractor or any farm equipment. I can barely put gas in my truck. But I know every cow on this ranch. We know our cattle inside and out, outside and in."
Hands-on cattle ranching makes for a life full of work and sleepless nights for him and his wife Luann, Williams admits, but his unique style has brought international acclaim to this longtime southeast Texas ranching family.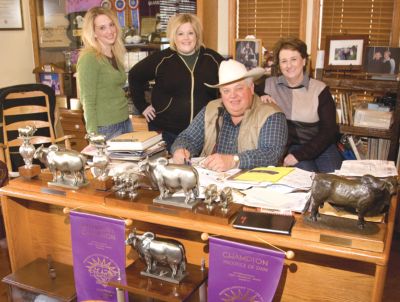 4-H and FFA members across the United States buy cattle from the Williamses' V8 Ranch in Boling. Those cattle frequently win national major shows, county fairs, and school shows.
"We've won all kinds of grand champion awards," says Debbie Rogers, who has been buying Brahman cattle from the Williams family for 19 years. "There's too many (awards) to even name ... The cattle just have the genetics that make a better all-around animal."
Most recently, a V8 Shorthorns won national champion at the North American International Livestock Competition, the most prestigious Shorthorn cattle show in the nation.
The ranch has been famous in agriculture circles for years for its show-quality Brahman — hardy cattle well suited to Texas heat.
When Jim and Luann's daughters, Rachel and Catherine, began showing cattle in junior shows in the late 1990s, they exhibited both Brahman and Shorthorn cattle, a gentler breed better suited to cold temperatures.
The girls' success with the V8 cattle was unmatched, and they dominated junior shows.
Catherine, the younger of the two sisters, still holds the national record for exhibiting three back-to-back Junior National Champion females in 1999, 2000, and 2001. Rachel won the All-American National Junior Brahman Show seven times.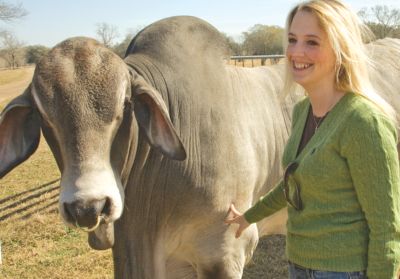 Their success attracted attention. Today, the ranch receives requests from around the world for both the Shorthorn and Brahman breeds.
The cattle are so renowned that some buyers purchase newborn calves from the V8 Ranch sight unseen, Luann says.
Jim now fields calls at all hours of night from foreign callers who want to chat about cattle. Luann recently sent a shipment of the ranch's frozen embryos to Thailand.
The ranch is successful largely, Jim says, because the family lives, works, and breathes cattle.
'NOT FOR EVERYBODY'
Jim earned a degree in animal science at Texas A&M University and returned with his new wife, high school sweetheart Luann, to help his folks, Sloan and Mollie, run the ranch.
His mother-in-law never understood why he and Luann were always late for parties, he says.
"There would be a big dinner party planned for two months and we'd want to go. We'd get our dress clothes on and drive out the gate, and I'd see a cow having trouble calving. So we'd turn around, take our dress clothes off and go out and see if she can calve all right."
"Cows don't know you have a dinner party," he says. "It's a good way of life, but it's not for everybody."
The land — once a Civil War campsite — is divided according to cattle breed. At one end, fuzzy red, white, and roan Shorthorn calves munch on hay the Williams family baled.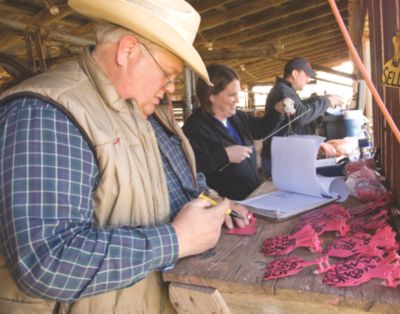 At another end of the ranch, Brahman cattle, with their characteristic hump and velvety gray coat, trod across the pasture. Another pasture is home to the "recipient cows" — females implanted with embryos of show-quality cattle whose lineages go back six and seven generations.
They know every cow by sight, and Catherine, who inherited her father's eye for cattle, can pick out a good calf when it's only a few days old.
While good genetics certainly factor into the family's quality cattle, customers return because of the treatment they get at the ranch, Jim says.
"You can have all the work ethic and the best cattle in the world, but people aren't going to deal with you if you're not square and true in your dealings," he says.
Jim spends a lot of time visiting with customers and sharing advice laced with motivational phrases left over from his high school and college football days.
"It's hard to imagine what the outside of a calf can do to the inside of a boy or girl and their self-esteem," he tells parents.
Jim now sells cattle to the children of the people who bought from him 30 years ago.
"It gives you a sense of pride," he says. "It tells you they are a satisfied customer and that's what we want is a satisfied customer."
Rhiannon Meyers is a writer in Galveston, Texas.