The wrought iron lawn furniture is looking a bit rusty and chipped, but new furniture isn't in your budget this year.
That's okay; adding new life to old tables, chairs, planters, knick-knacks, even fences is easy and inexpensive to do, says Dave Coil, a master carpenter in Las Vegas, Nev. And it's a do-it-yourself project easily completed over a weekend.
First step is to determine whether the furniture is worth restoring or if rust has damaged it too severely.
"You can look at it and quickly tell if the rust bubbling is significant or how deep the rust goes," Coil says.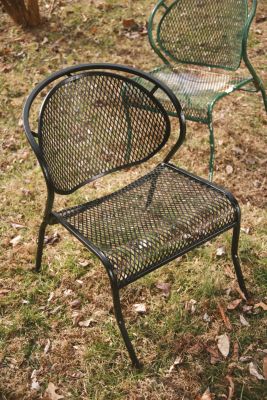 His rule of thumb: Even if most of the surface area is rusty, you're good to go as long as the damage is mostly surface rust. If the rust is more than 1⁄16 of an inch deep, then it's iffy.
Use a wire scratch brush or a wire wheel on a drill for quick rust removal, Coil suggests. It's fast and easy to see your progress. Brass or steel bristles work fine.
Don't worry about damaging the furniture; you're basically buffing or polishing the metal, and it's hard to hurt steel, Coil says.
"Start at the worst possible point," Coil says. "And if it's salvageable, the rest will be."
While you're removing rust, take off all the paint, as well. Otherwise, you'll have bumps and lumps, and the paint won't stick to the surface.
For hard-to-reach areas, Coil uses a pick, much like a dental pick, to strip away rust and paint.
Once you're done scraping, buffing, and picking, wipe the area with a rag using either mineral spirits or Coil's preference, lacquer thinner. Both dry quickly.
In choosing a color, go with the original, or try something new and fresh for a completely different look. Whatever your choice, the paint should be oil-based, Coil recommends.
"It dries harder and will last longer," he says. He also recommends using spray paint, which usually works best on metals, and is convenient, especially in hard-to-reach areas.
If, however, you appreciate the character of a weather-beaten planter or antique yard art and want to keep the rustic look without your treasure deteriorating further, you can protect that, too, Coil says. Simply coat it with clear lacquer or enamel.
Teresa Odle is an Albuquerque-based writer.