New bride Alyce Birchenough didn't want diamonds or china as a wedding gift from her groom.
She wanted a milk cow.
But Alyce's unusual wedding request more than 30 years ago helped clear the path to their shared dream: to make a living together in a way that brought them closer to the land.
Alyce and her husband, Doug Wolbert, eventually left Michigan, bought 40 Alabama acres and created Sweet Home Farm, home to chickens, pigs, and 15 cows that supply milk for some of the finest in-demand cheese outside of Wisconsin.
BACK TO THE LAND
Alyce's degree in nutrition and food science naturally lent itself to her goal of running a dairy and making cheese.
Moreover, making and selling cheese would allow Doug and her to live the life they preferred.
"We were interested in getting back to a more natural way of living and being self-sufficient and having a lifestyle where we could work together," she says.
They kept their day jobs while adding to their herd. Alyce made cheese as a hobby, with an eye toward turning it into their sole livelihood. But obstacles such as space, state regulations, and Michigan's status as one of the country's highest agricultural tax bases, threatened their dream. Bone-chilling weather and frozen pipes didn't help, either.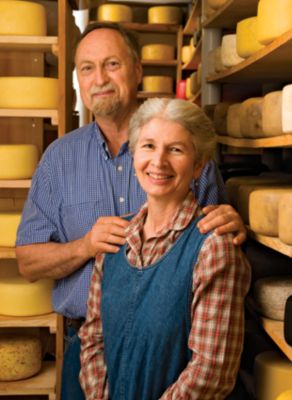 So in 1984, they began to look outside of western Michigan. Alabama looked inviting. Friends had moved there to join the shrimping industry, the weather was warmer, and Alabama's agricultural tax base was among the nation's lowest.
Doug traveled to Alabama to search for a place to farm. Soil quality ultimately determined where he and Alyce would live.
"This place was not exactly what we were looking for, but then he saw the soil maps," Alyce says. The acreage, just 15 or so miles from the Gulf of Mexico, contains clay mixed into the sandy earth, which is critical to good soil.
"It has extremely good soil, but the house needed a lot of work, which Doug knows how to do," Alyce says.
Its location, way out in the country on a red dirt road, didn't matter at the time because the couple originally planned to sell cheese by mail order.
They spent the next year packing and transporting their belongings. Alyce continued her job as a hospital nutritionist while Doug gave up his well-drilling job to make nearly a dozen trips to move everything and bring supplies to fix up their house and construct the milk building.
They also brought 12 young Guernsey cows and calves with them from Michigan that would serve as their foundation herd.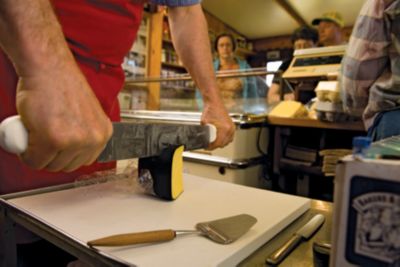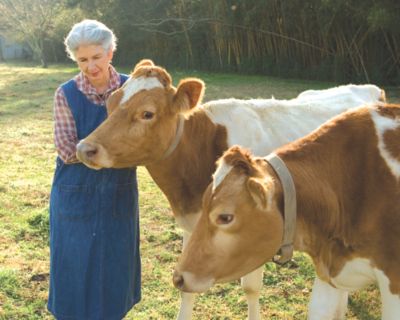 After they finally finished moving, it would take another year to get the dairy up and generating income. They worked with local government officials to build a milk house that complied with the area's ordinances.
"There were no other cheese plants in Alabama, so they were very agreeable to have us here," Alyce says. "They were very welcoming."
Some of their new neighbors, however, were skeptical. "They thought we wouldn't be able to make cheese because nobody there had ever done it," she says.
"One farmer said we wouldn't be able to make a living on 40 acres," Alyce recalls. "He lived to eat his words."
Doug concentrated on finishing the milk house, expanding an outbuilding, and fixing up the house. Alyce traveled to Canada for cheese-making instruction.
By 1987, they were open for business.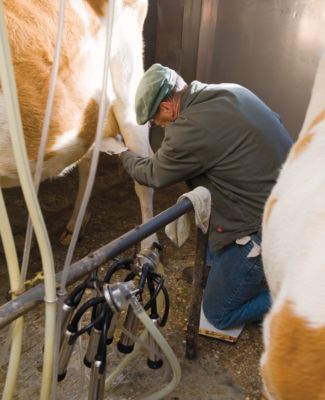 FROM THE PASTURE TO THE SALES COUNTER
Sweet Home Farm cheese making begins with milk cows who graze year-round on green pastures. The cows, with names such as Ricki, Josephine, Blinkin, and Holly, are milked twice daily with automatic milkers.
The milk is filtered and cooled to 34 degrees before it's pumped into a 200-gallon stainless steel vat in the cheese-making room. There, it's warmed to 86 degrees, and buttermilk or yogurt culture is added. An enzyme to coagulate the milk to a custard-like mass is added and the firm curd is then cut into cubes.
Alyce drains whey from the solid curd, which is salted and packed into perforated molds where it's pressed. It's then encased in wax and aged for at least 60 days in a large walk-in cooler.
The process takes from five to eight hours, depending on the type of cheese Alyce is making. Her techniques for cutting the curd, coagulation, and cultures differ with each variety. "All of these variables decide which cheese you come up with," she says.
Some of Sweet Home's cheeses are standard, while others are modified to the preferences and taste of the local market.
"Your customers have expectations and they want their likes to be available," she says. "We try to have something for everyone: hot, spicy, and standard."
Perdido, their signature cheese, is layered with ash from herbs on the farm that produce an herbal, smoky flavor. Chalet is the oldest cheese they sell; it's aged for nine months.
Bama Jack is a medium-sharp cheese, similar in taste to Colby or Monterey; Elberta is a house recipe that Alyce describes as creamy, semisoft, and slightly tart; and Asiago is very sharp with a black pepper taste.
She also makes Gouda, feta, Swiss, bleu, and a special annual Christmas cheese that she soaks in muscadine juice.
Alyce's favorite kind of cheese? That depends on how she plans to use it.
JUST LIKE THEY PLANNED
Southern Alabama's hot climate changed Sweet Home Farm's initial business plan; mail order was out of the question. So they created a small store in the front of the milk house and did some regional marketing to sell locally.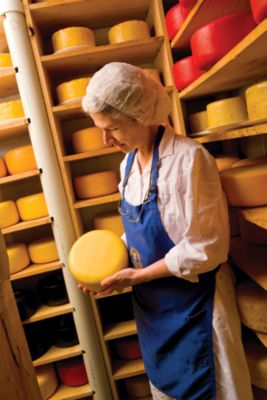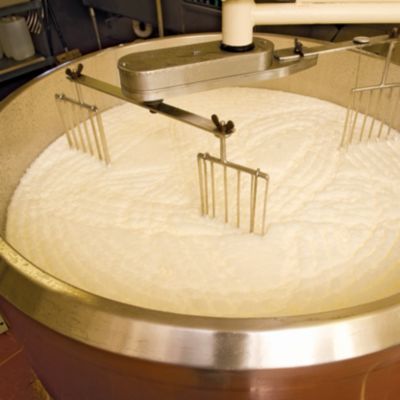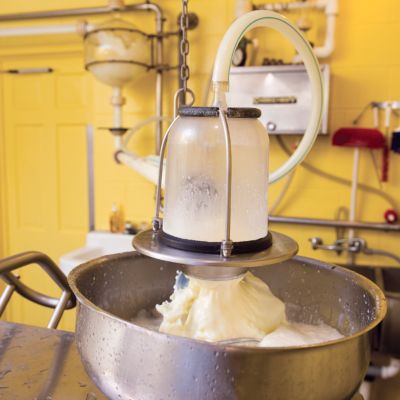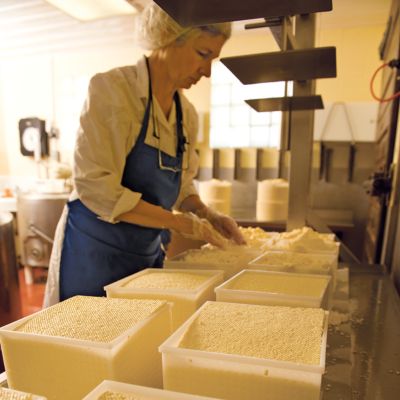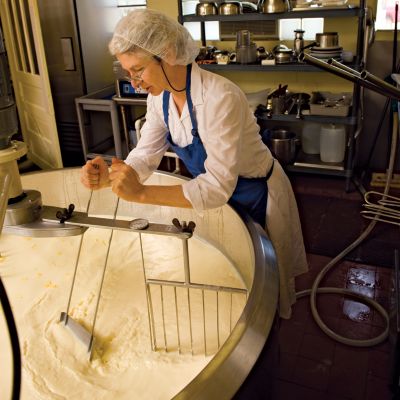 "Once we started getting some local exposure, it took off," Alyce says.
Locally-made cheese was unheard of along coastal Alabama, so demand for their product was high. Alyce and Doug worked hard to meet that demand.
"We were tenacious about going for it," she says. "We didn't have a 'Plan B.'"
They did all the work themselves; Alyce made cheese while Doug's domain was animal husbandry and repairs. The store operated six days a week and in 2000 they upgraded their equipment so they could increase production. After several years, the pace ended up being too much.
"We maxed out," Alyce says.
Profits were good, but filling customer demand caused their treasured lifestyle to begin fading. So they cut back.
"We wanted to stay small and maintain our values," Alyce says. "We want to maintain our quality."
Now, the store is open just two days per week — Fridays and Saturdays — and most likely will stay on that schedule. Their cheese sells briskly to customers who crowd into the small retail area that also features crackers and teas.
Their scaled-back retail allows Alyce to make cheese just three days per week, work in her large garden, participate in civic activities such as supporting the local farmer's market that they helped start, and spend time with Doug.
Just as they planned it more than 30 years ago.
Out Here editor Carol Davis is partial to Alyce's Elberta and Perdido varieties.