It's not unusual to see dogs or cats heading into a hospital or nursing home to offer some furry therapy for patients, but when Neil and Vonnie Young walk in with their menagerie, they attract a lot of attention. People just aren't used to sharing an elevator with donkeys and ducks.
The Berwick, PA, couple created a sanctuary and named it Young's Funny Farm, for rescued animals who need a home, from cockatiels to a crocodile. In turn, some of those animals provide comfort to hospital patients and nursing home residents.
Honeybun, Henry, and Dorsal — wild burros rescued from public lands out West — are three of only four known therapy donkeys in the country. Lucky and Frenchy are the only known therapy ducks. They're joined by miniature horses Buddy and Shorty.
"We live up to our name, that's for sure," Neil says.
The mission statement of Young's Funny Farm is, "we bring smiles," and they live up to that, too. They bring their animals to hospitals, especially mental health wards, and to assisted living centers, where they find their unusual breeds of therapists can make a unique connection with people.
"It's a chance for people to touch these animals that they've never had a chance to do before," Neil says.
Horses and burros, which people usually think of as barnyard animals, can bring back sweet memories to old-timers who grew up on farms and now spend their days under fluorescent lights.
When one of the burros left an unexpected present in the hallway, a resident at an assisted-living center jumped into action, grabbing the shovel and cleaning up the mess like she did as a young girl.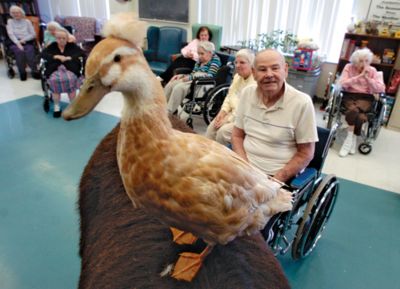 Ducks aren't typical therapy animals, but like dogs and cats, they love to be petted, the Youngs say, and stroking their soft down is an unusually relaxing way to pass the time.
The ducks seem to make an even deeper connection with certain people, including those who suffer from autism and dementia.
"They just focus on how soft they are," Vonnie says. "(Patients) reach out and make contact with you, where they might ignore you if you're alone."
The Youngs' work started when they adopted their dog, Timmy, in 1999. Neil, who has narcolepsy, found he had fewer sleep attacks after having his canine companion around. Timmy became trained as both a service dog and a therapy dog, and as their collection of animal refugees grew, the Youngs realized some of their other animals, even unexpected ones, could have a profound impact on people.
They show up at walkathons and parades and schools, and they never turn down a request for a visit, sometimes making three or four a week. Their only payback is smiles and laughter. They accept donations, but they don't charge for their visits.
"We do this as volunteers," Neil says.
Still, volunteering can be extraordinarily demanding.
But before they can think about stopping, he says, "you get someone who's just smiling, or beaming. It just melts you."
David Frey writes in Glenwood Springs, CO.