With a storm rolling toward their Indiana home, 12-year-old Steve Beckman joined his father, Donald, outside. A funnel cloud appeared, seeming to bounce off a water tower no more than a mile away.
"I can still see it to this day as if I was standing there," says Beckman, now 50. "It was like a yo-yo, and it just bounced back up into the sky. I've been interested in storms ever since, and since that day I've never been afraid of storms."
For Beckman, a construction supervisor who lives in Cass County, IN, fascination with the weather runs in the family. His brother, Alvin, serves as director of the county's emergency management agency.
Willingness to face violent weather is essential for people such as Beckman, who joined the network of volunteer storm spotters scattered across the nation as part of a warning system.
Trained storm spotters have worked with the National Weather Service for more than 60 years.
"They play a vital role in helping us really know what's going on out in the field," says Rick Smith, the warning coordination meteorologist for the National Weather Service Forecast Office in Norman, OK.
Spotters provide the vital last link between technology and on-the-ground observation, often putting themselves at risk, Smith says.
"With all the remote sensing technology we have — the Doppler radars, the satellites, and all the fancy gadgets and tools — nothing will replace a set of eyes and ears in the field to tell us what is actually happening on the ground," Smith says.
At times, they can save lives.
"It's been a couple of years ago, but we spotted a funnel cloud over the county airport," Beckman says. Warning sirens sounded.
"Ten minutes later it struck a horse barn and house, and it sent two-by-fours into the house," he says. "An older couple got to the basement just ahead of it."
SAFETY FIRST
Beckman joined the weather spotters seven years ago. He first attended training provided by the National Weather Service, where safety was emphasized. "That's what they really push because you do no one any good if you put yourself in harm's way," Beckman says.
Volunteers also learned how to understand radar images and the basics of cloud and storm creation. They learned to tell the difference between the rotation of tornados and the power of straight-line winds.
The system of spotters goes to work if the National Weather Service identifies severe weather approaching, with as many as 15 spotters taking to the field in Cass County, says Alvin Beckman.
"It's extremely important, because it enhances our ability to warn the public," he says.
During one tornado warning, spotters contradicted radar indicating the rotating winds of a tornado, Alvin Beckman says. "It was north of the county line and the only way we could have gotten that information was the spotters," he says. "It was missing our county."
Steve Beckman typically watches the southern portion of the county — a tree-covered landscape containing a handful of townships.
He carries a pack filled with rain gear, flashlights, a camera, a radio, and mobile phone. Often, he adds a video camera, which can make sense of a wild environment of wind, rain, and flying debris.
In the weather chaos, bare-eye observation might prove insufficient to confirm dangerous rotating clouds. A quick review of video, however, can provide the valuable confirmation.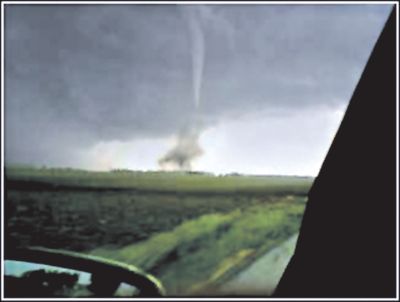 Even when he's completely prepared, some storms get the adrenaline running more than others.
A local weather forecaster once went along with for a ride. "Afterwards, he said he'd never do it again. It scared him pretty good," Beckman says, chuckling. "He said we were crazy, and sometimes I'd agree with him."
One stormy night shook even Beckman.
"It wasn't real late but it was already dark out, and we knew there were tornado warnings and funnel clouds spotted," he says. "We saw debris flying in front of the windshield, and then it was sliding and shaking the truck."
Straight-line winds later estimated to top 70 mph slid Beckman's full-size pickup truck, which contained a 450-pound tool locker, about 8 feet across the road. "I didn't know if we were going to flip over," he says. "That made me pretty nervous."
Not every storm provides hair-raising excitement, and many alerts simply mean sitting for hours and watching lots of rain. But weather finds a way of reminding anyone of nature's power.
Driving during an intense storm, Beckman looked skyward, grabbed his radio, and issued a report that still brings kidding: "They asked, 'What's it doing?' and I said, 'We've got cars.'"
The storm had flipped a Chevrolet Lumina into the air, bouncing it off the middle of a pine tree.
"It was about a 20- or 25-foot tree," Beckman says. "That left a lasting impression."
Noble Sprayberry writes from Phoenix.