Few moments can be more frustrating than coming home to a happy, tail-wagging puppy — and finding the mess he made on the carpet while you were gone.
That's why effective house training can make or break a relationship with your family's newest member. Indeed, families looking to adopt a new dog must have the time and patience to invest in housebreaking, says Norma Bennett Woolf, expert dog trainer and editor of Dog Owner's Guide.
"Are you going to be gone all day long, then come home to the puppy in the crate with a mess?" Woolf asks. "Or can you come home at noon, or take the puppy to work with you? If you are thinking about it ahead of time, you're not as frustrated after the puppy arrives."
But with proper planning, dog owners will be rewarded with a lifelong friend with healthy habits, Woolf says.
Success begins with the crate. Raising a well-behaved dog from a mischievous puppy starts with proper crate training, Woolf advises.
Use plush bedding and toys to make the crate a comfortable place to eat and sleep. Woolf suggests establishing regular feeding times — no grazing — so bathroom times will follow.
During play time or relaxation, always stay in the same room to get to know the sniffing or circling that precedes your puppy's slip-ups, and stop them before they happen, Woolf recommends.
"If we don't want him to relieve himself in the house, we have to be aware of the signals and set a particular schedule," she says.
Establish a routine. This one is two-fold: you and your puppy need a schedule. Before bringing your new friend home, be sure you know who in the family will make the noontime trips home for potty duty until your puppy learns to wait.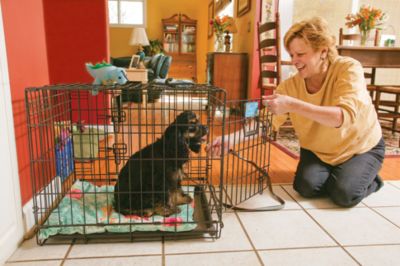 Most puppies will be ready to relieve themselves within 10 minutes after eating, but be prepared to adapt if he needs longer. Dogs pick their favorite potty surface as young puppies, so make regular trips to your preferred spot — grass, concrete, or dirt. Pick a short phrase he can associate with the potty break and stick to it.
If the trip outside isn't fruitful, put your pup back in the crate for five minutes before returning outside. This will teach the puppy that leaving the crate means going potty. When he does go, reinforce with praise and a treat.
"Puppies learn very quickly to associate the word, the action, and of course the cookie," Woolf says.
Be forgiving. Accidents will happen, but they're just that: accidents. Don't rub his nose in it. Use an enzyme cleaner to eliminate and lingering odors. Then, move on. It's important to remember even the most eager puppies have a learning curve so be patient until he or she makes it, she says.
"We expect a baby to be a couple years old before they get out of diapers," Woolf says. "I think 16 or 18 weeks for a puppy is pretty easy to do, if you've had babies to contend with."
Kate Howard shares her home with Foxy, a Chihuahua-Corgi mix.