I love it when I hear someone say, "I don't have room to garden." Small-space gardening is a passion of mine and so containers play as much a part in vegetable gardening as the ground does.
When planning a small garden, using space everywhere is important. Looking up and growing vertically will expand your growing space.
Trellises and towers are the perfect way to organize and use what space you have more effectively. A resourceful gardener developed the system of using removable wooden dowels in a towering, open structured trellis to stake his indeterminate (long season) tomatoes.
These beautiful structures are then placed in long, raised wooden troughs in which he already grows other vegetables. The plants can be reached from all sides and as the tomato plants grow, a dowel is pulled partially out to allow the grower to gently weave the shoots back in without damage.
Below, their favorite peppers, eggplants, and assorted greens can be switched out as needed.
A window box with an attached trellis is another simple way to grow tomatoes vertically to save space. Simply tie the plants around the edge of the trellis as they grow longer.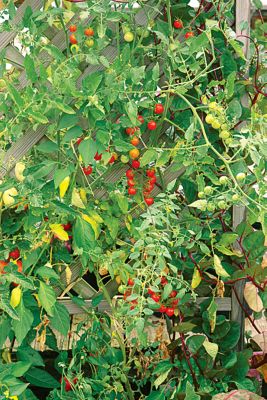 On a lightweight trellis, smaller tomatoes — varieties such as Sweet 100 or Roma — won't be so heavy and put stress on the structure. Underneath, I plant a small growing pepper such as Sweet Pickle, and maybe some dwarf basil. I also plant a determinate tomato (early variety) in the mix so I have some early fruit to enjoy. Determinates last most of the summer, but produce about a month before later varieties.
Bell peppers can be grown in a porch pot about 14-16 inches across. Planted in full sun, these peppers frequently grow 3 feet tall, making an interesting topiary tree form and are attractive enough to decorate your deck or patio. The brilliantly colored fruit makes for a decorative container garden as summer progresses. Tie a stake to keep wind from blowing them over.
Hanging baskets are great for growing bush-type tomatoes. A full planter of Tumbling Tom hanging from my deck will produce bowlfuls of tasty tomatoes all summer, in addition to being a wonderful conversation piece.
As the fall season approaches and temperatures cool, I change my plantings to accommodate leafy greens and cabbages. Simply place fresh potting soil in the containers and sow leaf lettuces and arugula directly in the top of the pots. Cabbage might do better if it is sown in a separate tray and transplanted later, because they are a little slower growing.
Ruby Perfection is the most cold-hardy of the cabbages, but if a freeze is projected, I'll use a frost cloth to extend my season.
Soil mixes for vegetables should contain organic matter such as good compost. An organic fertilizer should be mixed in and top-dressed monthly for best performance.
Rita Randolph is a second-generation greenhouse grower at Randolph's Greenhouses in Jackson, TN.