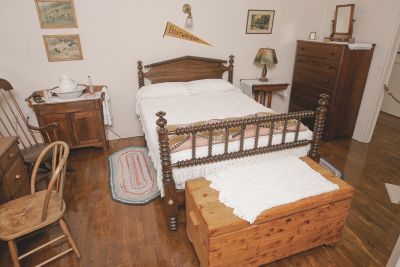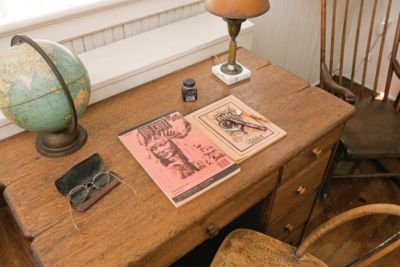 A sign pointing the way to the Rockfish River is the first hint to visitors that they're in the right place.
Fans of the 1970s television show The Waltons, about a close-knit, Depression-era rural Virginia family, probably recall repeated references to the Rockfish River and the town of similar name. Those places are real, all right, but Walton's Mountain, VA, isn't.
It is, however, based on Schuyler, VA, a community off-the-beaten-path where Earl Hamner, The Waltons' creator, and his large family grew up. Indeed, main character John-Boy Walton was based on Hamner, and the Walton children on Hamner siblings.
The show centered on John and Olivia Walton, their seven children (John-Boy, Mary Ellen, Jason, Ben, Erin, Jim-Bob, and Elizabeth), and John's parents as they lived through the Great Depression. Every episode closed with loving family members bidding each other, "goodnight."
The Waltons ran from 1972-81, and continues to this day in reruns on The Hallmark Channel.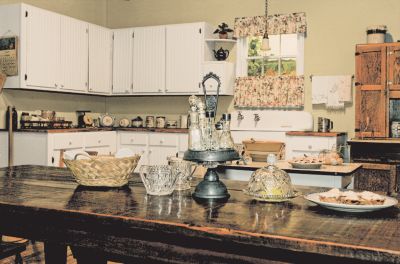 Schuyler embraced Hamner's endearing television drama series by creating the Walton's Mountain Museum, which opened in 1992. The museum is located inside — and helps support — Schuyler's community center, formerly a school.
Four rooms replicate familiar scenes: John-Boy's bedroom with its desk and Indian Chief writing tablet, the Waltons' kitchen, living room, and Ike Godsey's General Merchandise Store. Furniture and décor did not come from The Waltons filming set — that was destroyed in a fire after the show ended — but they are so authentic to the Depression era that visitors think otherwise.
Robert B. Hall, the museum's curator, scoured flea markets, antique stores, and used-furniture stores to find the 1930s-era décor. "I had watched the show, but I had not scrutinized the sets while watching them, so I borrowed some tapes and I watched those specifically to work with the sets," says Hall, an interior designer in nearby Charlottesville, VA, who grew up in Schuyler.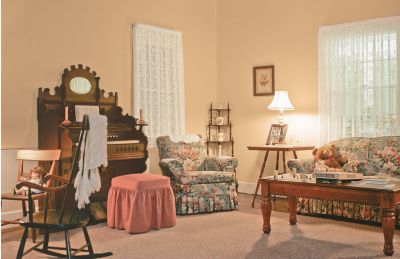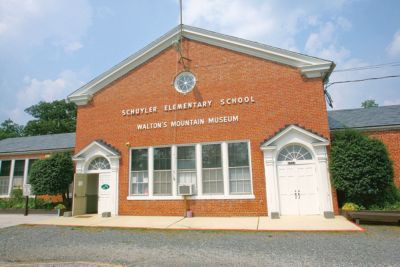 His work was revealed in October 1992 at the museum's grand opening, which was attended by more than 6,500 people and most of The Waltons cast.
"The nicest compliment I got was at the opening, when the stars said they had an eerie feeling, and they felt like they were back on the set," he says.
Visitors from around the world drive the curvy, hilly, country roads to this community of about 1,000, to revel in the show that exemplified family ties, values, and a simpler time. Some 20,000 of them came last year — some from as far away as Australia, Canada, and England, says Leona Roberts, the museum's executive director.
After touring the museum, visitors also take the short drive down Schuyler's main street to see the house where Hamner grew up. The white, two-story, folk Victorian house dates back to 1915 and is presumed to be a company house of the Virginia Soapstone Co. quarry and mill.
Hamner lived in this five-room house until his 1940 graduation from Schuyler High School. Hamners lived in the home from 1929 until 2003 when James Hamner, whom the character "Jim-Bob" was based on, sold it and moved to nearby Charlottesville. He died the next year. The home is privately owned and is not open to the public.
But the museum serves as the touchstone that visitors want.
"For most people who come here, it's almost like a religious event," says Patrick O'Brian, the museum's associate director of marketing. "They act reverently."
That's probably because most Waltons fans long for that way of life, Hall says.
"I think people who believe in close families and doing for others and making sacrifices in your own family for others are the ones impressed by it," Hall says. "It hits home with many of them because they've experienced that type of thing."
Carol Davis, Out Here editor and Waltons fan, was just like Mary Ellen, according to her father.