When pilot John O'Connell's military hitch ended, he could have parlayed his flying skills into a lucrative career with either a commercial airline or the federal government.
He chose to keep flying, but preferred to return home to the South Dakota plains and use his aerial skills to make a living in the region's agricultural economy. He decided to work as a crop duster.
Actually, the industry's preferred term is "aerial applicator," because "crop duster" fails to illustrate the range of work that these pilots perform. They do much more than spray insecticides on fields. They also apply herbicides, fungicides, and fertilizer — some of it organic — to vegetable, fruit, and feedgrain crops; defoliate cotton prior to harvest; seed rice and wheat; protect forests; control mosquitoes; and fight forest and grassland fires.
"Aerial application" may be the industry's preferred term, but most ag pilots are fine with being referred to by their most-familiar name — crop dusters.
And that was the life O'Connell, now 65, wanted when he started a one-man, one-plane business in 1972.
Now, 37 years later, the business has evolved and grown, airplanes have changed, and equipment has progressed light years ahead of what it once was. But one thing remains constant: John O'Connell loves to fly.
FIRST FLIGHTS
O'Connell's fascination for airplanes dates back to when he was a youngster, but it was in high school and college that he got the hands-on experience that he craved. He joined ROTC and trained in its aviation flight program, which was a precursor to military flight training.
"The guy who ran the training was an agricultural operator and he became my mentor," O'Connell says.
Then Vietnam came calling. O'Connell flew combat medevac — medical evacuation - for the U.S. Army during his tour of Vietnam.
Even though O'Connell eventually left military service, he had no intention of turning in his wings. He would buy a plane and start his own crop dusting company.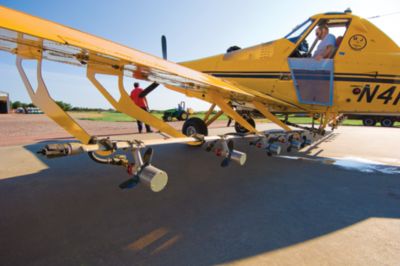 But O'Connell had no money to start a business. Fortunately, he had a banker friend who was familiar with his flying ability.
"He said, 'You go find an airplane and I'll buy it,' and he paid for it. I had a camper on my pickup and I sold it to help finance the business," he says.
O'Connell then had to find the best place to locate.
"I was smart enough to know that I couldn't compete with someone established, so I literally took a map and figured out where there was a hole in an area that needed aerial support," he says.
He chose Sanborn County, S.D., located about 100 miles northwest of Sioux Falls, where the population barely reaches 2,500, nearly 100,000 acres are planted in corn, wheat, soybeans, and vegetables, and where the average farm size measures 965 acres. He set up shop and began a career that has spanned four decades.
Tree worms gave O'Connell his break. South Dakota's climate isn't tree-friendly, O'Connell explains. "Those trees they have, they value a lot," he says.
The year he moved to Sanborn County, worms threatened to destroy the much-valued trees. "We figured a way to spray and kill them," he recalls. "Well, one neighbor told another, who told another, and it gave me exposure. I'd spray trees, collect the money, and buy some more gas to spray more trees."
Demand for his services eventually allowed O'Connell to pay off that first plane and add two more, which surprised him. "I always expected to be a one-man operation," he says.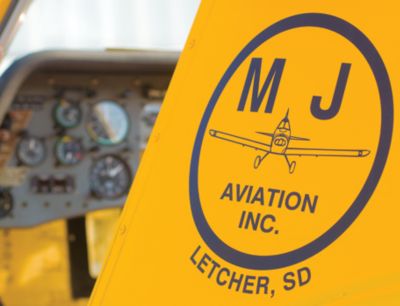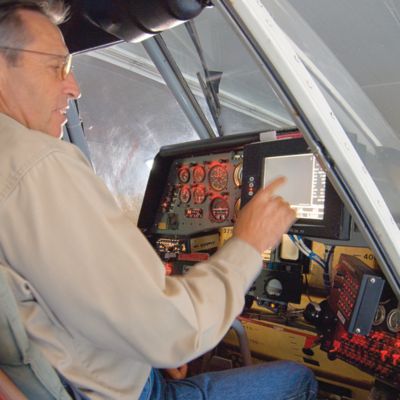 TURNING PROFESSIONAL
As O'Connell's small company grew, so did the business of crop dusting. No longer did it consist of old World War I and II aviators piloting surplus military planes over fields.
"Now, we use jet turbine engines, bigger airplanes, computer mapping, and GPS," O'Connell says. "The knowledge level for the industry has just exploded exponentially. It's really become a professional industry."
Technology, he says, has made the industry much more precise.
"Flow control systems put out exactly what we want," he explains. "You put it into the computer, which reads the speed of the plane and then adjusts the flow."
Applying chemicals to fields was an entirely different process just a couple of decades ago.
Wind speeds could create a 10 mph difference in his ground speed, which in turn affected how chemicals were applied. "I had to try to calculate and change my output by changing pressure so I would have a constant flow rate across the field," he says.
Now, he simply enters information into the plane's computer, such as how many gallons he wants to apply per acre, the field's size, and generally, how fast he's flying.
"Then I just go out and go to work. If I fly 140 mph downwind and 130 into the wind, the flow rate automatically adjusts and puts exactly the amount of product on the field," he says.
A global positioning system (GPS) also adds precision to the job.
"It's just like painting a wall," O'Connell says. "I have a guidance system in my plane which tells me how many feet I need to move over."
"My 'roller' is 60 feet wide. I 'paint' a swath across the field and then push a button that moves me over 60 feet," O'Connell explains. "If the winds get a little gusty and I move right or left and have a little space that I missed, when I get done, I can go and clean up that little space. When I look at my picture on the (GPS) screen, I see that the field is 'painted.'"
Before GPS, crop dusters used flags and fixed markers, such as telephone poles and fence posts, to chart their position. "Considering the technology, the application was incredibly accurate," he says. "But we were good at it because we did it over and over."
FLYING SCHOOL
Crop dusting students at Flying Tiger Aviation in Rayville, LA, may start out with different skill sets, but they end up at the same place — as a top-notch aerial applicator.
"Everybody who comes in the door is different ... from zero flying to someone with a lot of flying time," says owner Edwards Barham.
Students learn about agricultural GPS, work patterns and turns — "You will spend two-thirds of your life as an ag pilot in a turn," Barham says — application of material over crops, safe chemical handling, flying at an altitude of 10-15 feet, and basic aerodynamics.
"You've got two friends in aviation: air speed and altitude, and they are interchangeable," Barham says. "In agricultural aviation, we've deliberately given up our altitude, so we have to be very careful about our air speed."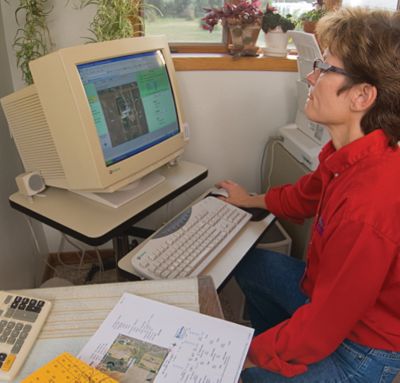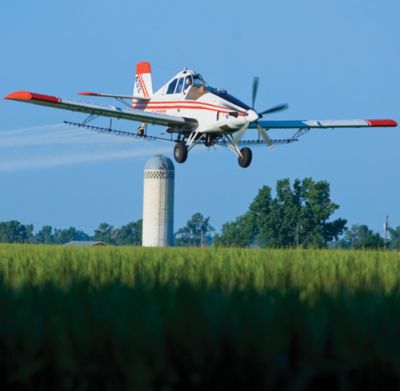 Students also learn about entering and exiting a field, mop-up passes, and maneuvering over and around obstacles, such as wires, telephone poles, and fence posts, Barham says.
Some 125 students annually pass through Flying Tigers' ag course, which runs between 25 and 30 hours for aerial application certification, says chief pilot Robert McCurdy.
Safety is key, McCurdy and Barham agree. "We're trying ... to get students firmly grounded in what can hurt you and how to maintain a safety cushion around you," Barham says.
Intensive training and skill-building required of crop dusters flies in the face of its "daredevil" reputation — a stereotype that's grossly inaccurate, most crop dusters agree.
"It is not air show flying, keen eyesight, and lightning reflexes; it is about judgment and good procedures," Barham says. "That's a very common misconception in public eye that it is daredevil kind of stuff. There is no place for hot dogs in this business. You're spending the farmer's money in wads and bunches and quality of work is critical if you're going to continue to have a job."
'I ENJOY IT'
Crop dusting remains in demand, says Andrew Moore, executive director of the National Agriculture Aviation Association. Indeed, about one-fourth of all crop protection is via aerial application, because of its efficiency, he says.
"You are always going to have a need for aerial application in agriculture because you don't want crop disruption," Moore says. "Whether it's tasseled corn, soybeans, wheat, or whatever the crop, once a crop reaches a certain maturity, with any form of application other than aerial, you're going to chew up the field."
That's why farmers rely on O'Connell and some 3,200 other professional crop dusters who take to the skies for jobs ranging from 10-acre pumpkin patches to 640-acre sections.
And after more than 40 years of flying, O'Connell even now thrills in slipping the surly bonds of earth.
"I enjoy it," he says. "When I'm out in a beautiful morning and had a good night's rest and the air is perfect, I still say to myself, 'I can't believe I get paid to do this.'"
Indeed, though time and technology have evolved crop dusting, in the end, O'Connell says, it's still simply about a field and a plane.
Carol Davis is editor of Out Here.