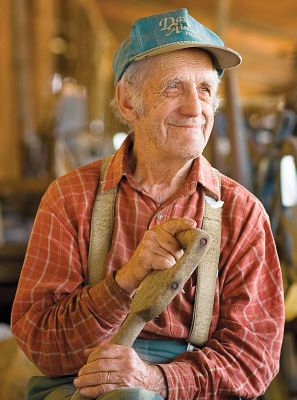 People forget, or maybe never knew, the ingenuity and mechanical wizardry of farm life. Fred Webster, retired, curious, and determined, decided to create a reminder.
Two barns and a handful of outbuildings on his 300-acre farm outside Coventry, Vt., chronicle decades of innovation: buggies, hay presses, tractors, engines, wheel barrows, lumber wagons, a horse-drawn hearse, and more. Much more.
The gear dates from the 1820s to the 1960s and goes from the era of four-legged horsepower to gasoline engines. Visitors — word-of-mouth advertising only — can tour for free, but should plan on spending a day to see it all.
Webster, 88, worked to get the details just right, including more than 300 hours of digital audio noting every detail of about 1,500 pieces of gear. He drove or operated many of the items, detailing the experience.
"I never was satisfied with how rural folklore has been written," he says. "When I retired, I was 65 and I didn't want to sit in a chair and watch the world go by. I felt I had a mission to make some corrections to what other people have done.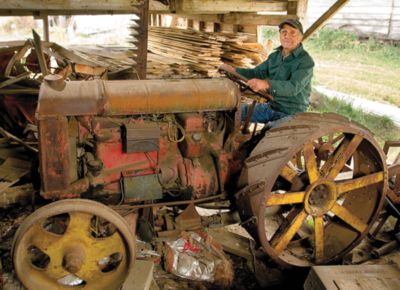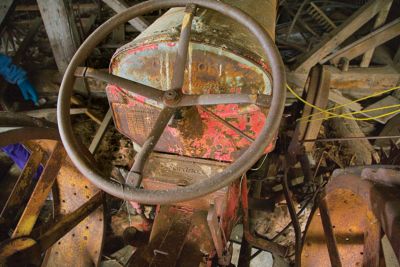 "My effort was to go back as far as we could with our collection, and to show how things went from one step to another."
Tough farm chores always demanded practical solutions. One went something like this: take a treadmill, install the appropriate pulleys and gears, and then add animal power.
Small jobs, such as churning butter, might rely on a dog, goat, or even the occasional child. Bigger jobs, such as sawing lumber, needed more, well, horsepower.
The result is one of Webster's favorite antiques. "I think the piece I like the best is our single-horse treadmill and it's just like new," he says.
LIVING THE FARM LIFE
To compile the collection, he relied on a life steeped in practical experience. He lives on a farm first settled in 1803 and purchased by his family in 1914. In 1994, he converted the dairy farm to hay production.
His father taught hard lessons about accuracy, Webster says. "If he sent me for a pail, he probably wanted a milk pail with a handle on it," he says. "If he was feeding the cows, he'd probably send me for a bucket, which does not have a handle."
A mistake brought a tough scolding, and Webster learned details matter.
Webster bought the items a piece at a time. Prices paid for each of the 50 buggies in the collection ranged from $150 to $700. The 50 sleighs cost about $400 each. Lumber wagons, which once cost about $50, are now nearly impossible to find.
The collection became personal for the former vocational agriculture teacher. "This was my mission," he says. "When we get older, we need to feel important, and I think we need to be important."
Even after years of collecting, he still keeps watch. A Vermont company once produced a three-horse treadmill, a perfect addition to the collection when, and if, he finds one.
Noble Sprayberry is a Phoenix-based freelance writer.