One of the most valuable, hardest-working members of a cattle ranch or farm requires no vacations, pay raises, or overtime pay. Just a pat on the head will suffice. Better yet, give him more work to do.
Dogs on cattle farms and ranches easily earn their keep. Working cow dogs do the work of several men, save man hours, and move cows by causing the least amount of stress without running the weight off them.
Cow dogs are unique in that they typically have more nerve and more bite than other dogs, says Oklahoma cowboy Ben Means, who's had cow dogs most of his life. "It takes a more determined dog to move cattle, especially if they don't want to be moved," Means says.
A cow dog isn't any particular breed. Rather, it's bred for working instinct rather than physical characteristics. Over the years, breeders have produced different lines of working cow dogs from a variety of working stock dog breeds, such as Australian shepherd, Border collie, and Catahoula, to name just a few.
Consequently, cow dogs may be a purebred or from a lineage of specialized crosses. This means they may be medium-sized or large. Short-haired or long-haired. Light-colored or dark. But they do have some things in common: an unparalleled herding instinct, a drive to work, grit, determination, and a sharp bite to control cattle that outweigh and outsize him many times over.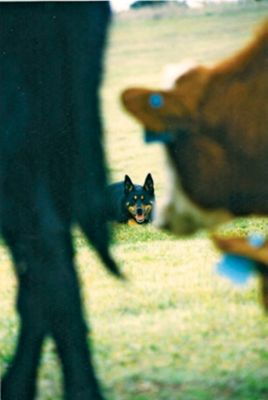 As a young man working his cattle ranch years ago, Means realized that he needed a good, dependable dog to help him herd cattle.
"A lot of times, it was just me and one horse, and that was not getting the job done," he says.
Then he noticed a couple of cow dogs working some bulls. "I watched them and decided that's what I needed," Means says.
He soon learned that a good cow dog more than makes up for help that you don't have. He easily can single-handedly control 75 head of cattle with one good cow dog and up to 250 with two dogs. "It definitely saves on manpower," he says.
Indeed, the working cow dog is unlike any other, say advocates of this aggressive canine with a work ethic that won't quit.
Cow dogs are so driven that some literally will work themselves to death. Ben Means has had cow dogs of that caliber.
"Usually the dogs, if they're the right kind, will put out everything they've got," Means says.
But that's not necessarily a good thing. "It puts a lot more responsibility on you," he says, "to realize when the dog needs to be stopped and taken to water and rest."
Out Here editor Carol Davis wrote about cow dogs in her book, Farm Dogs: A Celebration of the Farm's Hardest Worker.