About a week after leaving college and moving home, Kevin Parrish stood in the workshop where his father shaped leather into horse saddles. He turned to the man he watched work for years and said, "You know, I think I can do it."
The chore was refurbishing a saddle seat and replacing the padding and leather before stitching it all together. Parrish took all day — and he set a course for his life.
"I had a natural knack for it and I enjoyed it," says Parrish, 33.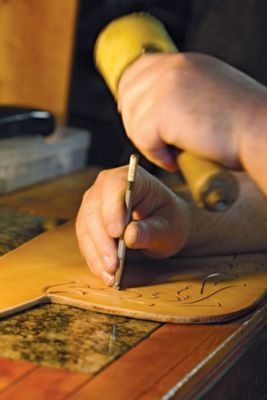 He now runs his own small shop in his hometown of Grady, AL. Replacing a saddle seat now takes about three hours, not all day, and they arrive from around the country for repair. He also makes custom saddles.
He relies on lessons learned from his father, John, but Parrish didn't know his dad well until they bonded over a workshop table filled with leather.
The family business started overseas when John Parrish, a mess hall sergeant based in Japan during the Korean War, took lessons in leather working on his days off. With the help of a $15 leather tooling kit from his bride, Warene, John kept working at it when he returned home.
"He was a huge cowboy fan," Kevin Parrish says of his father. "If he wasn't tooling a piece of leather, he was watching a Roy Rogers movie."
Friends eventually asked for help repairing saddle leather, leading to a part-time business done after a full day's work as a deputy commissioner for Alabama's Department of Human Resources.
"When I turned 13, I was sitting and watching cartoons on a Saturday morning," Parrish says. "He came in and said, 'Come on, it's time to go to work.'" Parrish cleaned saddles and made basic repairs in his father's shop until he was 18.
"I hated it," he recalls.
After high school, Parrish briefly attended college but returned home, where he found new perspective in a chore he once detested.
Father and son eventually bought a downtown store together, selling saddles and supplies in addition to the leatherwork.
"We worked five feet away and across the table from each other for three years," he says. "I really treasure that, because I didn't get to know my dad growing up. He was a quiet guy."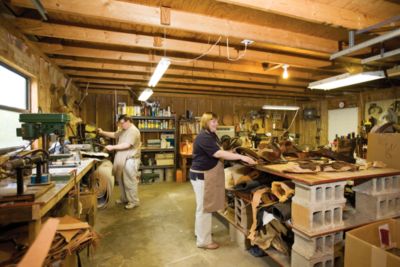 John Parrish, a diabetic, died of a heart attack after surgery. The shop closed three years later.
Parrish landed a job with a national saddle maker, moved to Texas for a time and married his girlfriend, Angie. Texas never quite fit, so they returned home to Alabama.
Like his father before him, repairing saddles grew from part-time to full-time work.
The hours are sometimes long, but that's just fine with Parrish.
"I might work from 7:30 in the morning to 7:30 at night," he says. "I can't think of anything else I would ever want to do."
Noble Sprayberry writes from Phoenix, AZ.