When Lisa Shell sits down at her loom to begin weaving a rug, her hand has been on that particular piece for months — even years — beforehand.
The fibers that she intertwines to create an earth-tone Southwest design or a bright explosion of color come from Angora goats that she breeds, helps deliver, nurtures, protects, and values.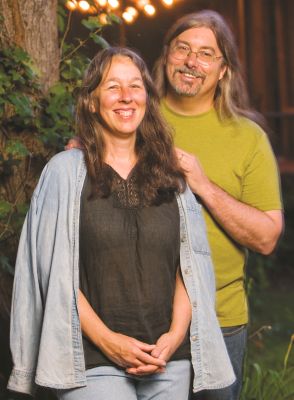 Her handiwork truly is, as she says, produced literally from the ground up. Customers who buy her sought-after mohair fiber, yarn, and products know that they're homegrown on Kai Ranch, a shaded patch of land along a curvy, unpaved county road about an hour or so east of Austin, Texas.
Sometimes, they even know the name of the goat.
FINDING HER PASSION
Lisa grew up near Williamsburg, VA, home to Colonial Williamsburg, a living history settlement that reconstructs the beginnings of the United States. Like most locals, Lisa was thoroughly familiar with the historical interpreters, including the colonial homemakers who made their own cloth.
"I was always enamored of spinning and weaving," she says.
But it wasn't until she got married and moved with her Air Force husband, Randy, to Monterey, Calif., that Lisa discovered the depth of her love for fiber arts.
She took a semester of spinning, weaving, and dyeing at a community college. "I found my passion," she recalls.
When military service soon took the couple to Japan, Lisa spent the next 3½ years steadfastly honing the basic spinning and weaving skills that she'd learned.
"I read every book I could get my hands on, and this was way before the Internet," she says.
An advertisement in a fiber-spinning magazine for Australian fleece caught her eye and she began buying it to spin, knit, and sell custom sweaters.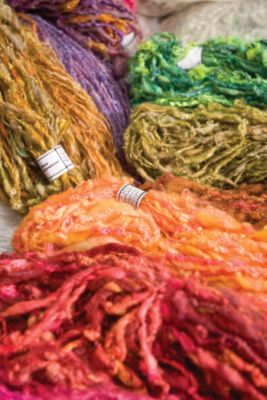 Working with fleece intrigued Lisa, so she and Randy took a six-week Australian vacation where they worked as roustabouts on a sheep ranch, picking up fleece and docking tails.
"We decided then that there would be no fiber animals for us, because it was too much work," she says.
That notion would be short-lived. One afternoon in 1987 in San Angelo, Texas, after returning to the United States from Japan, Lisa was driving home when she spotted an unusually-colored sheep in a livestock trailer.
"It was a true brown, called Morrit, which was rare at the time," she explains.
Lisa flagged down the driver, who happened to be a livestock buyer, and bought the ewe and a ram on the spot.
"I thought, 'I've got to have her,'" Lisa remembers. Those sheep were the beginning of her own homegrown business.
Her main interest, however, was in Angora goats — specifically the rare naturally-colored Angoras.
The Angora's fleece is called mohair, a long, silky fiber that produces the softest, yet strongest, of yarns, which is why it is preferred by Lisa and many other spinners and weavers.
"Mohair was it for me," she says.
Most Angoras are white, but some, such as Lisa, prefer the rarer naturally-colored goats, whose hair comes in colors such as brown, red, black, charcoal, and shades in between. So she inquired that day to the livestock buyer about obtaining naturally-colored Angora goats.
She knew it was a long shot; only one in every 5,000 Angoras are naturally-colored.
"He said, 'I don't think I've ever seen one.' There were thousands of Angora goats going through the sale barns every week and he saw none," Lisa recalls.
But she was able to find colored goats in purebred herds to build her own herd.
She and Randy decided their expanding fiber operation needed more room, so in 1990 they moved about an hour just east of Austin where they eventually bought tree-rich acreage near the tiny communities of Blue and Lexington. There, they established Kai Ranch, which carries their name in a unique way. "Kai is Japanese for shell — as in sea shell," Lisa explains.
"My goal over the years was to maintain a high quality herd including fine, uniform fleece and mohair cover from head to tail resembling the white registered herds of Texas," she says, adding that her colored herd is all registered.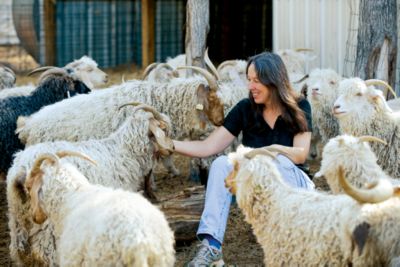 She also has registered white Angoras. Her herd currently numbers about 80, though she has had as many as 200 at one time.
She prefers Angoras for more than just their lustrous mohair. "They're small animals that I could handle without waiting for my husband to get home," she says.
Lisa handles the goats' hoof -trimming and twice-yearly shearing with only a pair of sharp scissors, along with simple veterinary care.
Each goat can produce 10-20 pounds of fiber a year, depending on their age, sex, and feed, she says. In return, they get high-fuel feed, good water, minerals, shelter, durable fencing, and guardian dogs to protect them from predators.
THE GOATS
"We have mothers, daughters, even grandmothers," Lisa says, as she watches her herd browse in the welcoming shade of a warm Texas afternoon.
Lisa is well-acquainted with each animal and she's attuned to their needs. The babies — or kids — have a playground, of sorts, where she's placed children's used play sets for them to climb.
An old upside-down metal water tank is their particular favorite. "They love to hear the sound of their hooves on the metal," she says, drumming her fingers on the bottom to illustrate the booming sound that the kids love to make.
The Shells protect their herd with the highest-quality fencing made specifically to keep wily and curious goats inside. To keep predators out, they rely on their three Great Pyrenees guardian dogs, a type of dog bred specifically to protect goats and sheep.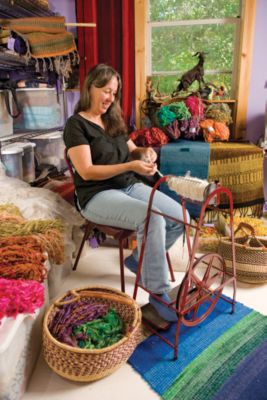 The well-being of her goats remains a priority, even after they leave her care.
She sells her goats in family multiples of two or more only — siblings, for example, or a mother-daughter combination.
"They are a herd animal and they would die of loneliness, otherwise," she explains. "Even if they go to another flock, they need someone, a buddy, from their own herd."
Angora families tend to bond together. "When we do night checks, we'll see that family groups are nestled together," she says. "They're very family oriented."
She also requires that buyers have good fencing, reasonable shelter from the weather, and guardian protection.
WORKING THE MOHAIR
Goats are sheared twice yearly — in January and June. Lisa then washes the mohair in an outdoor kitchen just outside her studio, using a large, deep sink once housed in a restaurant. She then places it on metal racks, where the hot, Texas air dries it.
Dyeing mohair comes next, and Lisa spends several months — typically March through June, and September through October — coloring fiber.
"I am a dyer first and foremost," she says. "I do more dyeing than anything."
Lisa keeps an array of dyes to create fiber colors ranging from deep blues and rich purples to bright orange and lime green.
"At the end of a day of dying, I will pull colors off the drying racks that I want to work with," she says.
After washing and dying, Lisa spins some of the fiber into yarn, either to sell or for her own use. Some customers, however, want the fiber only, so they can spin it into yarn themselves.
The most premium of her mohair is baby Angora, called kid mohair. "It's softer and curlier than older goats' hair," she says.
Most of her sales are online, although she does sell at large shows, where her fiber has taken top honors.
The actual weaving of blankets and rugs are reserved for later in the year. "I don't do finished work until October," Lisa says. "Hand-wovens are a winter thing."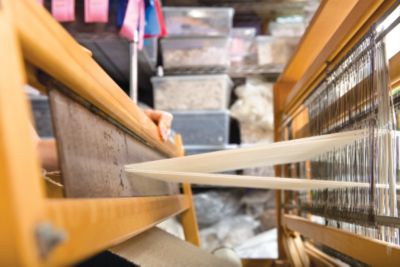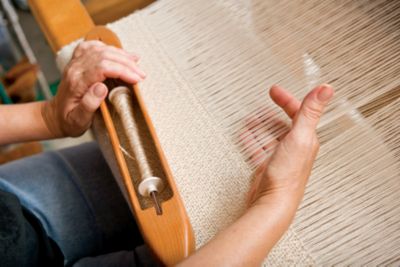 'I HAVE THE COLORS'
When the season begins to change and it's time to sit down at her loom, Lisa retreats to her studio, just across the driveway from their house.
The studio is a fiber fan's paradise, with finished rugs, partially-completed projects, shelf upon shelf of clear plastic bins filled with varying shades of mohair, a large loom, spinning wheel, and other tools of Lisa's trade.
It's here where she designs and constructs rugs for sale or works on a shawl for a friend.
In choosing colors for a project, she combines hues that play off of each other. "I'm looking for those particular things that really sing and vibrate together," she says. "Not all colors do that side by side."
Her eye for color draws in repeat customers. "People remember colors," Lisa says. "Some people have fabulous yarns, but I have the colors."
Lisa's first sellable wares were scarves and shawls sold at fiber-related events and shows. "I wove so many scarves," she says. "They were my No. 1 seller."
But her interests have evolved over the years and now she prefers making rugs.
What hasn't changed, however, is her love for fiber and raising goats.
"I can't image doing anything else," she says. "If I won the lottery, would I still be doing this? Yes. But I might have a bigger ranch and more goats."
"What it really comes down to for me is the goats," Lisa says. "Because I've seen the coming to fruition (of) the kind of Angora goat I dreamed of and thought, 'Wow, will I ever be able to create colored Angora with fine fleece and cover that white Angora breeders were creating quite easily?'"
"Seeing those goats turning into the kind of goats I wanted, now I'm hooked and can't seem to stop myself," she says. "The ongoing saga of these goats growing into these gorgeous creatures that I had some small part in is really fun."
Out Here editor Carol Davis' great-grandfather, B.F. Sandel, raised Angoras in the Texas hill country.