Step into Dave and Marsha Scheuermann's home and it might feel comfortingly familiar. A print of Millet's Angelus hangs above the mantle of the large stone fireplace. Blue Willow dishes are carefully arranged on the dining room table. A guitar waits to be played.
You feel like you've been here — and you have, if you're a fan of iconic television series The Andy Griffith Show, which portrayed 1960s life in a rural community with kind humor and moral lessons.
The Scheuermanns' bed-and-breakfast is a replica of Sheriff Andy Taylor's home, built as a tribute to the enduring show that harkens back to a gentler time and brought the couple together. They met several years ago at Mayberry Days, an annual celebration in Mount Airy, NC — Andy Griffith's hometown that some say is the "real" Mayberry.
It's in this home where viewers laughed as Andy, son Opie, and Deputy Barney Fife learned to love Aunt Bee's "kerosene cucumbers" and where rock-thrower Ernest T. Bass learned to be a gentleman.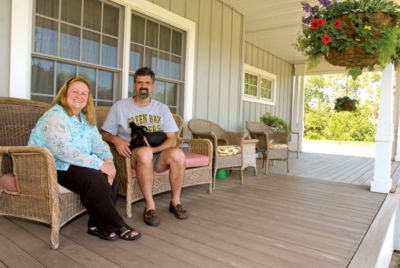 BUILD IT AND THEY WILL COME
Dave and Marsha met at Mayberry Days, fell in love, married, and moved into the living quarters at Dave's business, Scheuermann-Hammer Funeral Home in Clear Lake, WI. As they planned their new house, they decided to re-create the Taylor home.
"As a funeral director, Dave can't get away, so we thought if we build it, other fans will come to us," Marsha recalls.
The design required hours of viewing shows and freezing frames.
"Dave is about Andy's height, so he'd count how many steps it took to cross a room to figure out the size," Marsha says.
A definitive plan was impossible because the show was filmed on several sound stages, with walls and backgrounds changed for different scenes.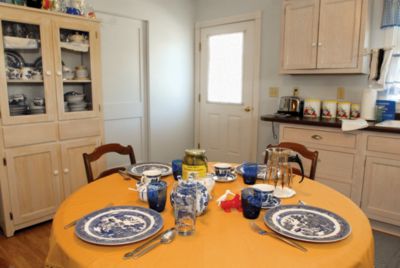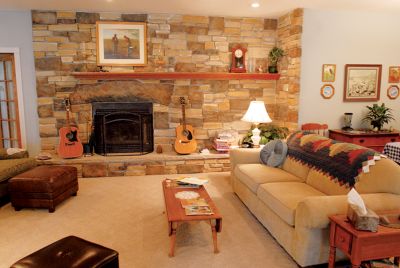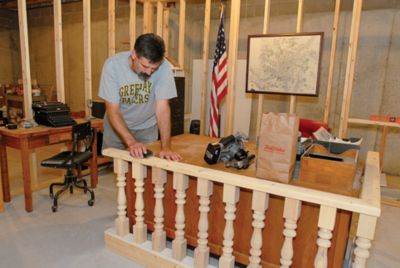 Dave built a small model for the 3,737-square-foot home (plus basement) and did all the finish work — including casting the identifiable fireplace rock.
Taylor Home Inn officially opened in 2006 and Andy fans heartily embraced it. One woman sent eight place settings, plus other pieces, of Blue Willow dinnerware. Another sent a handkerchief that once belonged to Frances Bavier, the actress who played Aunt Bee.
"It's almost like the house has taken on a persona of its own," Marsha says, "that people feel ownership in what we have done."
MORE THAN A B&B
Piano music and the aroma of sausage lure guests from their rooms. Marsha, a public school music teacher, wears an Aunt Bee apron, and plays Mayberry favorites: Mayberry March, Barney's Lawmen Theme Song, and Gomer's Santa Lucia.
"That's the way Aunt Bee would do it," Marsha says as she serves up a three-course breakfast, family-style.
Guests are immersed in Mayberry the minute they arrive, and delight in discovering items meaningful to specific episodes: a blue bed jacket in Aunt Bee's bedroom, a box from Mount Pilot's Miracle Salve Co. in Opie's room, and Colonel Harvey's Indian Elixir on the piano.
Guest bedrooms fit each of the show's characters. Aunt Bee's room has a soft lilac/green décor with handbags, old hats, and a claw-foot bathtub.
And, well, it's not exactly like the Taylors' 1960s home. This home has air conditioning, bathrooms in each of the three guest rooms, and wireless Internet.
"I tell guests that we bought Andy's house and upgraded it a little bit," Dave laughs.
Dave also has recreated Wally's Service Station in the back yard, complete with gas pumps and soda pop in longneck bottles on ice.
His latest project is constructing the courthouse in the home's spacious basement, featuring Andy's desk, Barney's backroom, and two cells — including Otis' "self-serve" cell.
'THEY MATCHED IT EXACTLY'
Taylor Home Inn guests find an instant bond with each other and the Scheuermanns. "There is a like-mindedness with these fans," Dave says.
Conversations are cryptic to Mayberry outsiders. When Marsha says, "It looks like a bat," the Scheuermanns' Illinois guests and friends, Don and Joyce Kernan, laugh knowingly as they recognize a scene in which Barney tests Otis, the town drunk, with a Rorschach inkblot.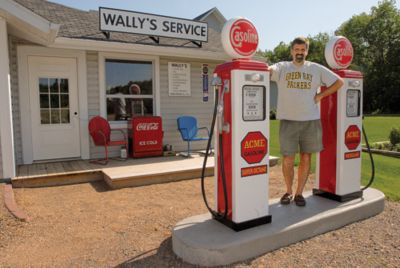 Jim Clark, the ultimate Mayberry insider who founded The Andy Griffith Show Rerun Watchers Club, with more than 1,000 local chapters worldwide, expressed amazement at the attention to detail when he and his wife visited.
"It really blows you away. You walk in the front door and it's like you've walked into Andy Taylor's house," Clark, of Nashville, TN, says.
Clark's favorite features are the kitchen and fireplace. "That's a pretty complicated stone fireplace with unusual-shaped rock around the mantelpiece," he says, "and they matched it exactly."
Indeed, they did a phenomenal job constructing a home based on one that never really existed. "Dave is, according to Marsha, particularly obsessed with getting things just right," Clark says, "and he did."
And that's just the point, the Scheuermanns say.
"We want you to feel like you've left home," Marsha says, "and come home."
Dee Goerge writes from Minnesota.