When Stetson Hoffman first came across an advertisement for Saddle Up!, a therapeutic riding program in Franklin, TN, she simply filed away the information as a place her older daughters perhaps might volunteer.
But a few years later, after twin daughters were born with cerebral palsy, Hoffman again noticed an ad for Saddle Up! This time, the riding program offered a whole new meaning and opportunity to her family.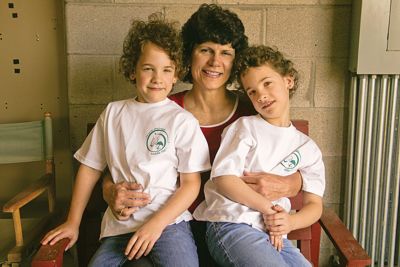 "Once you enter into that arena you kind of get a heightened alert, like you've joined a club you don't want to join," says Hoffman, a Franklin mother of seven.
She added her twins' names, Sally and Payton, to the waiting list and signed up her older daughters as volunteers. Sally and Payton began the program when they were 3. Now, four years later, the girls, 7, enjoy the mobility and companionship a therapeutic riding program provides.
Horses and humans have a natural bond, and for children with impaired mobility such as Sally and Payton, the horse's movement replicates the motion of walking, resulting in increased muscle control, balance, and strength.
"Our children deal with more than 40 types of disabilities," says Cheryl Scutt, Saddle Up! executive director. "The most common ones we see are autism and cerebral palsy. But we've had children with hearing loss, vision loss, developmental delays, mental retardation."
Therapeutic riding aids challenged children by helping to improve concentration, recognition, vocabulary development, and task completion, Scutt says.
Hoffman sees the benefits that therapeutic riding has provided for her daughters.
"Payton had weakness along the right side of her body," Hoffman says. "She can now hold the reins with her right hand, reach across her right side ... things we all do every day but take for granted."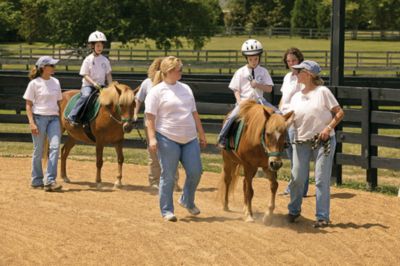 "Sally is a little more advanced and can trot as long as she has someone leading the horse," she says. "It has really built up her trunk and leg strength."
Doctors have long recommended therapeutic riding as a way for limited-mobility children to increase their skills. And it's fun, too.
"It enriches their lives," Hoffman says. "They can now do things we thought they would never do. This is something special they can do to compare themselves to their siblings and friends who get to ride horses."
It's that sense of belonging that is one of the richest rewards of a therapeutic riding program.
"I am very grateful for it," Hoffman says. "There are so many things that are not there for special-needs children, it amazes me how the focus is on the children. And the way the volunteers are putting aside themselves — even to just clean the stall or fix a fence — just so my child can get on a horse is wonderful."
Hollie Deese is a Madison, TN, writer who gets a sense of peace around horses.
Find a program near you
To find a therapeutic riding program in your area, visit the website for the Professional Association of Therapeutic Horsemanship International (PATH Intl.) at pathintl.org or call 800-369-RIDE (7433).